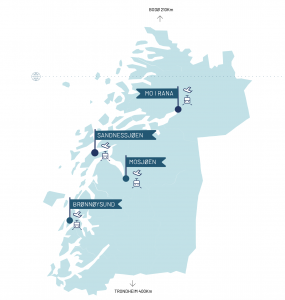 The town of Mo i Rana lies very near the Arctic Circle, where the "Land of the Midnight Sun" begins. This is the largest town in the Helgeland region. It is also worth noting that Mo i Rana lies just outside the Saltfjellet-Svartisen National Park. The town's history spans from its early days as a trading post, to an era as an industrial powerhouse centred around its ironworks, to its present role as a modern mini metropolis. Mo i Rana's many offerings include excellent restaurants and cafés, a vibrant theatre and a lively music scene, an interactive science museum, charming shops and large shopping centres, and so much more.
Tourist Information Office
The town's Tourist Information Office is situated at Ole Tobias Olsensgate 1 in Mosenteret, a shopping centre on highway E6, south of Mo i Rana's town centre.
Telephone: +47 75 01 80 00
Mo i Rana has an airport and a train station, and the town is conveniently situated along highway E6.
For driving directions, see Google Maps
To plan your journey here by train, bus or plane, please visit Entur.no
Bus connections:
The town has scheduled bus services to Mosjøen, Tonnes, Nesna and Sandnessjøen.

Distance and driving time by car:
From Mosjøen: 87 km, 1 hour and 15 minutes
From Sandnessjøen: 109 km, 1 hour and 35 minutes
From Brønnøysund: 243 km, 3 hours and 30 minutes
From Bodø: 228 km, 3 hours and 10 minutes
From Trondheim: 474 km, 6 hours and 45 minutes
Highlights and adventures
Visitors should take the time to explore the spectacular landscape around Mo i Rana. But be sure to also investigate the attractions of the town centre, such as the science museum, Vitensenteret Nordland, and the Rana Museum.