Guest Houses in the historic area in Mosjøen
Visitors are welcome to stay in one of the historic houses on Sjøgata street. The apartments offered are furnished in the old style but fully-equipped. Renting accommodation here will give you a good feel for a time that was less hurried – while enjoying all the comforts and amenities we have come to expect today.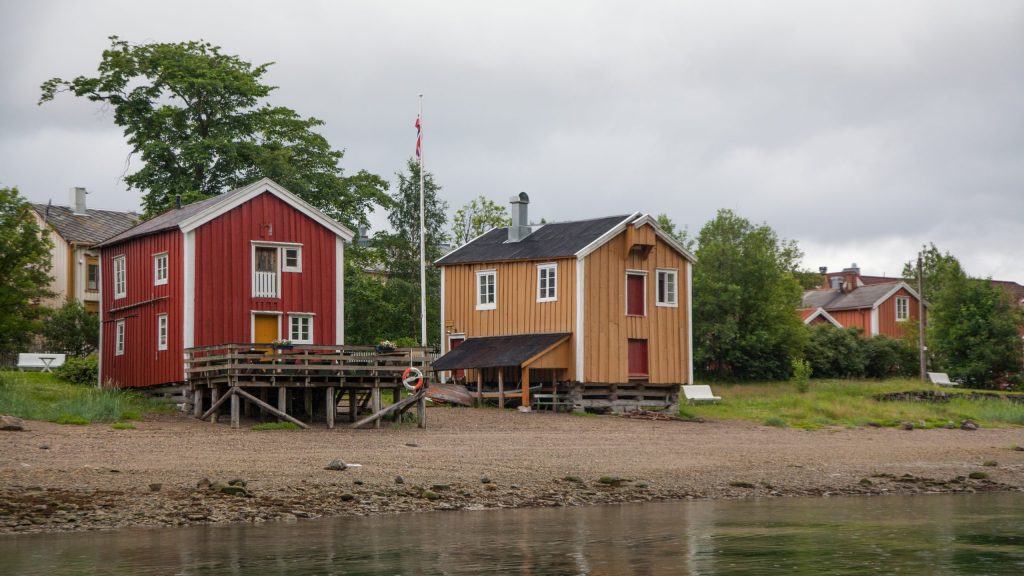 Kathrine Sørgård/nordnorge.com
As a guest in one of these old houses, you will find yourself immersed in the town's historic setting. Take time to visit the wharf museum for insights into Mosjøen's colourful history; step back into an age when these proud houses had just been built, gentlemen sported handlebar moustaches, and ladies wore long skirts.
The guest houses
These apartments are based on self-catering – you make your own beds and wash your own dishes. Every apartment has a bathroom with a shower, and with the exception of Ola Oktober wharf they have WiFi and a TV. Laundry facilities are available in Stallen, Svenskloftet and Åbakken 2.
Regretfully, pets are not allowed in these historic guest houses.
Booking
Booking is made directly to Kulturverkstedet every weekday between 08.00 – 15.00 or click on Kulturverkstedet for more information.
Check-out is before 12:00 and new guests are welcome from 15:00 on the day of arrival.
The cultural workshop is open every day except Sunday from 0900-15.00. Booking is made at Kulturverkstedet by phone or email or via airbnb.
The guesthouses have everything you need to make your own meals.
Contribute to sustainable tourism
Thank you for respecting the local communities, and for helping us preserve the natural beauty of Helgeland!
Please:
Strive to leave no trace of your visit. Bring back all your rubbish, including used toilet paper, and discard it in the nearest rubbish bin.
Plan your toilet visits and use the opportunity when you pass a toilet. In the wilderness, make sure you are not a nuisance to others.
Respect the local wildlife. Keep a good distance from wildlife, livestock and birds. Keep your dog leashed.
Respect private property. Keep a respectful distance from houses and cabins.
Show good boating sense. Keep a good distance from shore and drive at a low speed, especially when you are close to anyone or anything on the water, including birds or animals. Avoid loud and disturbing engine noise. Be aware that some islands and nature reserves are important nesting sites, and that going ashore is prohibited during the nesting season.
Follow the Norwegian Mountain Code (Fjellvettreglene). Plan your excursion according to the weather forecast, your skills and experience.
Join a guided excursion or consider hiring an experienced guide, especially when you don't have sufficient experience or knowledge to guarantee a safe trip.