Fru Haugans Hotel in Mosjøen
Fru Haugans Hotel, renowned for maintaining its time-honoured traditions, is a proud member of the Historic Hotels & Restaurants of Norway. It is situated at the end of Sjøgata street, the historic heart of Mosjøen.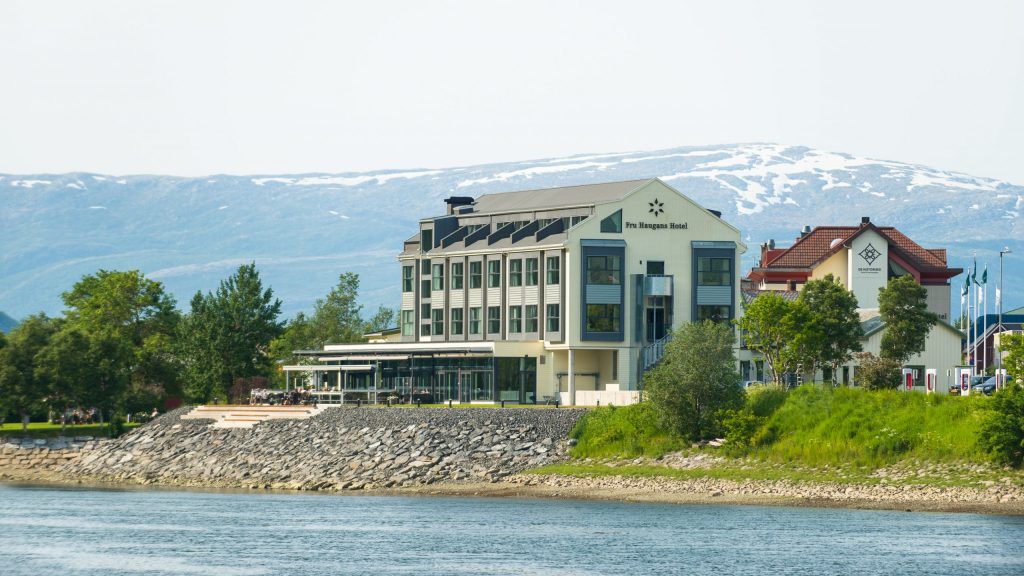 Fru Haugans Hotel
The hotel has been offering travellers a good night's sleep since 1794. Ever since 1885, when Ellen Haugan purchased and revitalised the establishment, the hotel and its restaurants have been owned and operated by the same family. The coastal town of Mosjøen is at the heart of scenic Helgeland. With this hotel as your base, you have easy access to the many sights of the Helgeland coast, as well as the mountain wilderness and other inland attractions.
Great dining and sweet dreams
While making improvements to ensure modern amenities and comfort, the owners have made every effort to preserve the character and traditional style of Fru Haugans Hotel. You can relax in the bar and beautiful lounges and savour the unique ambience of Northern Norway's oldest hotel. While dining or enjoying refreshments, whether indoor or outdoors, your eyes can feast on the great view of Øyfjellet, the mountain just outside the town centre. Below the hotel's beautiful and spacious gardens is a private guest harbour.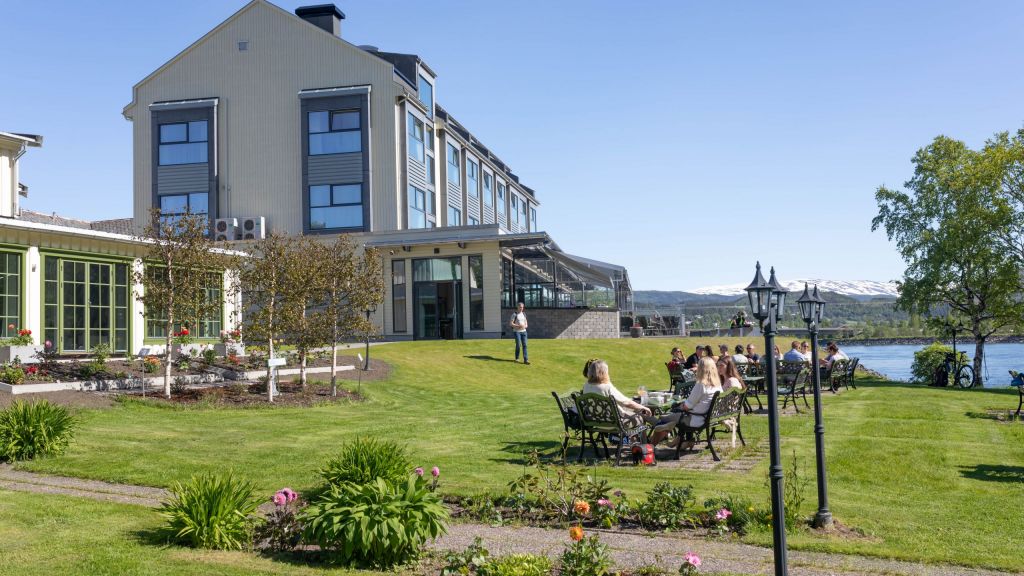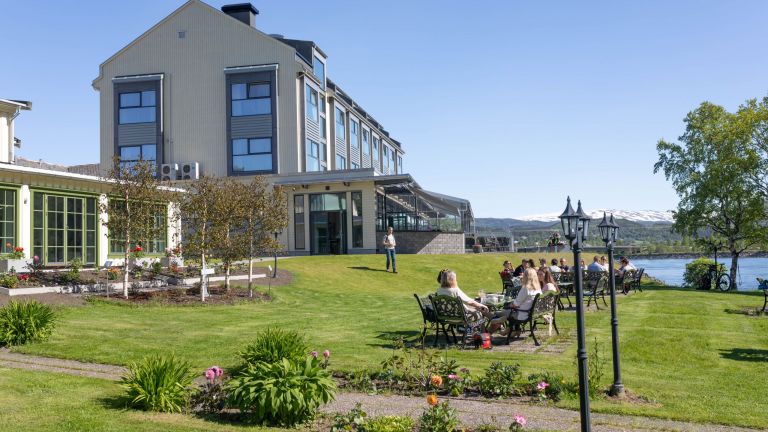 Beautifully situated on the banks of the Vefsna river, the hotel offers 129 rooms, has two restaurants and two bars. Outdoor tables enjoy great views of the river and the hotel's spacious gardens.
Fru Haugans Hotel makes every effort to base its operation on good sustainability. It is certified as an Environmental Lighthouse (Miljøfyrtårn).
Restaurant Ellen
Restaurant Ellen, in the oldest part of the hotel, has a historic ambience and is renowned for fine dining. The restaurant takes pride in using the very best ingredients of Northern Norway, drawing on traditional recipes as well as being inspired by culinary impulses from throughout the world. The hotel is a member of the Arctic Menu network.
Read more about Restaurant Ellen and order a table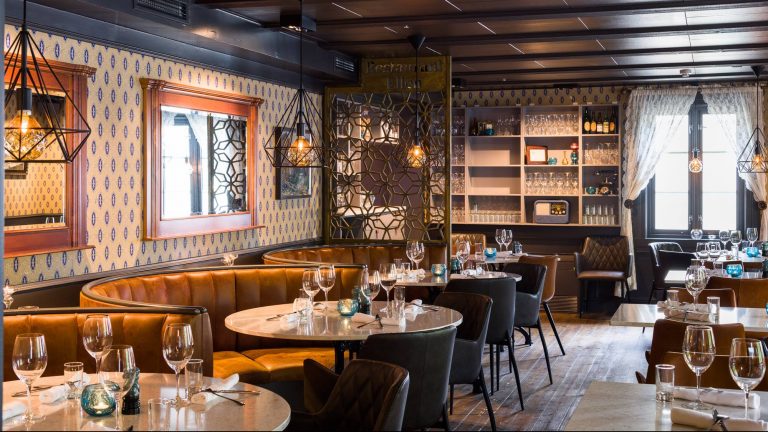 Conference facilities
Situated in Mosjøen, in the heart of Helgeland, Fru Haugans is an ideal venue for conferences where the participants come from throughout the region. For people arriving from other parts of Norway, Mosjøen is conveniently accessible by air, railway and car.
The hotel offers a variety of meeting rooms, lounges and conference halls, and is able to cater to the needs of groups ranging from eight to 300 people. Our fully equipped conference centre and experienced staff will help ensure the success of your event, be it a course for employees, a strategy session or board meeting, or a presentation for potential investors.
The charming and historic town of Mosjøen has many sights and attractions. While providing welcome distractions in its own right, the town is the perfect base for excursions along the scenic Helgeland coast, as well as trips to the villages and wilderness of the interior.

Takk for at du hjelper oss med å ta vare på naturen og lokalsamfunnene på Helgeland.
Takk for at du:
Praktiserer sporløs ferdsel, og tar med avfall og toalettpapir tilbake til nærmeste søppeldunk.
Planlegger toalettbesøk, slik at du får gjort det du må der det ikke er til sjenanse for andre.
Respekterer det lokale dyrelivet, holder hunden i bånd og holder god avstand til både ville og tamme dyr og fugler.
Respekterer privat eiendom, og holder avstand til private hus og hytter.
Viser godt båtvett, holder god avstand til land, lav fart nært andre på vannet, inkludert dyr og fugler, og unngår unødig kjøring som skaper forstyrrende motorstøy.
Respekterer ferdsels- og ilandstigningsforbudet i sjøfuglereservatene i hekketiden.
Følger fjellvettreglene, og planlegger turer etter evne og erfaring.
Leier en erfaren guide på turene der du selv ikke har kunnskapen eller erfaringen som trengs for en trygg tur.