Outdoor adventures near Mo i Rana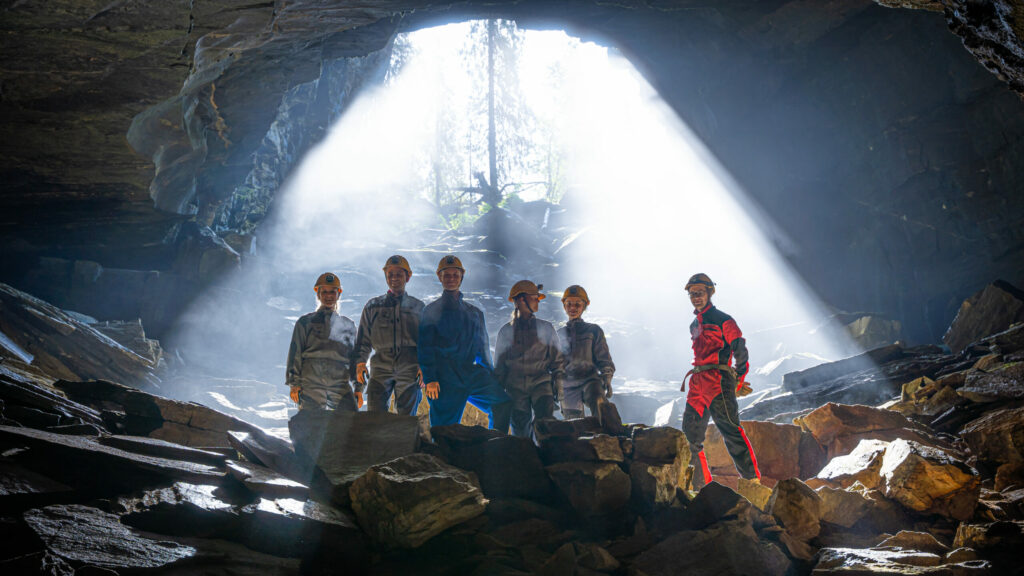 Broadstone / Visit Helgeland
Some of our finest natural attractions are only a one- or two-hour drive from Mo i Rana. These include Svartisen, the second-largest glacier on the Norwegian mainland, the mountains of Saltfjellet near the Arctic Circle and the renowned caves of Grønligrotta and Setergrotta.
Contribute to sustainable tourism
Thank you for respecting the local communities, and for helping us preserve the natural beauty of Helgeland!
Please:
Strive to leave no trace of your visit. Bring back all your rubbish, including used toilet paper, and discard it in the nearest rubbish bin.

Plan your toilet visits and use the opportunity when you pass a toilet. In the wilderness, make sure you are not a nuisance to others.

Respect the local wildlife. Keep a good distance from wildlife, livestock and birds. Keep your dog leashed.

Respect private property. Keep a respectful distance from houses and cabins.

Show good boating sense. Keep a good distance from shore and drive at a low speed, especially when you are close to anyone or anything on the water, including birds or animals. Avoid loud and disturbing engine noise.

Be aware that some islands and nature reserves are important nesting sites, and that going ashore is prohibited during the nesting season.

Follow the Norwegian Mountain Code (Fjellvettreglene). Plan your excursion according to the weather forecast, your skills and experience.

Join a guided excursion or consider hiring an experienced guide, especially when you don't have sufficient experience or knowledge to guarantee a safe trip.
Underground and underwater caves
The same natural forces that made the Marble Castle also created a myriad of caves. The Rana region has a large number of caves, but Grønligrotta and Setergrotta are the two that are best known and most accessible to visitors.
Both are limestone-marble caves, both are in the same area, and for both you can join a guided tour. Access to Grønligrotta is facilitated by stairs, wooden walkways, railings and electric lighting. By contrast, Setergrotta has been left untouched, and visitors must wear a helmet with a headlamp, coveralls and gloves. Knowledgeable guides will take you on a fascinating journey inside the mountain.
The more extreme experience is the Plura cave, the largest subsea cave system in Northern Europe. A visit will require diving gear, and you should definitely join an experienced guide. Fortunately, the tour operator offers diving courses, also for beginners.
Svartisen glacier
Svartisen is Norway's lowest-altitude glacier and its second largest. In fact it's so large that it covers an area larger than the cities of Oslo and Bergen combined. Glacier tongues extend in many directions. One of the most accessible is Austerdalsisen, situated north of Mo i Rana. You can reach the glacier by taking a boat across Svartisvatnet, or walk around the shore of this lake.
At the tip of the glacier tongue you can see the exposed blue ice, a super-compressed ice so dark that it gave this glacier its name – Svartisen means "black ice". Please be mindful and keep a safe distance while admiring the glacier. The large blocks of ice at the glacier's edge are especially unstable, and can suddenly come loose and shift without warning.
Saltfjellet and the Arctic Circle
If you are an avid hiker and appreciate the mountain wilderness of Northern Norway, you should definitely head for Saltfjellet. The Svartisen-Saltfjellet National Park is huge, covering 2192 km2, with vast mountains, valleys filled with forests, lakes and tarns teeming with fish, and a network of great hiking trails. One of the oldest is the Telegraph Trail (Telegrafruta), which runs from Rana in the south to Saltdalen in the north. An excellent day excursion is to hike the southern part of this trail, crossing the Arctic Circle. If you wish to continue but not walk the entire trail, you can call it quits halfway, exiting the national park near the Arctic Circle Centre.
This magnificent mountain wilderness with its varied landscape draws locals as well as visitors from afar, who all share a keen appreciation of its beauty and tranquillity.