Villa Våg – historic accommodation at Tjøtta
Villa Våg is an old vicarage. Today you and your family or friends are invited to stay here in historic surroundings, while using this villa on the island of Tjøtta as your base for exploring Helgeland.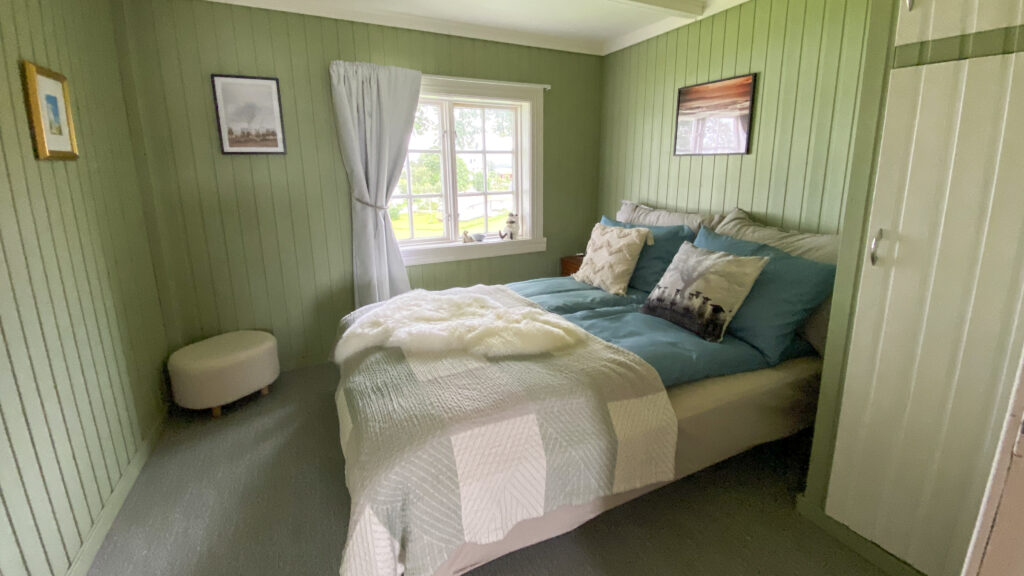 Våg Helgeland
Villa Våg, a stately vicarage built in 1865, offers accommodation for up to 16 people in large rooms with comfortable beds. With 260 m2 (2800 square feet) at your disposal, there is plenty of shared space as well as room to be alone should you choose.
Together with our partners, we can compose a memorable adventure and activities programme for you and your friends. You can go kayaking or fishing in the waters of our beautiful archipelago, take a guided walk to learn about local history, join a guided mountain hike, or explore the magnificent Helgeland coast.
Tjøtta offers adventure all year round. Experience the magical summer evenings of the north, when the sun just sets into the sea just before soon rising again, bathing the sea and sky and landscape in hues of orange, pink, red and purple. Experience winter days, when the sun barely peeks over the horizon, and yet paints our entire coast in the most wonderful and subtle winter light.
On the island of Tjøtta you will also find great hiking trails through varied terrain. On the island's outer shore there is a dramatic meeting of land and sea; elsewhere are beautiful woodlands dotted with tarns mirroring the sky, hillsides clad in heather and moss, and viewpoints that offer magnificent vistas of the open coastal landscape with the legendary Seven Sisters mountains in the distance. And don't forget to visit the site where the Viking chieftain Hårek lived. The foundation is still visible, and the many burial mounds are a striking reminder of Viking culture.
The island of Tjøtta is situated in Alstahaug municipality, roughly in the middle of the Helgeland coast. The Coastal Highway (Rv17) that crosses our island has status as a Norwegian Scenic Route. In the north, Tjøtta is connected by a bridge to the town of Sandnessjøen, while we from our southern shore have ferry services to Forvik in Vevelstad and onward to the town of Brønnøysund.
Find it with Google Maps
See ferries, boats and busses on ReisNordland.no
The facilities offered by Villa Våg
Villa Våg offers seven bedrooms and a total of 16 beds. You have to rent the entire house.
Most guests choose to make their own food in Villa Vågs well-equipped kitchen. The local grocery store is right nearby. However, it is possible to organize dinner servering.
Contribute to sustainable tourism
Thank you for respecting the local communities, and for helping us preserve the natural beauty of Helgeland!
Please:
Strive to leave no trace of your visit. Bring back all your rubbish, including used toilet paper, and discard it in the nearest rubbish bin.
Plan your toilet visits and use the opportunity when you pass a toilet. In the wilderness, make sure you are not a nuisance to others.
Respect the local wildlife. Keep a good distance from wildlife, livestock and birds. Keep your dog leashed.
Respect private property. Keep a respectful distance from houses and cabins.
Show good boating sense. Keep a good distance from shore and drive at a low speed, especially when you are close to anyone or anything on the water, including birds or animals. Avoid loud and disturbing engine noise. Be aware that some islands and nature reserves are important nesting sites, and that going ashore is prohibited during the nesting season.
Follow the Norwegian Mountain Code (Fjellvettreglene). Plan your excursion according to the weather forecast, your skills and experience.
Join a guided excursion or consider hiring an experienced guide, especially when you don't have sufficient experience or knowledge to guarantee a safe trip.