Træna Rorbuferie
The Træna archipelago is surrounded by the open sea. Træna Rorbuferie is situated on Husøya, the most populated of these islands. Here, amidst magnificent scenic surroundings, you have a golden opportunity to experience the thriving coastal culture of a vibrant island community.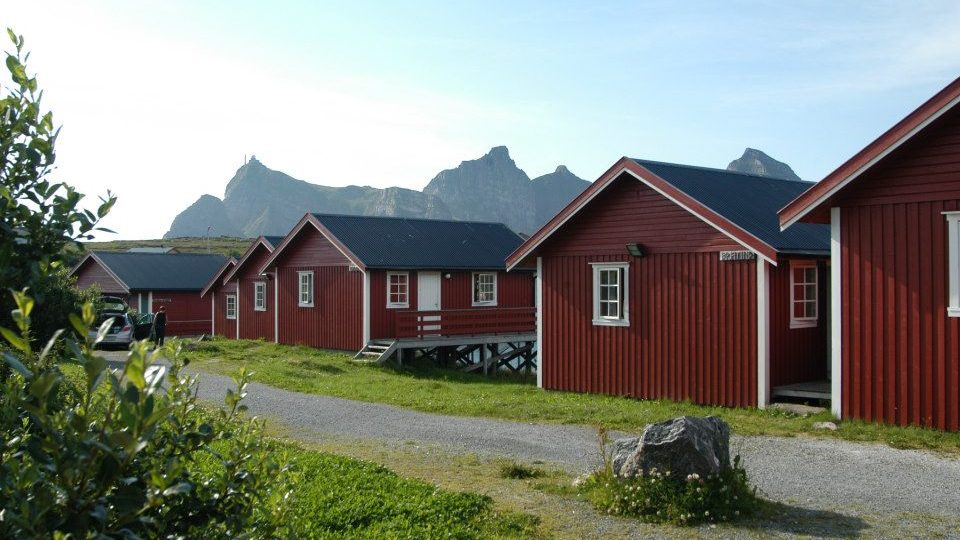 Træna Rorbuferie
On Husøya you can explore by walking paths and lightly-trafficked roads, visit the Petter Dass chapel and other highlights, and at day's end take a refreshing swim and relax in the sauna. Several restaurants offer very satisfying dining. For an excellent cup of coffee, head for Træna Kaffekollektiv, which roasts its own beans.
To visit some the other islands in the archipelago, you catch the local express boat, or rent a boat from Træna Rorbuferie. You can also rent bicycles and explore the islands of your choice on two wheels, or go on a deep-sea fishing trip. The size of the fish that are regularly caught in the nearby seas is impressive.
Rorbu accommodation
Idyllically situated right at the waters edge are numerous rorbu, the traditional fishermen's cabins. These are extra spacious, each with two bedrooms, a living room, kitchenette and bathroom. This tranquil holiday accommodation will truly make you feel that you have left the stress and pressures of everyday life far behind.
These rorbu cabins are available year round. Each season on Træna has its unique charm; your experience can range from hefty winter storms to summer eves when the sky glows even at midnight.
Boat and bike rental
What better holiday adventure than renting a boat, pulling a large fish out of the sea and over the gunwale, and then feasting on fresh-caught cod and almandine potatoes on your seaside terrace?
The island of Husøya has roughly 6 km of lightly-trafficked roads, making them ideal for exploring the island at your own chosen tempo.
You travel to Træna by speedboat or ferry.
You take the ferry from Stokkvågen. With a speedboat you can start from Bodø, Sandnessjøen or Stokkvågen.
The summer route for the Nordland Express goes to Træna in the period June – August.
Vær og klær for Helgeland
Været på Helgeland kan variere mye, og på sommeren kan temperaturen være alt fra 10 til 25 grader, og regnet kan gjerne komme og gå i «ærlinger», eller «byger» som det heter sørpå. Vi anbefaler at du pakker både allværsjakke og badeklær, fjellsko og sandaler, så du er klar for det meste.
Om vinteren varierer temperaturen gjerne fra +5 til minus 15. Hvis du skal være mye ute, er ullundertøy og vindtette klær dine beste venner. Kle deg etter trelagsprinsippet med et innerlag, mellomlag og ytterlag. Tykk lue og tykke hansker eller votter er spesielt anbefalt hvis du skal på være ute med lavt aktivitetsnivå, for eksempel hvis du skal se på nordlyset.
Praktiserer sporløs ferdsel, og tar med avfall og toalettpapir tilbake til nærmeste søppeldunk.
Planlegger toalettbesøk, slik at du får gjort det du må der det ikke er til sjenanse for andre.
Respekterer det lokale dyrelivet, holder hunden i bånd og holder god avstand til både ville og tamme dyr og fugler.
Respekterer privat eiendom, og holder avstand til private hus og hytter.
Viser godt båt-vett, holder god avstand til land, lav fart nært andre på vannet, inkludert dyr og fugler, og unngår unødig kjøring som skaper forstyrrende motorstøy.
Respekterer ferdsels- og ilandstigningsforbudet i sjøfuglereservatene i hekketiden.
Følger fjellvettreglene, og planlegger turer etter evne og erfaring.
Leier en erfaren guide på turene der du selv ikke har kunnskapen eller erfaringen som trengs for en trygg tur.