Dønnes Gård - Accommodation in historical surroundings
Dønnes Gård on the island of Dønna, offers a holiday stay in a former vicarage. The historical surroundings actually date back to the 13th century. Guests here can dine on traditional dishes made from locally-sourced ingredients. To hear the colourful history, take a guided tour of the vicarage and the neighbouring medieval church.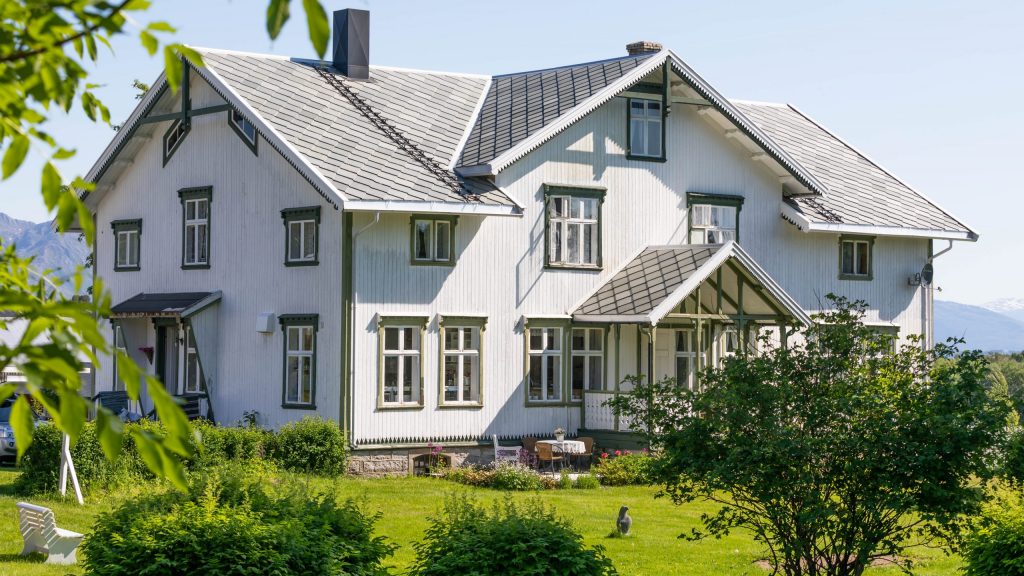 Kathrine Sørgård
As a guest, you can choose between a large double room in the stately vicarage or a simpler room in the old schoolhouse next door. The latter is especially suitable for groups that want to share accommodation. The schoolhouse has 11 beds, its own kitchen, living room and bathroom. Outside, there is a barbecue. All guests can order breakfast (included) and dinner in the vicarage.
The double rooms in the vicarage are divided into sections so you don't have to share a bathroom with others.
Please book your accommodation by email or phone so they can take your needs and desires into account. Breakfast is included.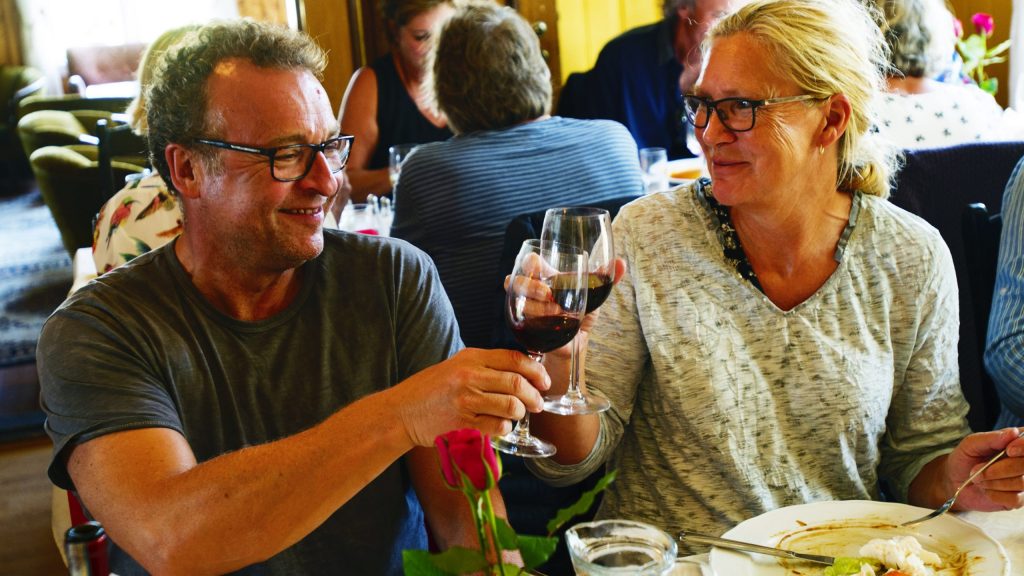 Next to the vicarage is the mediaeval Dønnes church, built in the 13th century. The soapstone church has a distinctive architecture and decorations, as well as Norway's largest and best-preserved burial chamber, dating back to the 17th century, with 22 coffins ready to tell their story. The surrounding gardens have a gazebo and are landscaped in the English style. Nearby is a farm shop that specialises in creative locally produced goods.
From the churchyard there is a nature and culture trail that leads to the top of Dønnesfjellet (128 m), which enjoys a stunning view of the Helgeland coast. The walk takes about 20 minutes.
The vicarage has a café open in the summer. Its adjoining room is a library that displays hunting trophies and contains a collection of historical books from Dønna and Helgeland.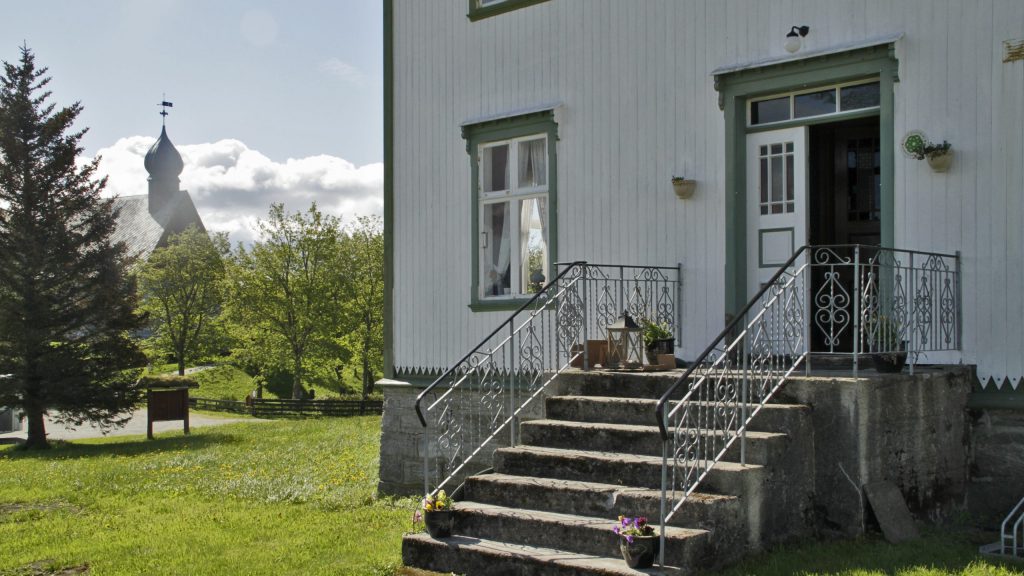 We recommend a guided tour of the vicarage and the medieval church, including its burial chamber. Amongst other things, you will hear about the wealthy family that once owned large swathes of Helgeland. The vicarage, Dønnes Gård, has been awarded St. Olav's Rose (Olavsrosa) for its impressive efforts to preserve the local heritage.
From the estate you can explore nature with the hiking trail that takes you up to the top of Dønnesfjellet at 128 masl. At the top you can enjoy views of the Hegeland coast in all directions.
Dønnes Nature and Culture Trail takes you to the top of Dønnesfjellet
Dønnes Nature and Culture Trail starts at the farm and goes through Dønnesskogen and takes you up to the viewpoint on Dønnesfjellet 128 masl. The trail is well marked and signposted – and facilitated by stairs and bridges in difficult places. From the top you can see large parts of the Helgeland coast in all directions, including as many as 7 parishes. Dønnesskogen was planted by landowner Isach Coldevin at the beginning of the 20th century. Here, in 1954, 17 different conifer species were registered – and most of the species can still be seen in the forest.
Vær og klær for Helgeland
Været på Helgeland kan variere mye, og på sommeren kan temperaturen være alt fra 15 til 30 grader, og regnet kan gjerne komme og gå i «ærlinger», eller «byger» som det heter sørpå. Vi anbefaler at du pakker både allværsjakke og badeklær, fjellsko og sandaler, så du er klar for det meste.
Om vinteren varierer temperaturen gjerne fra +5 til minus 15. Hvis du skal være mye ute, er ullundertøy og vindtette klær dine beste venner. Kle deg etter trelagsprinsippet med et innerlag, mellomlag og ytterlag. Tykk lue og tykke hansker eller votter er spesielt anbefalt hvis du skal på være ute med lavt aktivitetsnivå, for eksempel hvis du skal se på nordlyset.
Takk for at du hjelper oss med å ta vare på naturen og lokalsamfunnene på Helgeland.
Takk for at du:
Praktiserer sporløs ferdsel, og tar med avfall og toalettpapir tilbake til nærmeste søppeldunk.
Planlegger toalettbesøk, slik at du får gjort det du må der det ikke er til sjenanse for andre.
Respekterer det lokale dyrelivet, holder hunden i bånd og holder god avstand til både ville og tamme dyr og fugler.
Respekterer privat eiendom, og holder avstand til private hus og hytter.
Viser godt båt-vett, holder god avstand til land, lav fart nært andre på vannet, inkludert dyr og fugler, og unngår unødig kjøring som skaper forstyrrende motorstøy.
Respekterer ferdsels- og ilandstigningsforbudet i sjøfuglereservatene i hekketiden.
Følger fjellvettreglene, og planlegger turer etter evne og erfaring.
Leier en erfaren guide på turene der du selv ikke har kunnskapen eller erfaringen som trengs for en trygg tur.