Guided snowshoe trip from Mosjøen
You don't need skis to explore Helgeland's pristine winter landscape. Snowshoeing is a fun and different way to hike the forests and mountains. On this excursion, our experienced guide will lead you through a forest in which the trees are decorated with sparkling snow crystals.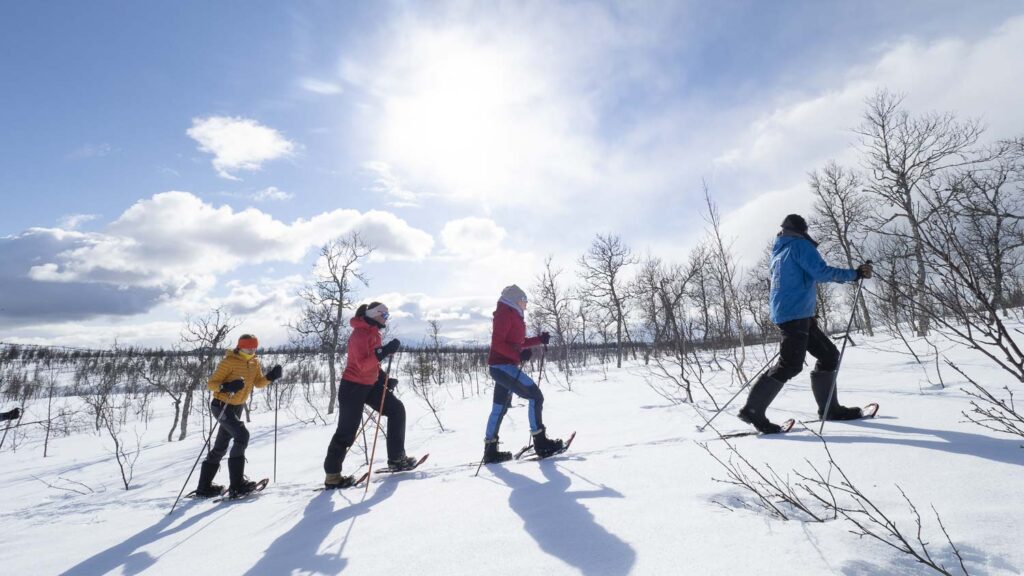 Kristin Folsland Olsen / Visit Helgeland
Put on the snowshoes we provide and walk with us through the snow-covered landscape. Snowshoeing is an adventure all its own! On our exploration of this pristine winter landscape, there is a good chance we'll encounter reindeer, moose, hare or fox. Snowshoeing requires no previous experience and is suitable for just about everyone. Our trek will be unhurried, so you can sense the silence and truly immerse yourself in the landscape that surrounds you.
HiNorth plans each snowshoeing adventure in dialogue with the customer. We may go for a round-trip hike at Sjåmoen, perhaps visit some of the terrific viewpoint, or stop at a lavvo to enjoy a hot meal by the fire. For this adventure, HiNorth provides equipment including snowshoes and poles, a hot beverage, and energising snacks such as chocolate or biscuits.
Contact
Les mer og bestill
Miljøsertifisert
Minimum two people.
Warm lunch in the lavvo: 300 NOK per person.
Renting winter clothing: 300 NOK per person.
Depending on the winter weather and altitude, the temperature may vary from zero to –20˚C (32˚ to –4˚F). For outdoor activities, we highly recommend woollen or thermal underwear, combined with windproof outer garments, and that you layer your clothing with an inner layer, a middle layer, and the windproof outer layer.
Thick warm headwear and gloves or mittens are strongly recommended, especially if your chosen adventure has a lower level of activity, such as when you're "hunting" for the Northern Lights.
Contribute to sustainable tourism
Thank you for respecting the local communities, and for helping us preserve the natural beauty of Helgeland!
Please:
Strive to leave no trace of your visit. Bring back all your rubbish, including used toilet paper, and discard it in the nearest rubbish bin.

Plan your toilet visits and use the opportunity when you pass a toilet. In the wilderness, make sure you are not a nuisance to others.

Respect the local wildlife. Keep a good distance from wildlife, livestock and birds. Keep your dog leashed.

Respect private property. Keep a respectful distance from houses and cabins.

Show good boating sense. Keep a good distance from shore and drive at a low speed, especially when you are close to anyone or anything on the water, including birds or animals. Avoid loud and disturbing engine noise.

Be aware that some islands and nature reserves are important nesting sites, and that going ashore is prohibited during the nesting season.

Follow the Norwegian Mountain Code (Fjellvettreglene). Plan your excursion according to the weather forecast, your skills and experience.

Join a guided excursion or consider hiring an experienced guide, especially when you don't have sufficient experience or knowledge to guarantee a safe trip.