Herøy Brygge - Accommodation in Herøy`s island kingdom
Herøy Brygge offers good accommodation in a wharf building situated in the village of Herøysundet on the beautiful island of Herøy. On the floor below your room, the restaurant serves breakfast and dinner, and you are also welcome to enjoy your meal on the pier outside.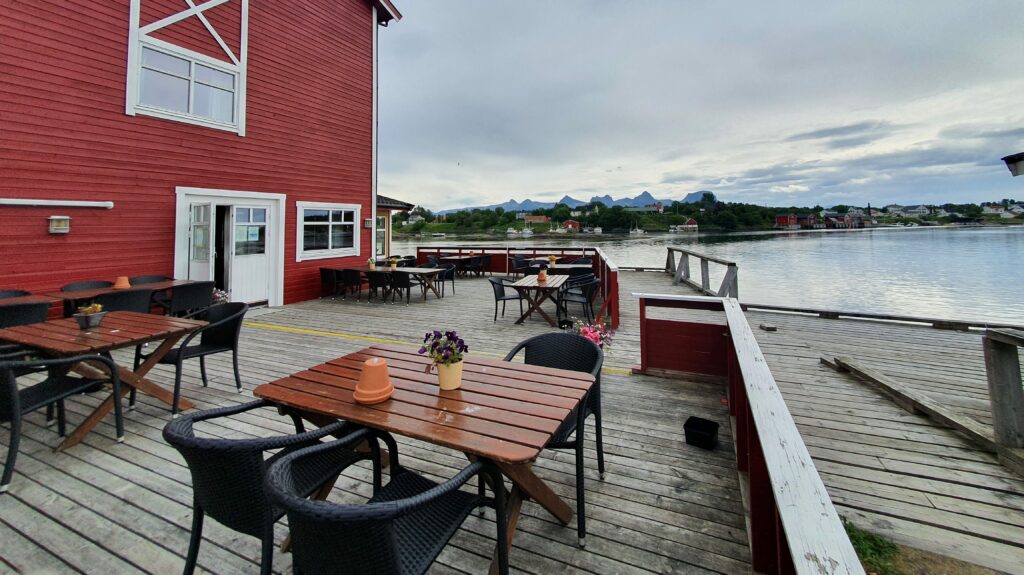 Maylinn Løfsnes Storjord
Couples, families, groups of friends and single travellers will all find suitable accommodation at Herøy Brygge. Here are single rooms, double rooms and family rooms. Some rooms enjoy a view of the sea and the Seven Sisters mountains, while others look out over the interior of the island. All in all, Herøy Brygge offers ten rooms with a total of 32 beds. It also has a guest pier and floating dock.
In the restaurant you may order anything from coffee and cakes to a hearty dinner. The special of the day is always based on local fresh ingredients. Children have special menu options. If you wish, you can dine outside on the pier.
The grocery store is only 100 metres away, and if you walk a couple of hundred metres farther and onto the bridge, you will have a fantastic view of Herøy's archipelago in all directions.
Just 5 km from Herøy Brygge, is a colourful shop called Etcetera, which you really should experience. Nine km away you'll find trails to five modest peaks on the island of Øksningan, rewarding you with nice views. If you drive or cycle 11 km, you will reach Seløy Kystferie, which offers deep-sea fishing trips, RIB sea rafting excursions and kayak rental. Augustbryggo offers good dining. If you continue driving, at 13 km away from Herøy Brygge is the start of the trail to the top of Dønnamannen (858), one of Helgeland's most renowned mountains.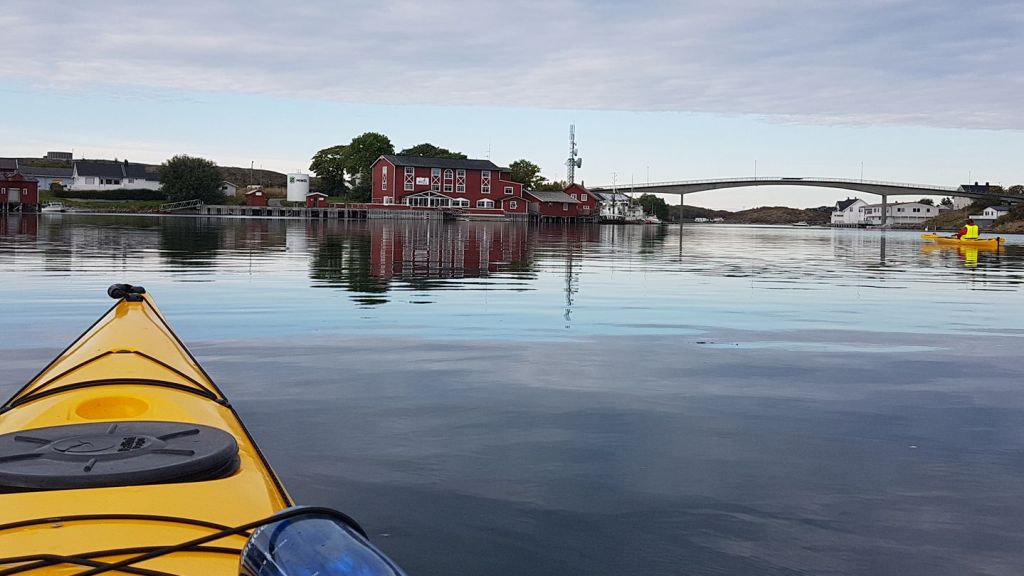 If you are on a cycling holiday, Herøy Brygge is conveniently situated only 2 km from the express boat and ferry quay. It's an excellent base for exploring the island on two wheels. Consider making it a family adventure, as the flat roads of Herøy make for easy cycling. If you want to visit the neighbouring island of Dønna, the Åkviksundbrua bridge is not far away.
How to get to Herøy Brygge
If you come by car, you can take the ferry two ways, either from Sandnessjøen center over to Bjørn on Dønna and drive 30 km south to Herøy Brygge, or drive 16 km south from Sandnessjøen and take the ferry over from Søvik to Herøy, and drive the last kilometer north to the center of Herøy.
It is also possible to travel to Herøy ferry and speedboat quay at Flostad by speedboat (not for car) from Sandnessjøen center or Vega on Gardsøy speedboat quay.
Contribute to sustainable tourism
Thank you for respecting the local communities, and for helping us preserve the natural beauty of Helgeland!
Please:
Strive to leave no trace of your visit. Bring back all your rubbish, including used toilet paper, and discard it in the nearest rubbish bin.
Plan your toilet visits and use the opportunity when you pass a toilet. In the wilderness, make sure you are not a nuisance to others.
Respect the local wildlife. Keep a good distance from wildlife, livestock and birds. Keep your dog leashed.
Respect private property. Keep a respectful distance from houses and cabins.
Show good boating sense. Keep a good distance from shore and drive at a low speed, especially when you are close to anyone or anything on the water, including birds or animals. Avoid loud and disturbing engine noise. Be aware that some islands and nature reserves are important nesting sites, and that going ashore is prohibited during the nesting season.
Follow the Norwegian Mountain Code (Fjellvettreglene). Plan your excursion according to the weather forecast, your skills and experience.
Join a guided excursion or consider hiring an experienced guide, especially when you don't have sufficient experience or knowledge to guarantee a safe trip.