10 tips for an adventurous Helgeland trip with friends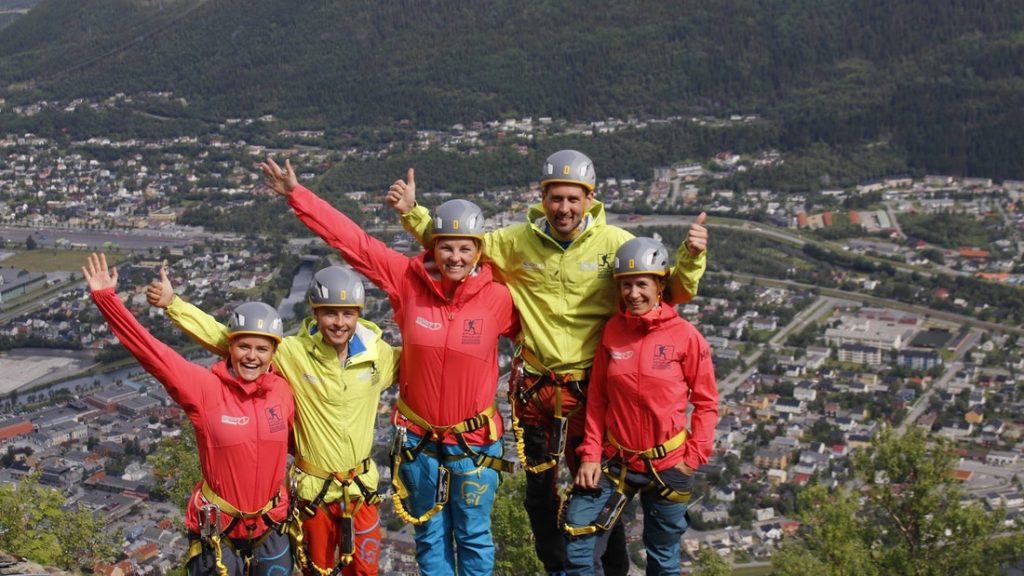 Naturlige Helgeland
Are you planning a holiday with friends? Here are some suggested adventures that will make your summer adventurous and filled with healthy doses of adrenaline!
Mosjøen zipline
From Øyfjellet, the mountain that overlooks the town of Mosjøen, you can soar like a bird down the 700-metre-long Zip-line! It's an awesome airborne ride that carries you across the Vefsna river, landing you safely by the riverbank. Afterwards, just walk through the beautiful gardens of Fru Haugans Hotel and reward yourself to some well-deserved refreshments in the hotel bar, or on the terrace outside.
Mosjøen Via Ferrata
The northernmost via ferrata in the world is situated on Øyfjellet (818 m), the mountain just outside the town centre. Via Ferrata means "iron road". Join us as we first ascend some of the 3000 steps of the Sherpa-built Helgeland Stairs, before climbing the Mosjøen Via Ferrata up to 660 metres. For a complete adventure, combine this with the Zip-line: soaring back down like a bird!
Ravnfloget Via Ferrata på Vega
This Via Ferrata is a spectacular climbing trail that takes you to the summit of Ravnfloget on the western side of the island of Vega. It is physically and psychologically demanding, but with a professional guide, a safety harness and proper equipment, most people who are fit can do it. The Via Ferrata route ends at the Nepal Bridge, on which you walk on a tightrope stretched across a mountain chasm. If you yearn for a challenge, this "bridge" may well be the highlight of your excursion. If you would rather avoid the vertigo, just follow the trail for the final stretch to the summit.
"The Stair Trim" – Who can manage the most steps?
We invite you to raise your pulse by ascending each of Helgeland's four impressive stone stairs. That's a total of over 6000 steps (and double that if you include the descents, which can also be demanding). The longest of these is the Helgeland Stairs in Mosjøen, with its 3000 steps up Øyfjellet. The second-longest, the Vega Stairs that ascend Ravnfloget, count "only" 2000 steps. A little further north, 1000 stone steps ascend Rødøyløva. If you go up and down all these stairs, you will have taken over 12,000 steps!
A glacier trek on Svartisen
Are you looking for an exotic adventure? Go on a glacier trek on Svartisen glacier! This is the second-largest glacier in mainland Norway, covering a larger area than the cities of Oslo and Bergen combined. From the west it's easiest to reach from the Holandsfjord in Meløy, and from the east by way of Svartisvatnet lake in Rana.
Always keep a safe distance from the edge while admiring the glacier. The large blocks of ice at the glacier's edge are unstable, and can suddenly shift without warning.
If you want to explore the glacier itself, please do so only in the company of an expert glacier guide. We recommend joining one of the guided glacier treks offered by Meløy Adventure. They will provide you with a safety harness and other proper equipment, and ensure that you have a memorable adventure.
Conquer a single Sister – or all Seven Sisters
The Seven Sisters is a legendary mountain range near Sandnessjøen, a town situated on an island. Four of the peaks rise above 1000 metres, while three are 900-metre peaks. The Seven Sisters form a formidable wall between the island town and the mainland. Some local hikers insist on ascending all seven peaks in a day – that's an immense endurance test, and it's not to be taken lightly!
Perhaps this is the challenge for you and your friends this summer? It will be a memorable adventure, whether you actually conquer all seven peaks or throw in the towel after ascending three or four of them. There is no shame in settling for just one or two summit hikes either.
Whatever you and your friends decide, please be aware that the terrain of this mountain range requires experience and caution. Follow the common sense expressed in the Mountain Code, and turn around long before you exhaust yourself.
Mountain biking – a rough adventure
Enthusiasts of mountain biking keep discovering exciting new trails in Helgeland. If you haven't brought your own bike and are eager for some rough, off-road cycling, we suggest you visit Meløy Adventure. They rent out mountain bikes and electric bicycles that you can use to explore forest roads and mountain trails. They also offer guided mountain biking trips, which are especially great for beginners!
You can find many trail suggestions at trailforks.com, trailguide.net, dagsturhelgeland.no and Terrengsykling Helgeland on Facebook.
Rafting in Grane
You may very well get wet, but it's exciting and fun, but it's exciting and fun! At Trofors, 40 km south of Mosjøen, RiverNorth offers rafting trips on the eastern branch of the Vefsna river. Here you can challenge large and relatively safe rapids and really feel the adrenaline rush! The surrounding wilderness is pristine and magnificent.
If the water level is suitable, we'll stop for a swim, and perhaps do some diving from the cliffs along the river. We can even have a photographer capture some of the most dramatic moments!
RIB sea-rafting adventures
Visit Nesna offers sea eagle safaris. These majestic birds of prey, with wingspans of up to 2.5 metres, are the largest in Northern Europe. It's an incredible experience to see these impressive birds up close.
Seløy Kystferie offers RIB sea-rafting excursions, with an overnight stay in a lighthouse or a lavvo at one of the most beautiful places on the Helgeland coast. If you prefer to explore on your own, they also rent rowboats and kayaks.
Helgeland Opplevelser offers RIB sea-raft "island hopping", lighthouse visits, sea eagle safaris, deep-sea fishing trips, and much more. They also offer accommodation in the idyllic Havkanten in the fishing village of Husvær on the island of Herøy. In short, a perfect mix of high-speed adventure and relaxation for you and your friends.
Sea kayaking
Helgeland is considered one of Norway's premier areas for sea kayaking. The landscape is incredibly varied, with narrow fjords, a myriad of islands and islets, and towering mountains.