The myriad of islands, islets and skerries, with sheltered waters and many areas of shallow seas, make the Helgeland coast one of Norway's premier kayaking arenas. Here is an overview of places where you can rent a kayak or sign up for guided kayaking excursions. Whether you are a beginner or an experienced kayaker, we would like to suggest some specific kayaking adventures and add some useful tips.
Three tips for a great kayaking adventure
Go on a guided tour
Local guides know the areas you paddle in and often know of nice routes and places to stop that you won't find on your own. They are experienced paddlers who can help you get better at kayaking, and they have the knowledge and experience to safely take you on longer trips than you might have embarked on alone.
Reward yourself with good breaks
Take advantage of your kayak's ability to hold a bit of cargo – bring some good food and plenty to drink. Find a scenic spot and pull your kayak ashore. Alternatively, you can find a seaside restaurant or a café.
Talk to the locals
The best source of information is the locals. Talk to staff where you rent your kayak and where you are staying, as well as local people you meet elsewhere. They often know the tides and the winds that could cause you trouble, and where the shipping lanes are that you should stay avoid. They can also suggest idyllic places go ashore, where to watch birdlife, and the best places to go kayaking in the glow of the midnight sun!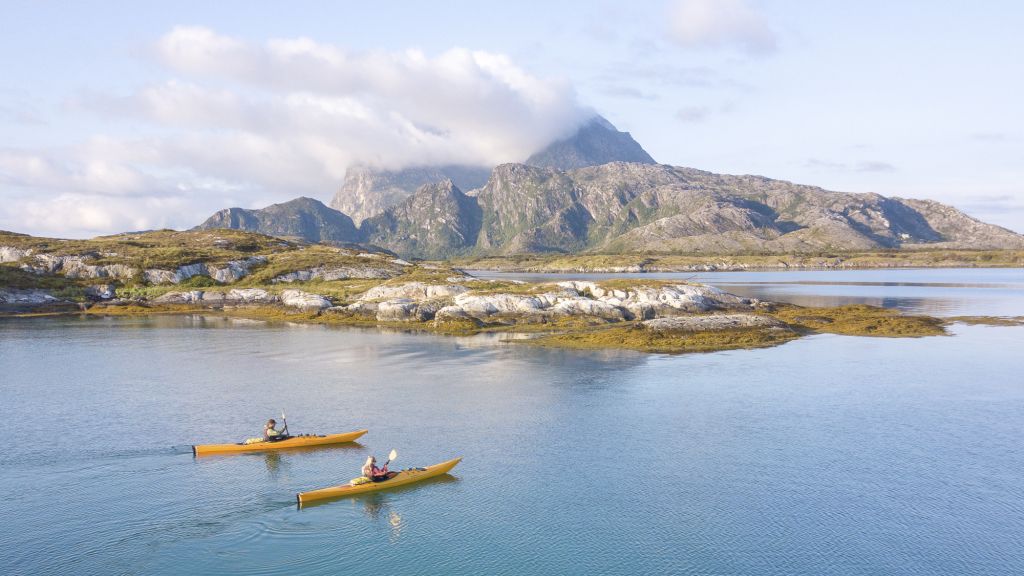 Have a safe kayaking adventure
Don't go alone.
It's usually more fun and definitely safer to go kayaking with family or friends, or even with a fellow traveller you've just met. Several kayakers are always more visible from boats and ships, and you can help each other should the need arise.
Plan your trip according to the weather, local conditions and your abilities
Always check the latest weather forecast before you head out. Is there a gale or storm coming? When does the tide turn? Headwinds or strong currents can be dangerously exhausting at the end of a long kayaking trip.
Bring the necessary safety equipment
Always carry a life jacket, a paddle float, a water pump, a whistle and a first aid kit. And make sure your mobile phone is safely stowed in a waterproof equipment bag! We also recommend charts, a line to secure your paddle, a spare paddle, reflectors and lights for evening trips, a kayaker's rescue knife, and spare dry clothing.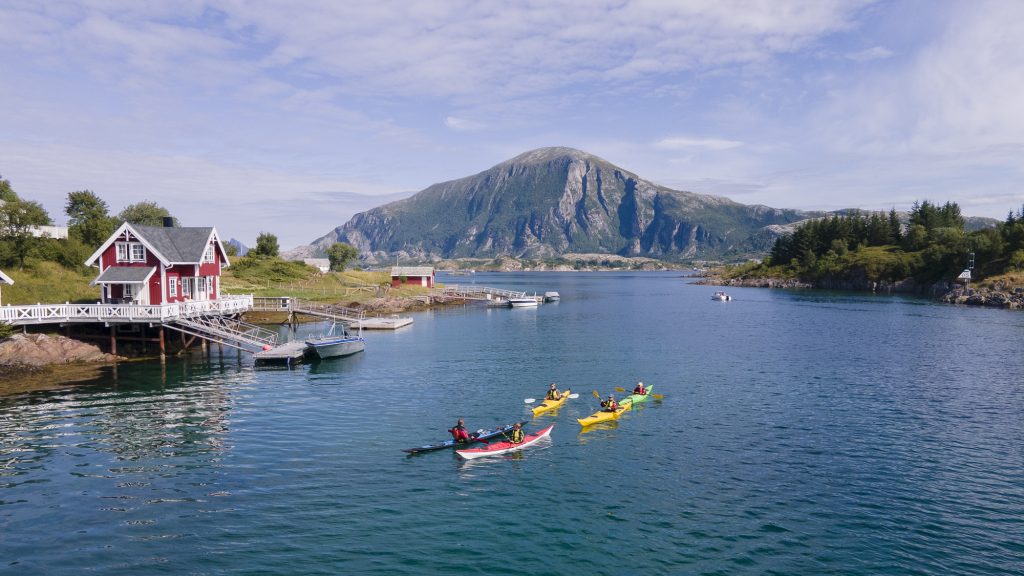 Stay close to shore
In the event that your kayak capsizes and you are unable to flip it upright, it's safest to have left yourself a short swim to shore. Moreover, near the shore you are usually safely out of the way of fast boats and large vessels. There is one notable exception: stay away from areas where strong waves can push you against rocks or cliffs!
Dress according to the water temperature
Should you be unfortunate and fall into the water, hypothermia is as great a risk as drowning. You rapidly lose body heat in cold water. Therefore you should dress according to the water temperature. Wear a dry-suit and woollen or thermal warm underwear on cold days and when you are kayaking alone. Bring a set of dry clothes, especially on longer trips.
The "Mountain Rules" also apply at sea
Leave word of where you are going, your planned route and how long you expect to be away. Choose a route suited to your experience and to the conditions. Never go on a long kayaking trip unless you are very experienced. Listen to expert kayakers. Be weather-wise and respect the sea. Turn back in time – a sensible retreat is no disgrace. Conserve energy; go ashore and seek shelter if necessary.
Watch videos of kayaking on the Helgeland coast