Laksforsen - Generations of tratidional food
Laksforsen is situated in Grane by highway E6, with a breathtaking panoramic view of a beautiful waterfall.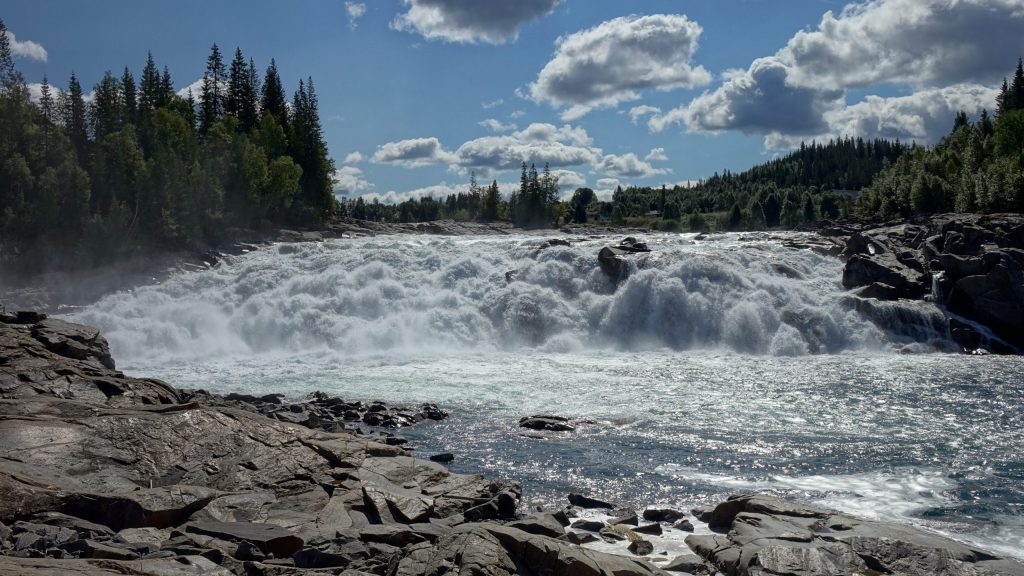 Stefan Barth
Restaurant
Through the panoramic windows of the restaurant, you enjoy a spectacular view of the raging waters and the spray from the 17-metre-high waterfall. You can feel the thunder of the falls! And diners can often see the salmon's impressive leaps as it struggles to navigate upstream.
The Forsmo family has operated the restaurant for decades. Throughout the years, several generations have worked side by side, taking great pride in inherited recipes and region's food traditions. The menu always features salmon, but also meat dishes that are still made according to the great-grandmother's secret recipes.
The large gift shop has an excellent selection of souvenirs in all price ranges. On the ground floor, a photo exhibition in cooperation with Helgeland Museum documents the fascinating history salmon fishing on the Vefsna river.
The 6. of February to the 24. of March: Oen only on Sundays 11 am to 19 pm.
From the 25. of March: Open all days 11 am to 19 pm.
Drive from Mosjøen, about 30 km south along the E6. Take off and drive about 1 km to the waterfall and the restaurant. Or drive from Trofors about 8 km before taking the E6.
Takk for at du hjelper oss med å ta vare på naturen og lokalsamfunnene på Helgeland.
Takk for at du:
Praktiserer sporløs ferdsel, og tar med avfall og toalettpapir tilbake til nærmeste søppeldunk.
Planlegger toalettbesøk, slik at du får gjort det du må der det ikke er til sjenanse for andre.
Respekterer det lokale dyrelivet, holder hunden i bånd og holder god avstand til både ville og tamme dyr og fugler.
Respekterer privat eiendom, og holder avstand til private hus og hytter.
Viser godt båtvett, holder god avstand til land, lav fart nært andre på vannet, inkludert dyr og fugler, og unngår unødig kjøring som skaper forstyrrende motorstøy.
Respekterer ferdsels- og ilandstigningsforbudet i sjøfuglereservatene i hekketiden.
Følger fjellvettreglene, og planlegger turer etter evne og erfaring.
Leier en erfaren guide på turene der du selv ikke har kunnskapen eller erfaringen som trengs for en trygg tur.