Glide through the winter landscape of Helgeland, guided by a team of strong and eager sled dogs. Drive your own sled or sit back and enjoy the ride, as you go through the pristine forests and rolling hills between the mountains. This is a nature experience like no other. Are you ready?
Book your experience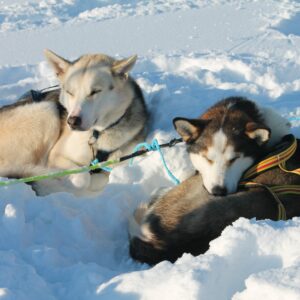 Dog-sledding in scenic surroundings
If you're looking for a truly exotic wilderness adventure, we offer dog-sledding in magnificent scenery in cooperation with Granåsen Huskies. This company really know the mountain wilderness near Mosjøen. On this shared adventure you may well make new friends, four-legged as well as two-legged!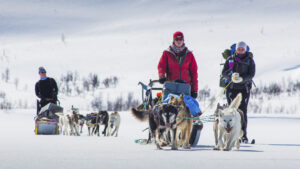 A dog-sledding adventure with Hi North 
We invite you on an exotic winter adventure: to have a team of Alaskan huskies pull your sled, speeding through the snow-covered mountains. Their enthusiasm is contagious!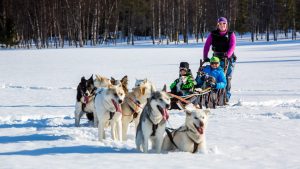 A winter safari with dog-sledding, snowmobiling and winter fun 
From our base in Mosjøen, HiNorth offers an unforgettable safari of snowmobiling and dog sledding. This package includes the very best winter adventures Helgeland has to offer, with expert guides who prioritise your safety and ensure truly rewarding adventures.