Tjøtta Gjestegård - Accommodation and dining in historical surroundings
At Tjøtta Gjestegård, you are invited to good dining and an overnight stay in historic surroundings. The old inn is conveniently situated near the ferry quay, and the ferry can take you to assorted attractions such as the Vega archipelago, a UNESCO World Heritage Site, the coffee roaster Forvik Kaffebrenneri, and the famous petroglyph of a pre-historic skier at Tro.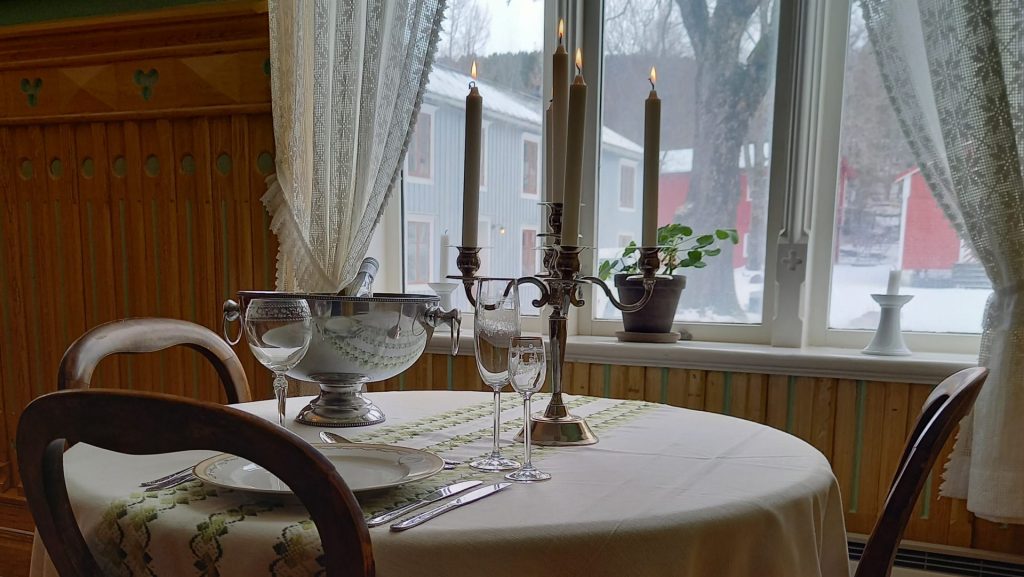 Kristine Kleven / Tjøtta Gjestegård
The venerable 19th-century inn is situated in beautiful historic surroundings in the village of Tjøtta, near the Coastal Highway, Fv17, about 40 km from the town of Sandnessjøen. Tjøtta Gjestegård is known for its charming lodgings and excellent dining. Nearby are a number of attractions. The Petter Dass Museum celebrates Northern Norway's beloved 17th-century poet priest. In addition there is the medieval Alstahaug church, Tjøtta International War Cemetery, and the Seven Sisters mountain range.
From Tjøtta, a ferry ride will take you to the popular coffee roaster at Forvik, and onward to the town of Brønnøysund. There are also direct ferries to the Vega archipelago.
Tjøtta Gjestegård is an excellent holiday base from which to explore the Helgeland coast's magnificent scenery and heritage, taking day excursions to the natural and cultural attractions of your choice. Be sure to take a local guided walk, which offers insights into Tjøtta's colourful history back to the Viking Age. Your guide will also tell you the story about the largest shipwreck in Norwegian history.
Overnatting i historiske Tjøtta Gjestegård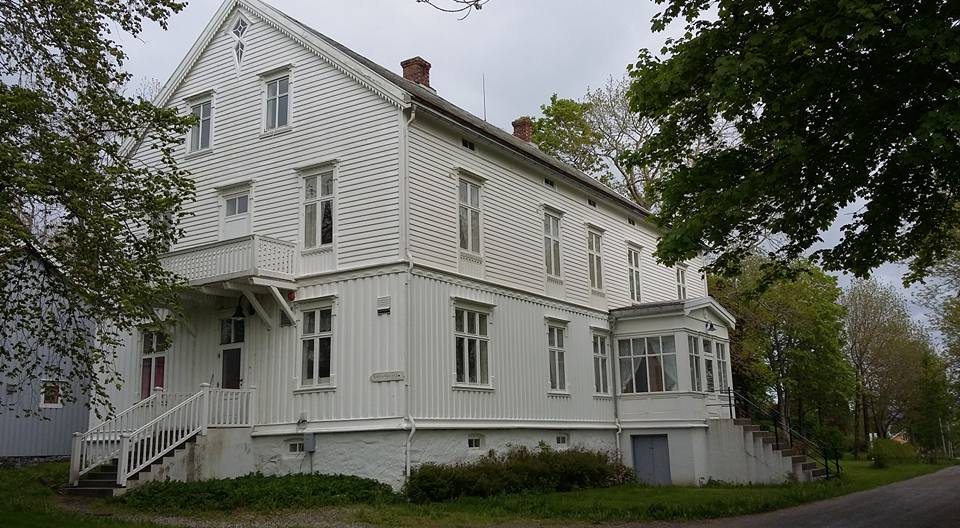 At Tjøtta Gjestegård you can get accommodation according to your wishes, whether a single room, a double room in various sizes, or a suite for you who want to enjoy a stately night in this charming inn.
Breakfast can be ordered.
The restaurant
Tjøtta Gjestegård has a cosy restaurant that serves lunch or dinner. The locals and visitors alike often enjoy a satisfying meal here, while waiting to take the ferry. Whether you are staying at the inn or just passing through, reservations are recommended.
The history about Tjøtta Gjestegård
Tjøtta Gjestegård was once Northern Norway's largest farm and an important center on Helgeland. The first known person to own the farm on Tjøtta was the poet Øyvind Finnson Poet in the 10th century. Øyvind's son, Hårek, took over the farm when Øyvind died, and eventually became Hålogaland's most powerful man. Hårek from Tjøtta is often mentioned in the Viking sagas with ancestors who lived on the mighty Høvdingsete on Sandnes a little further north. He owned large parts of Vega where they had to send eggs, fish, eider down and other goods as payment to stay on the island. He was involved in the battle of Stiklestad in 1030 and was himself killed by an ax six years later. The current guest farm was built in 1850 and was bought by the state in 1930. The farm was then converted into a sheep breeding farm for northern Norway. Today, it is a specialist center for Bioforsk Nord Tjøtta that has tasks within business and rural development, research and consultancy within agriculture and environmental issues.
How to get to Tjøtta Gjestegård
Tjøtta Gjestegård is only a couple of hundred meters from Kystriksveien (Fv.17) and Tjøtta Ferry Pier. On the east side of the road you can see a white building with older charm in the middle between trees and grass.
Contribute to sustainable tourism
Thank you for respecting the local communities, and for helping us preserve the natural beauty of Helgeland!
Please:
Strive to leave no trace of your visit. Bring back all your rubbish, including used toilet paper, and discard it in the nearest rubbish bin.

Plan your toilet visits and use the opportunity when you pass a toilet. In the wilderness, make sure you are not a nuisance to others.

Respect the local wildlife. Keep a good distance from wildlife, livestock and birds. Keep your dog leashed.

Respect private property. Keep a respectful distance from houses and cabins.

Show good boating sense. Keep a good distance from shore and drive at a low speed, especially when you are close to anyone or anything on the water, including birds or animals. Avoid loud and disturbing engine noise.

Be aware that some islands and nature reserves are important nesting sites, and that going ashore is prohibited during the nesting season.

Follow the Norwegian Mountain Code (Fjellvettreglene). Plan your excursion according to the weather forecast, your skills and experience.

Join a guided excursion or consider hiring an experienced guide, especially when you don't have sufficient experience or knowledge to guarantee a safe trip.