Mo i Rana – A town for the whole family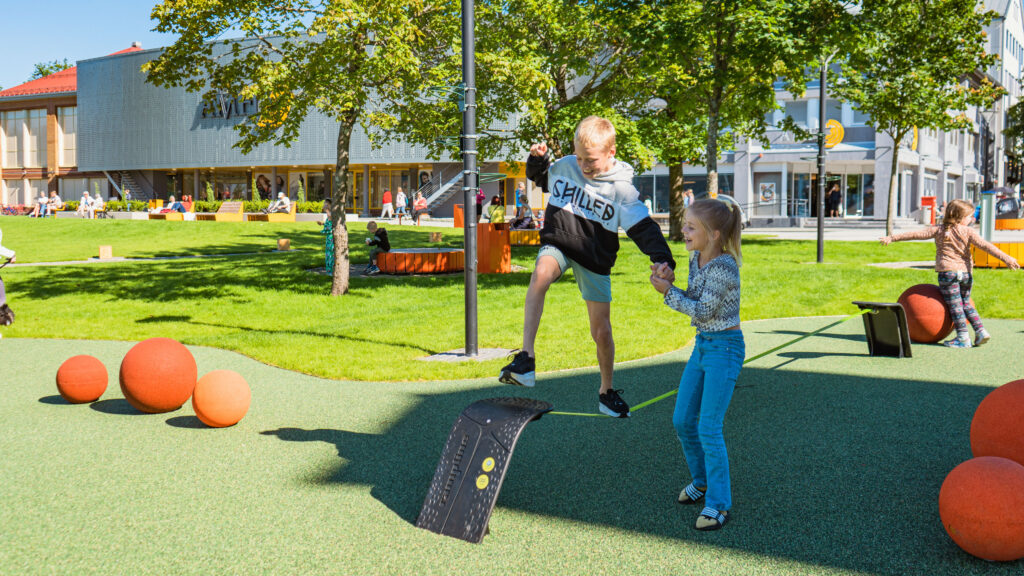 With a climbing park, a water park, a science museum with interactive exhibitions, and several fascinating caves, Mo i Rana has plenty of attractions for young and old!
A climbing park and a science museum
The year 2021 saw two exciting new additions to Mo i Rana's list of attractions. The science museum Vitensenter Nordland opened, as did the "High & Low" climbing park at Krokstrand Fjellpark!
The science museum, situated in the town centre, is a wonderful place to visit. Here children can explore interactive exhibitions that highlight a wide range of fascinating natural phenomena. It's a great way to learn about science and the natural world, our environment and climate, and everything from our human body to outer space. By engaging in various activities, you will discover in practice how different phenomena work in practice.
At Krokstrand Fjellpark you will find the first "High & Low" Climbing Park in Northern Norway! There is great satisfaction in mastering new challenges. The climbing park is situated in beautiful natural surroundings in the valley of Dunderlandsdalen. The climbing park has many climbing routes of varying degrees of difficulty. Here, everyone from pre-school children to teenagers, their parents and grandparents, can find a challenge that inspires just the right mix of fear and excitement!
The best kind of science
After a day high above the ground, surely it would be a wonderful contrast to chill below ground. Helgeland is riddled with caves known and unknown. Just outside Mo i Rana you will find two that are particularly exciting: Setergrotta and Grønligrotta. Both caves are part of the large limestone cave system that winds its way through this mountain rock. For thousands of years, water and ice have been eating their way into the porous limestone, leaving passageways and caverns within the harder marble that surrounded the limestone.
It is a fascinating and rather solemn experience to step inside the mountain interior. Here you leave the daylight and summer heat behind, and the sounds of that outer world quickly fade. Soon you may feel that you are on the threshold of another world. It's easy to imagine, as our ancestors did, that trolls and spirits inhabit this subterranean world.
If that sounds a little too exciting for your youngest children, we can recommend Grønligrotta as a well-lit alternative. That cave has wooden walkways and electric lighting. Moreover, the guided tour is a great experience for the whole family.
But for the older crowd and the more adventurous children, Setergrotta is especially exciting! This cave offers a raw and rather untouched experience – nothing special has been done to facilitate passage. Equipped with a helmet, coveralls, and the light from your own headlamp, you really do feel like an explorer on your way deep into the unknown.
On rainy days
In Helgeland, even the rain has its charm. Besides, you can take comfort in the fact that the rain benefits the farmer and the small fish in the streams. If you put on raingear, you can enjoy the magical atmosphere or the forest around Bredek, or the otherworldly appearance of the Svartisen glacier on a rainy day.
If you choose to avoid the elements, it's good to know that Mo i Rana offers exciting indoor activities. However, that doesn't mean you have to stay dry! Why not take your family and head for the Moheia water park. This facility has several pools, including a hot pool and a pool for the youngest kids. There are diving boards, water-slides, and a sauna where you can truly relax and let all your tension melt away.
A rainy day is also perfect for exploring the science museum, Vitensenteret Nordland. In the same building is the Rana Museum, with its fascinating natural history exhibits, including one on "The Animals of Helgeland". Between these two museums, visitors young and old are ensured many exciting moments, and new knowledge as well.
When evening approaches and after a good dinner, you can round off your day with a good movie at the city's cinema.
Explore more