A weekend of high adventure on the lofty peaks!
The picturesque Meløy Alps offers some of the wildest off-piste skiing in Northern Norway!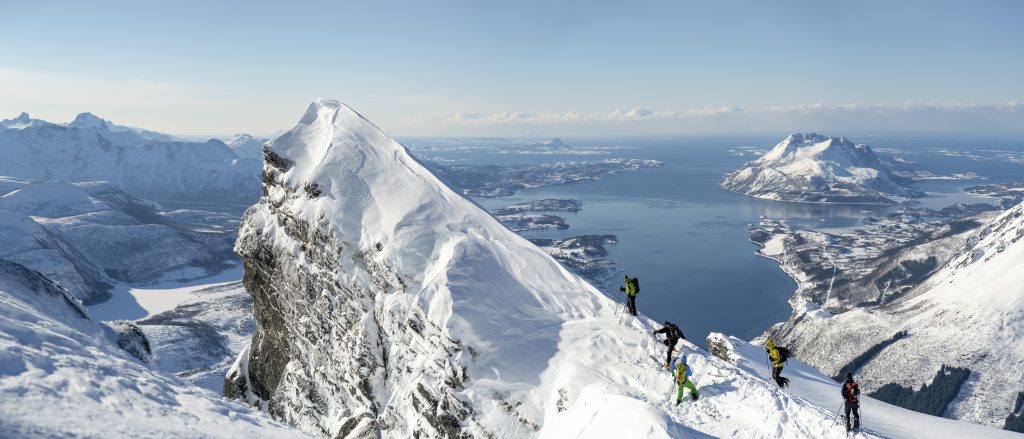 Simon Fosseim / Visit Helgeland
The Meløy Alps near Glomfjord have been portrayed in the skiing documentary "Supervention 2". These jagged majestic mountains beckon you to summit climbs in one of Norway's most scenic areas. If you yearn for virgin snow in a pristine mountain wilderness, then this is the adventure for you and your friends!
Meløy Adventure's expert guides will take you to the best peaks, carefully choosing descents that are especially suited to your group. The classic peaks include Tverrfjell, Istinden, Ronsfjellet and Middagstuva, and are quite varied. Each of these offers unique off-piste downhill skiing challenges! On any given day, your experienced guide will determine which peaks will provide exciting but safe skiing, and are best suited to the desires and skill set of your group.
During these adventurous days, you will be staying at Støtt Old Trading Post, which has been restored and upgraded to offer visitors all modern amenities. From our island base, we'll race across the waves in a RIB raft to reach the pristine snow slopes of the Meløy Alps. This hour-long crossing is itself a memorable adventure! After you return from the day's adventure, you might well be tempted to an invigorating plunge in the sea from the jetty.
As a guest, you will have the opportunity to experience our thriving and close-knit island community, immersing yourself in Helgeland's colourful coastal culture. Our popular après-ski session features local seafood and storytelling from the golden heyday of Støtt Old Trading Post.
How to get to Støtt and Meløy
Støtt is located in Meløy municipality in the far north of the Helgeland coast. Meløy is located along Kystriksveien (Fv.17), 1.5 hours south of Bodø and 4 hours north of Mo i Rana.
You can take a speedboat several times a day from Ørnes (Meløy), or you can fly to Bodø or Sandnessjøen and travel with Nordlandsekspressen (NEX) which runs daily between Bodø and Sandnessjøen, via Støtt.
Check timetables and plan your trip with reisnordland.no
Your price includes:
Summit adventures with an experienced guide
Transport by RIB sea raft and minibus to our adventures
Accommodation in a double room, with breakfast
A light hot meal on Thursday, a two-course dinner on Friday, and a celebratory dinner on Saturday
Packed lunches, coffee and tea
The price does not include:
Travel to or from Bodø or Støtt, or any flights
Mineral water or alcoholic beverages
Minimum number of participants: 6 people.
Winter temperatures vary from +5 to –15˚C (41˚ to 5˚F). We highly recommend woollen or thermal underwear, combined with windproof outer garments, and that you layer your clothing with an inner layer, a middle layer, and the windproof outer layer. Thick warm headwear and gloves or mittens are strongly recommended, especially if your chosen adventure has a lower level of activity, such as when you're "hunting" for the Northern Lights.
Contribute to sustainable tourism
Thank you for respecting the local communities, and for helping us preserve the natural beauty of Helgeland!
Please:
Strive to leave no trace of your visit. Bring back all your rubbish, including used toilet paper, and discard it in the nearest rubbish bin.

Plan your toilet visits and use the opportunity when you pass a toilet. In the wilderness, make sure you are not a nuisance to others.

Respect the local wildlife. Keep a good distance from wildlife, livestock and birds. Keep your dog leashed.

Respect private property. Keep a respectful distance from houses and cabins.

Show good boating sense. Keep a good distance from shore and drive at a low speed, especially when you are close to anyone or anything on the water, including birds or animals. Avoid loud and disturbing engine noise.

Be aware that some islands and nature reserves are important nesting sites, and that going ashore is prohibited during the nesting season.

Follow the Norwegian Mountain Code (Fjellvettreglene). Plan your excursion according to the weather forecast, your skills and experience.

Join a guided excursion or consider hiring an experienced guide, especially when you don't have sufficient experience or knowledge to guarantee a safe trip.