Dønna Rorbuer Bøteriet - A charming restaurant and accommodation
Dønna Rorbuer Bøteriet, situated on the quay in beautiful surroundings on the island of Dønna, offers good dining in charming surroundings, accommodation and guided boat trips.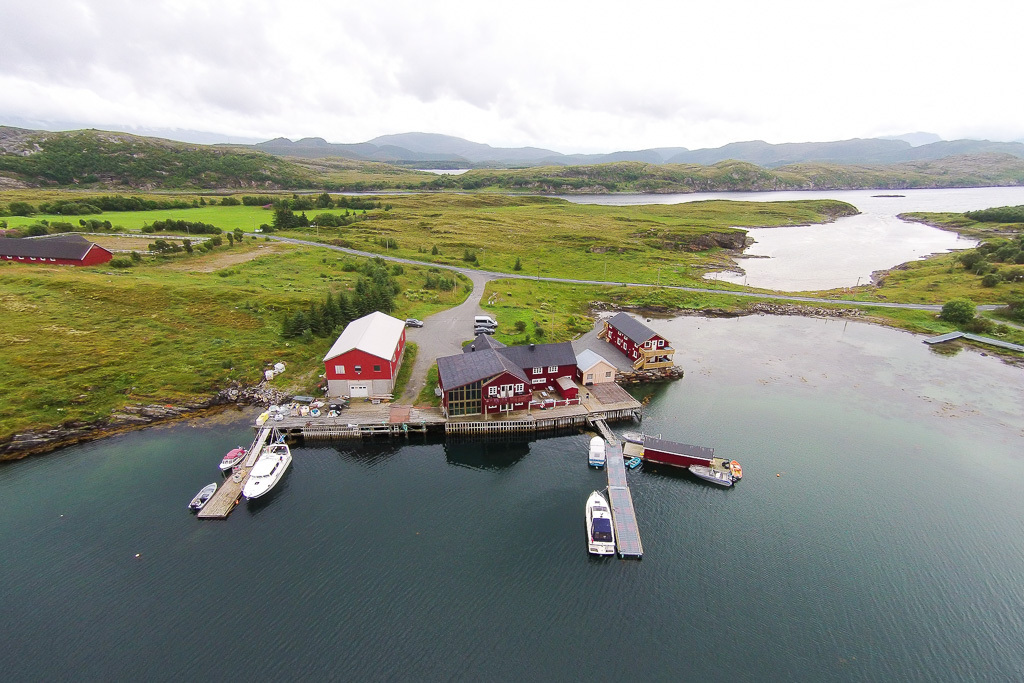 Andreas Vang Olsen – Vispro / Dønna Rorbuer Bøteriet
Here you will find comfortable accommodation, as well as good food and refreshments. You can sign up for a boat trip in a traditional Nordland boat, rent your own boat and go fishing, or go kayaking. Right outside the door are several hiking trails. If you stay here, you'll be quite near Dønna's best-known attractions.
For instance, on the other side of the bay is the tiny chocolate factory, Heidis Sjokoladedrøm. Also nearby is Dønnes Gård, an old vicarage. Next to it is a beautiful medieval church and a cultural path that leads up to Dønnesfjellet. In the other direction, at Glein, is an unusual attraction: the largest marble phallus in Northern Europe.
A guided boat trip in a traditional Nordland boat will take you to the shops of Herøy, or on an evening trip out on the surrounding seas.
A charming restaurant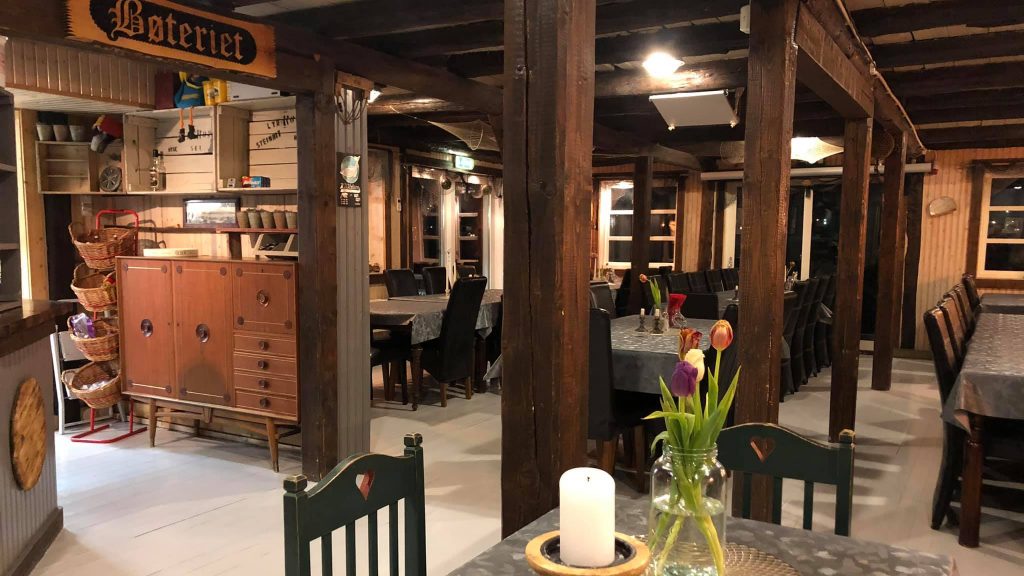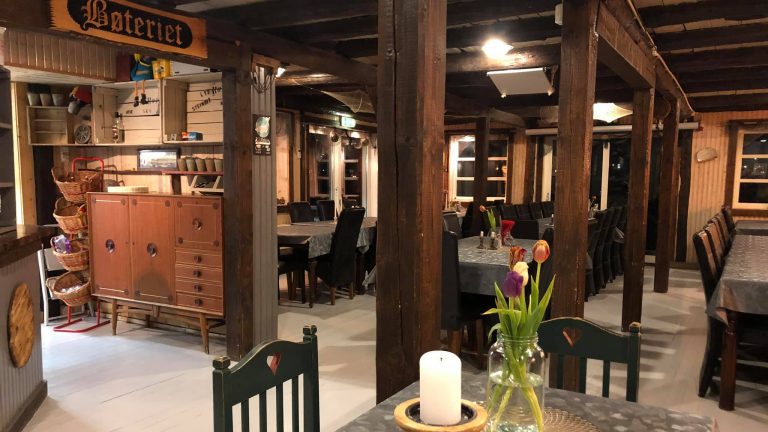 In Bøteriet Restaurant, you can dine well in maritime surroundings where the islanders used to mend fishing nets. The menu features seafood, meat and vegetarian dishes. All the fish is freshly caught in the waters near Dønna, and many of the other ingredients are local. The restaurant has a wonderful ambience, with old woodwork that is still intact and rustic objects that highlight Dønna's maritime heritage. One major change is the large windows now facing the sea.
A good night's sleep
The complex has a separate building with four apartments, each with two bedrooms and four beds, in addition to a sofa-bed. Each apartment is around 50 m2 (540 square feet).
Above the restaurant are two nice apartments, each with two bedrooms and four beds. One of the apartments has an alcove with an extra bed. There are also rooms with a family bed.
Breakfast trays can be ordered.
Opening hours for restaurant and accommodation
Dønna Rorbuer Bøteriet keeps accommodation open all year round on request. The restaurant is open several weekends throughout the year and can open on request for larger groups traveling together outside the summer season. In general, they are open throughout the summer season from June to August. Feel free to see their Facebook page for more detailed info.
Vær og klær for Helgeland
Været på Helgeland kan variere mye, og på sommeren kan temperaturen være alt fra 15 til 30 grader, og regnet kan gjerne komme og gå i «ærlinger», eller «byger» som det heter sørpå. Vi anbefaler at du pakker både allværsjakke og badeklær, fjellsko og sandaler, så du er klar for det meste.
Om vinteren varierer temperaturen gjerne fra +5 til minus 15. Hvis du skal være mye ute, er ullundertøy og vindtette klær dine beste venner. Kle deg etter trelagsprinsippet med et innerlag, mellomlag og ytterlag. Tykk lue og tykke hansker eller votter er spesielt anbefalt hvis du skal på være ute med lavt aktivitetsnivå, for eksempel hvis du skal se på nordlyset.
Takk for at du hjelper oss med å ta vare på naturen og lokalsamfunnene på Helgeland.
Takk for at du:
Praktiserer sporløs ferdsel, og tar med avfall og toalettpapir tilbake til nærmeste søppeldunk.
Planlegger toalettbesøk, slik at du får gjort det du må der det ikke er til sjenanse for andre.
Respekterer det lokale dyrelivet, holder hunden i bånd og holder god avstand til både ville og tamme dyr og fugler.
Respekterer privat eiendom, og holder avstand til private hus og hytter.
Viser godt båt-vett, holder god avstand til land, lav fart nært andre på vannet, inkludert dyr og fugler, og unngår unødig kjøring som skaper forstyrrende motorstøy.
Respekterer ferdsels- og ilandstigningsforbudet i sjøfuglereservatene i hekketiden.
Følger fjellvettreglene, og planlegger turer etter evne og erfaring.
Leier en erfaren guide på turene der du selv ikke har kunnskapen eller erfaringen som trengs for en trygg tur.