Vevelstad Gjestegård and Rorbuer
Vevelstad Gjestegård offers bed and breakfast accommodation in historic surroundings, located near the center of Vevelstad, a small municipality just north of Brønnøysund. The guesthouse serves homemade local traditional food and has a farm shop in the storehouse.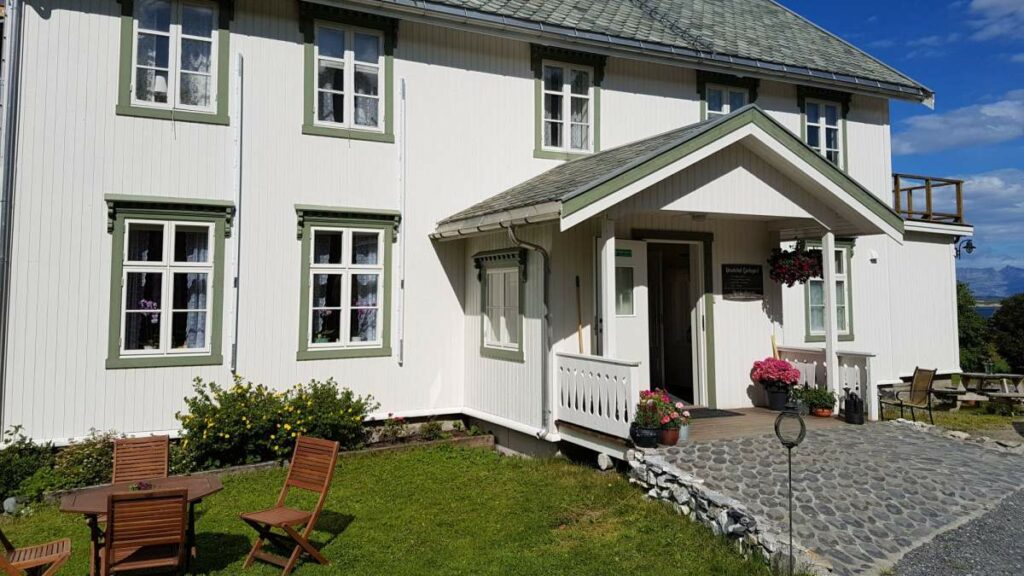 Vevelstad gjestegård
In the rolling cultural landscape by Vevelstadsundet, you'll find the ancestral farm and accommodation facility, Vevelstad Gjestegård. Since the 16th century, the farm has evolved into what it is today, with history literally embedded in its walls.
The main house, dating back to 1907, was restored and converted into a guesthouse in 2017. It now offers 9 rooms with a total of 18 beds, along with 5 bathrooms. Breakfast is included, and evening meals are available upon request. Lunch and dinner can be ordered, featuring local traditions and locally sourced ingredients. Here, you'll experience a slower pace of life, allowing you to unwind and enjoy excellent food and farm experiences.
The guesthouse also has a farm shop in the storehouse, where you can purchase their own and locally produced products.
By the sea, there are 3 high-standard cabins called "rorbuer" available for rent, each accommodating 6-8 people. It's also possible to rent boats and kayaks.
Hosts Ole Johnny and Sigrid Vevelstad warmly welcome all guests!
Vevelstad Gjestegård is open year-round.
Vevelstad is located between the cities of Brønnøysund and Sandnessjøen. From Brønnøysund, you'll need to take the ferry from Horn to Andalsvågen, and from Sandnessjøen, the ferry from Tjøtta to Forvik.
There is also a express boat between Tjøtta, Forvik, and Vistenfjorden.
Contribute to sustainable tourism
Thank you for respecting the local communities, and for helping us preserve the natural beauty of Helgeland!
Please:
Strive to leave no trace of your visit. Bring back all your rubbish, including used toilet paper, and discard it in the nearest rubbish bin.

Plan your toilet visits and use the opportunity when you pass a toilet. In the wilderness, make sure you are not a nuisance to others.

Respect the local wildlife. Keep a good distance from wildlife, livestock and birds. Keep your dog leashed.

Respect private property. Keep a respectful distance from houses and cabins.

Show good boating sense. Keep a good distance from shore and drive at a low speed, especially when you are close to anyone or anything on the water, including birds or animals. Avoid loud and disturbing engine noise.

Be aware that some islands and nature reserves are important nesting sites, and that going ashore is prohibited during the nesting season.

Follow the Norwegian Mountain Code (Fjellvettreglene). Plan your excursion according to the weather forecast, your skills and experience.

Join a guided excursion or consider hiring an experienced guide, especially when you don't have sufficient experience or knowledge to guarantee a safe trip.