Himmelblå Brygge at Ylvingen
Himmelblå, with its guest harbour, wharf and café, is becoming a preferred destination for holiday travellers and boaters exploring the scenic coast of Nordland county. Overnight guests can rent a room, pitch a tent on the island, or stay in their own boat in the guest harbour. Whatever accommodation you choose, you can enjoy island life to the fullest! That, of course, includes very satisfying dining.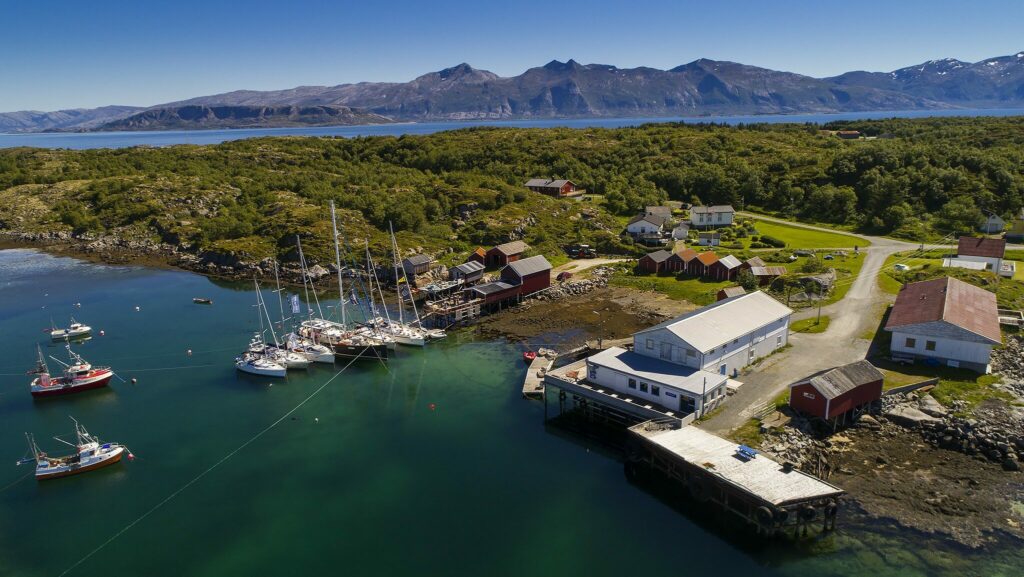 Accommodation
When you want a room for the night, why not choose one with real style? Himmelblå lodge is open year round. Facing the sea, it embraces a proud coastal culture, catering to guests who seek adventures. There is a strong focus on sustainability.
The Arctic Dome Himmelhiet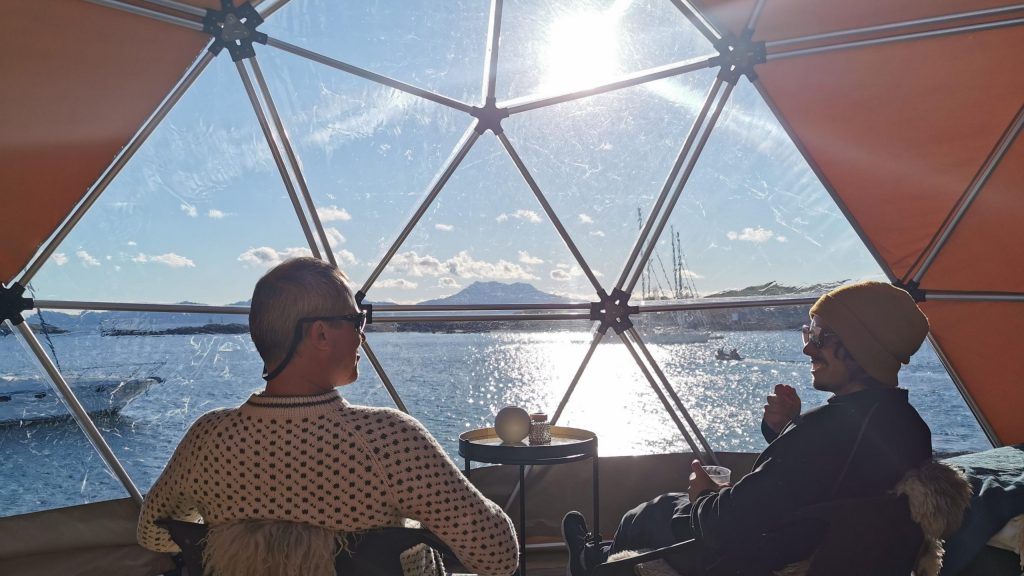 Their Arctic Dome offers guests an unforgettable experience of the sea and the midnight sun. Here you can fall asleep to the sound of waves washing the rocky shore below – and your night-light is the midnight sun! The Dome overlooks the sailing channel to Ylvingen, and the sea extends to the horizon. Comfortable mattresses, warm duvets and lush pillows ensure you a good night's sleep.
You can opt to have breakfast brought to your room, or have your first meal of the day in the restaurant. After sleeping close to the sea, enjoy your view of Ylvingen and the activity of the islanders.
Read more and book the dome here
Like a summer-long festival
At Himmelblå, summer is like a long festival, with many concerts, events and happenings. The offerings on the island include snorkelling, skin-diving, kayaking and sailing, culinary adventures and a Yoga boot-camp, singles meetup events, days packed with great activities for children, and much, much more!
Himmelblå Brygge restaurant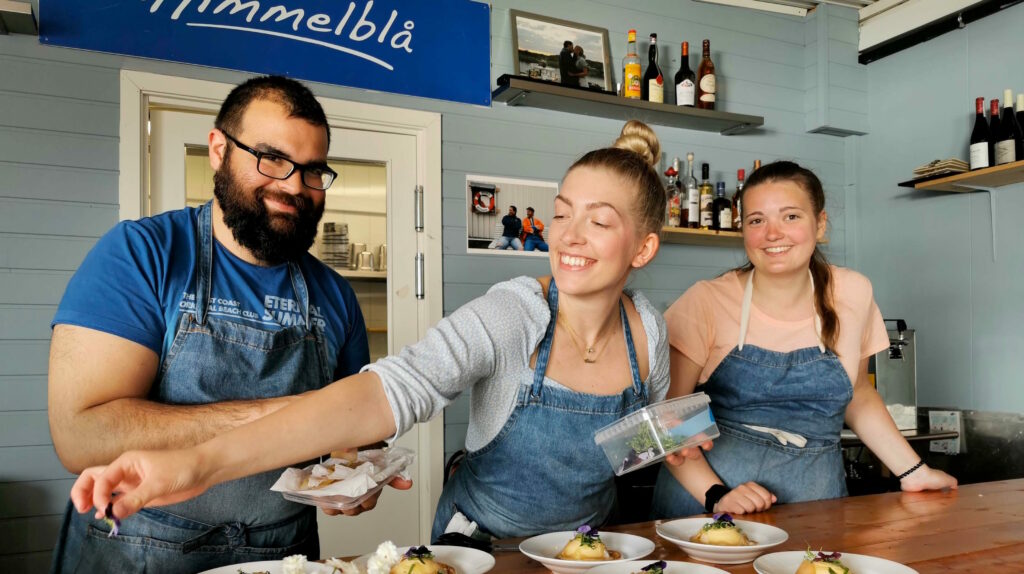 There are so many holiday adventures waiting for you on the island of Ylvingen. And be warned: some travellers have been tempted to make our island their new home! Many of the activities are focused on the sea, but landlubbers will also find plenty to do in this scenic archipelago. Himmelblå Brygge's restaurant is popular with the locals as well as visitors, so it's a great place to get to know people in the local community.
Himmelblå is open in summer from June to August
Ylvingen is a short half hour by speedboat outside Brønnøysund, and is in the middle of endless opportunities for island hopping!
Sporløs ferdsel og bærekraftig turisme
Takk for at du hjelper oss med å ta vare på naturen og lokalsamfunnene på Helgeland.
Takk for at du:
Praktiserer sporløs ferdsel, og tar med avfall og toalettpapir tilbake til nærmeste søppeldunk.

Planlegger toalettbesøk, slik at du får gjort det du må der det ikke er til sjenanse for andre.

Respekterer det lokale dyrelivet, holder hunden i bånd og holder god avstand til både ville og tamme dyr og fugler.

Respekterer privat eiendom, og holder avstand til private hus og hytter.

Viser godt båt-vett, holder god avstand til land, lav fart nært andre på vannet, inkludert dyr og fugler, og unngår unødig kjøring som skaper forstyrrende motorstøy.

Respekterer ferdsels- og ilandstigningsforbudet i sjøfuglereservatene i hekketiden.

Følger fjellvettreglene, og planlegger turer etter evne og erfaring.

Leier en erfaren guide på turene der du selv ikke har kunnskapen eller erfaringen som trengs for en trygg tur.