Himmelblå Brygge: Dining and accommodation at Ylvingen
To Norwegians, Himmelblå Brygge and the island of Ylvingen is well known from a popular TV programme. Fortunately, all visitors are welcome to dine and enjoy an overnight stay here. Some of the accommodation is unusual and the scenic surroundings are magnificent. And for young and old, Himmelblå Brygge offers lots of activities and great adventures!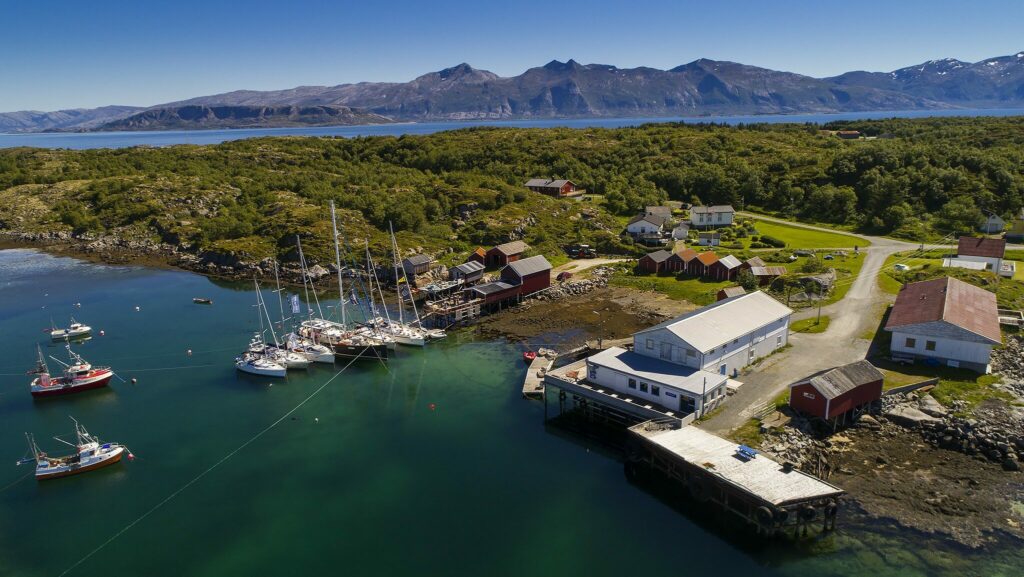 Accommodation
When you want a room for the night, why not choose one with real style? Himmelblå lodge is open year round. Himmelblå Brygge offers three different room types, but no matter what you choose, you are close to the sea.
The Arctic Dome Himmelhiet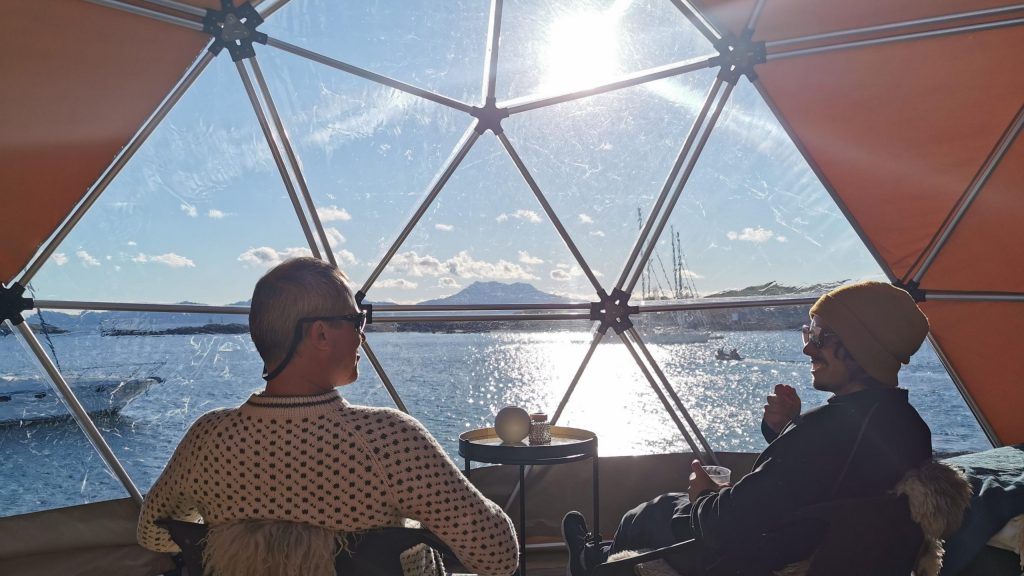 In the Arctic Dome, "Himmelhiet", you can fall asleep to the sound of waves washing the rocky shore below, and the midnight sun is your night-light! This comfortable accommodation is right on the sea. You have a great view of the seaborne approach to Ylvingen harbour and the open sea all the way to the horizon.
Read more and book the dome here
Glamping by the sea
Would you like something more luxurious? We also offer "glamping", which is short for "glamorous camping" – in our case in spacious special tents. These enjoy a stunning 360-degree view of the sea and the surrounding scenery of Vega, which is all the more magical when it is bathed in the glow of the midnight sun. Each "glamping" tent has comfortable beds for three people, with luxurious duvets and pillows.
Read more and book a stay in the glamping tents Homero and Havhiet
Family rooms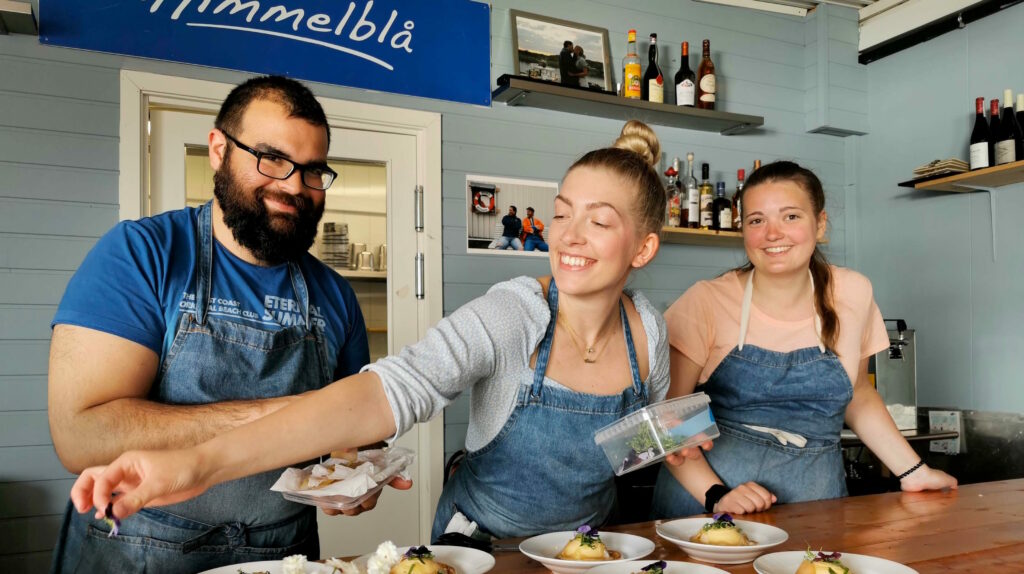 On our second floor are family rooms that enjoy a view of Ylvingen harbour and the sea beyond. Each room is equipped with a double bed and four extra-wide single beds (120 cm). There are shared toilets and showers. The restaurant is on the ground floor at the other end of the building. Boats are available for rent. Perhaps you can catch fish for dinner.
Families with small children will appreciate that our "baby call" has coverage all the way down to the restaurant. This means that after putting your kids to bed, you can enjoy some relaxed adult time in our restaurant.
Read more and book a stay in our family rooms, Vega and Lånan.
The restaurant
Himmelblå Brygge's restaurant is popular with the locals as well as visitors, everyone appreciates the emphasis on local ingredients and good service. We offer à la carte dining, or you can make reservations for our three-course set menu. Freshly baked goods and an assortment of beverages and refreshments are also offered.
Himmelblå is open in summer from June to August
Ylvingen is a short half hour by speedboat outside Brønnøysund, and is in the middle of endless opportunities for island hopping!
Contribute to sustainable tourism
Thank you for respecting the local communities, and for helping us preserve the natural beauty of Helgeland!
Please:
Strive to leave no trace of your visit. Bring back all your rubbish, including used toilet paper, and discard it in the nearest rubbish bin.
Plan your toilet visits and use the opportunity when you pass a toilet. In the wilderness, make sure you are not a nuisance to others.
Respect the local wildlife. Keep a good distance from wildlife, livestock and birds. Keep your dog leashed.
Respect private property. Keep a respectful distance from houses and cabins.
Show good boating sense. Keep a good distance from shore and drive at a low speed, especially when you are close to anyone or anything on the water, including birds or animals. Avoid loud and disturbing engine noise. Be aware that some islands and nature reserves are important nesting sites, and that going ashore is prohibited during the nesting season.
Follow the Norwegian Mountain Code (Fjellvettreglene). Plan your excursion according to the weather forecast, your skills and experience.
Join a guided excursion or consider hiring an experienced guide, especially when you don't have sufficient experience or knowledge to guarantee a safe trip.