A winter safari with dog-sledding, snowmobiling and winter fun 
From our base in Mosjøen, HiNorth offers an unforgettable safari of snowmobiling and dog sledding. This package includes the very best winter adventures Helgeland has to offer, with expert guides who prioritise your safety and ensure truly rewarding adventures.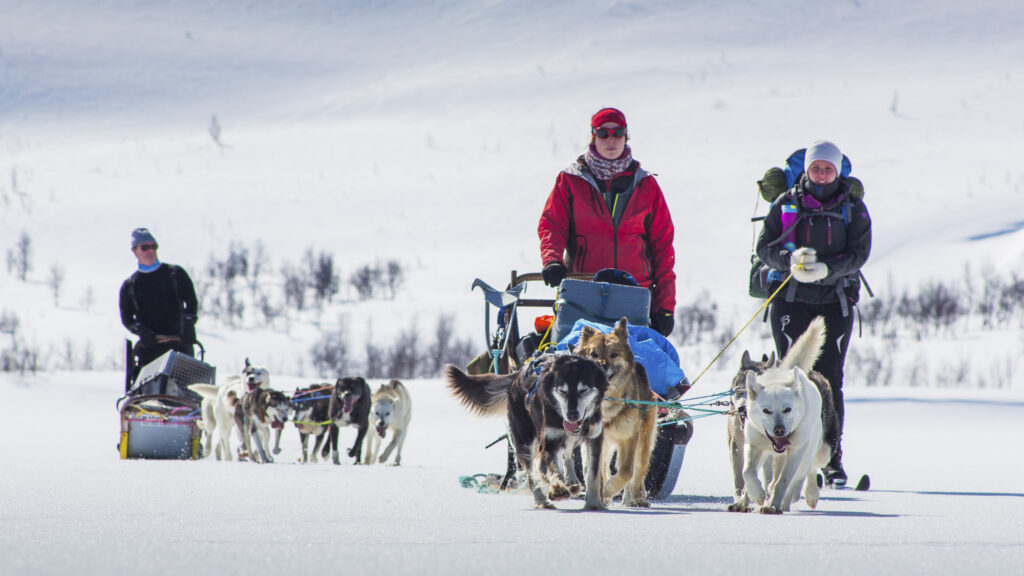 Hans Petter Sørensen / www.FarOutFocus.no
Your winter fun starts just outside Mosjøen. Let HiNorth treat you to an incredible four-day safari of varied adventures! Soon you will be speeding along the snowmobile trails, guiding a dog sled through the snow-covered wilderness, and rounding off your action-filled days with satisfying evenings in your warm and comfortable holiday apartment in the charming town of Mosjøen.
Dog sledding
We suspect this will be the highlight for every animal lover. The pack of Alaskan Huskies is just as eager for wilderness adventure as you are! You can choose to drive your own sled, pulled by the powerful yet obedient dogs who are almost silent when they are running – you'll only hear the sound of paws and the sled-runners gliding on the snow. This is an incredible opportunity to immerse yourself in the tranquillity of Helgeland's magnificent winter scenery.
Modern snowmobiles
The next day's adventure calls for more horsepower! With expert guides, we'll ride modern snowmobiles and explore some of Helgeland's excellent network of trails. Our snowmobile models have been chosen because they are especially comfortable and quiet and have low emissions. It's a real thrill to speed through the beautiful snow-covered scenery! Along the way, we'll stop at the best viewpoints, and to enjoy a hearty lunch prepared over a campfire or grill.
Accommodation in Mosjøen
After wintry days in the great outdoors, we're sure you will appreciate spending the night in a warm, comfortable apartment in Mosjøen. This gives you the opportunity for great dining at Restaurant Ellen, and to explore this attractive town and especially the historic Sjøgata street. Or perhaps you prefer to just chill, relax with a book, play board games, and recount the adventures that you've just shared with friends or family.
Add a summit hike or snowshoeing trip?
Would you like to extend your adventure by several extra days? Or perhaps replace some of the listed activities, for instance with a guided summit hike, a snowshoe trip, or a Sámi wilderness evening in a lavvo? Please contact HiNorth for a good offer on a series of adventures tailored to the desires of your group.
Contact
Go to booking
Miljøsertifisert
This excursion package is available from January through April.
HiNorth will provide all necessary safety equipment and outer clothing for your snowmobile adventure.
For all other days, participants must bring suitable wind- and water-proof clothing.
Depending on the winter weather and altitude, the temperature may vary from zero to –20˚C (32˚ to –4˚F). Be sure to bring woollen or thermal underwear, woollen socks, and warm headwear and gloves or mittens. Also vital are extra sets of clothing so that you have warm, dry clothes every day.
Contribute to sustainable tourism
Thank you for respecting the local communities, and for helping us preserve the natural beauty of Helgeland!
Please:
Strive to leave no trace of your visit. Bring back all your rubbish, including used toilet paper, and discard it in the nearest rubbish bin.

Plan your toilet visits and use the opportunity when you pass a toilet. In the wilderness, make sure you are not a nuisance to others.

Respect the local wildlife. Keep a good distance from wildlife, livestock and birds. Keep your dog leashed.

Respect private property. Keep a respectful distance from houses and cabins.

Show good boating sense. Keep a good distance from shore and drive at a low speed, especially when you are close to anyone or anything on the water, including birds or animals. Avoid loud and disturbing engine noise.

Be aware that some islands and nature reserves are important nesting sites, and that going ashore is prohibited during the nesting season.

Follow the Norwegian Mountain Code (Fjellvettreglene). Plan your excursion according to the weather forecast, your skills and experience.

Join a guided excursion or consider hiring an experienced guide, especially when you don't have sufficient experience or knowledge to guarantee a safe trip.