An idyllic Helgeland holiday on Rangsundøya
Just north of the Arctic Circle, in Rødøy municipality, lies Rangsundøya. At Helgelandsidyll on Rangsundøya, you can spend the night in a cosy apartment, stay in a luxurious tent, or in the very unique cabin – all of which enjoy a majestic view of the Helgeland coast.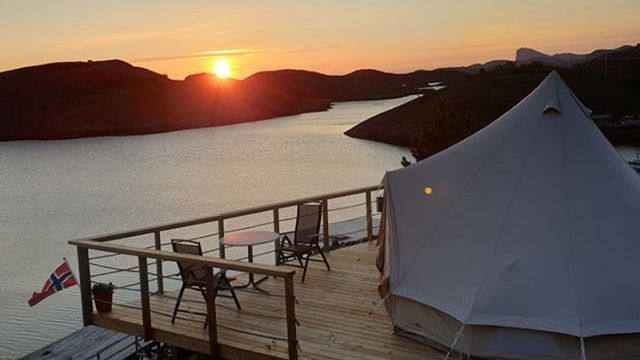 Helgelandsidyll
With over a thousand islands and islets, the municipality of Rødøy is a holiday paradise for kayaking, fishing and skin-diving. At Helgelandsidyll, you can rent a boat, kayak or stand-up paddle board (SUP). After a day out on the water or a long mountain hike, you can relax in the wood-fired sauna followed by a refreshing plunge into the sea. If you come by boat, you can dock at the floating raft that holds the sauna.
Med sine 1000 øyer og holmer er Rødøy et eldorado for kajakkpadling, fisking og fridykking. Du kan leie båter, kajakker eller SUP hos Helgelandsidyll.
Etter en dag på havet, eller en topptur i fjellene, kan du avslutte dagen i en vedfyrt flytende badstue og et forfriskende havsbad. Kommer du med båt, kan du legge til ved badstuflåten.
Accommodation
Guests have several options. The apartment has two bedrooms with a total of seven beds. One bedroom has a double bed and two bunk beds, and the other has a family bunk bed.
Also offered are two luxurious tents for "glamping" (glamorous camping), with a double bed and the possibility of adding an extra bed. The two tents have a terrace that enjoys a beautiful view, and there are no close neighbours to disturb you.
Ørnedomen (the Eagle Dome) is a charming cylindrical cottage with a great views. It is simply furnished with tables and benches. It's a very unique overnight stay!
All guests have access to a well-equipped kitchen, a laundry room with washer and drier, showers and toilets.
Activities
You can rent a kayak, boat or SUP (stand-up paddle board) from Helgelandsidyll, and explore the area on your own. With its small islands and islets, white sand beaches, and mountains that rise straight up from the sea, the area is ideal for kayaking and boat trips. There are excellent fishing spots if you want to fish your own dinner. The most common catches are cod, saithe, halibut, mackerel and redfish. Children may well experience casting a line from the dock and catching a mackerel.
Guided excursions are available. Sign up to see the majestic sea eagle, the largest bird of prey in Northern Europe. How about a visit to the impressive Nattmoråga falls or to Svartisen glacier? And if you want to cross the Arctic Circle, it's not far away.
Rangsundøya and Selsøyvik
The island of Rangsundøya, which is situated just north of the Arctic Circle, has a road connection to Selsøya. On that latter island you will find the old trading post Selsøyvik. In the summer you can dine at the restaurant there. Selsøy also has a frisbee golf course for family fun. Your hosts at Helgelandsidyll can help arrange transportation.
The glamping tents and the eagle dome are available during the summer season.
The apartment can be rented all year round.
You travel by speedboat or ferry to Selsøyvik. From Selsøyvik there is a road connection to Rangsundøya. You can arrange a ride from Selsøyvik with Helgelandsidyll.
The Nordland Express runs daily between Sandnessjøen and Bodø and calls at Selsøyvik. The nearest port from the mainland is Tonnes in Lurøy.
You can also take the local boat that runs between Tonnes and Myken.
If you want to have a vehicle, you can take a ferry from Jektvik in Rødøy to Selsøyvik.
Takk for at du hjelper oss med å ta vare på naturen og lokalsamfunnene på Helgeland.
Takk for at du:
Praktiserer sporløs ferdsel, og tar med avfall og toalettpapir tilbake til nærmeste søppeldunk.
Planlegger toalettbesøk, slik at du får gjort det du må der det ikke er til sjenanse for andre.
Respekterer det lokale dyrelivet, holder hunden i bånd og holder god avstand til både ville og tamme dyr og fugler.
Respekterer privat eiendom, og holder avstand til private hus og hytter.
Viser godt båt-vett, holder god avstand til land, lav fart nært andre på vannet, inkludert dyr og fugler, og unngår unødig kjøring som skaper forstyrrende motorstøy.
Respekterer ferdsels- og ilandstigningsforbudet i sjøfuglereservatene i hekketiden.
Følger fjellvettreglene, og planlegger turer etter evne og erfaring.
Leier en erfaren guide på turene der du selv ikke har kunnskapen eller erfaringen som trengs for en trygg tur.