Aloha Cafe on Træna
Aloha Cafe, nestled in the heart of Høusøy in Træna, offers a delightful cafe experience with a touch of island charm. With it's central location it's just a short walk from the express boat and ferry terminals, the church, tourist information center, grocery store, Træna Accommodation, and House by the Sea.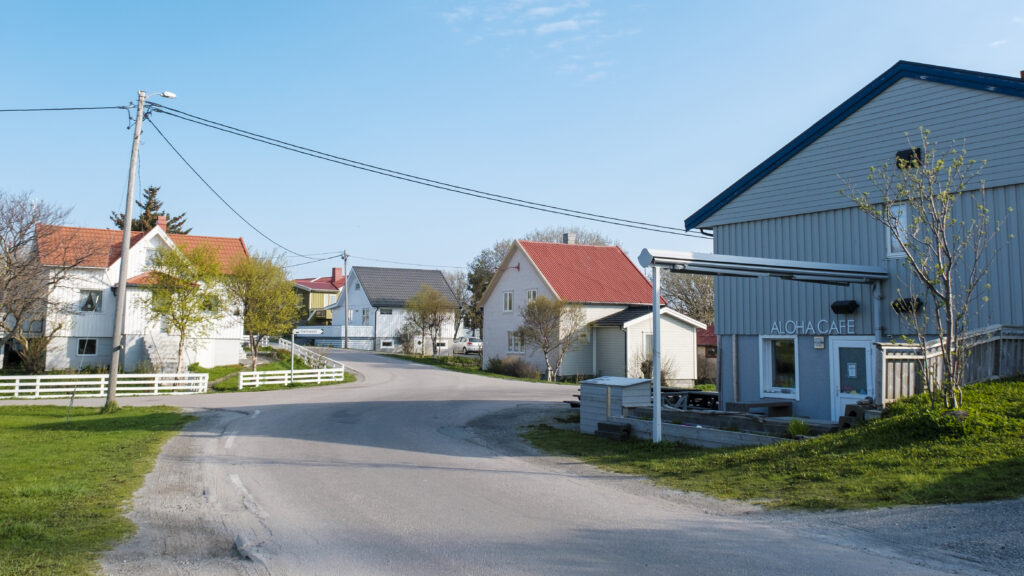 Kristoffer Møllevik / Visit Helgeland
Aloha Cafe is conveniently and beautifully located in the heart of the island, just a short distance from the express boat and ferry docks, the church, the tourist information center, the grocery store, Træna Overnatting, and House by the Sea. Our menu offers delicious lunch options, including Fish'n Chips, salads, and the Træna-Hawaii burger. And of course, we have some delightful treats like milkshakes, smoothies, coffee, and cakes.
We also provide a variety of gluten-free and lactose-free alternatives.
This popular cafe is where the locals often gather to chat over a cup of coffee, discussing everything from the big events to the small details of everyday life. The name "Aloha" is inspired by the story of "Træna-Hawaii," which tells the tale of two siblings who lived in Træna and Hawaii over a hundred years ago. It highlights the connection that formed between two island communities on opposite ends of the globe.
Aloha Træna is open all year round, but the opening hours may vary. Please check their Facebook page, send them a message, or ask locally to confirm the current opening hours.
Contribute to sustainable tourism
Thank you for respecting the local communities, and for helping us preserve the natural beauty of Helgeland!
Please:
Strive to leave no trace of your visit. Bring back all your rubbish, including used toilet paper, and discard it in the nearest rubbish bin.

Plan your toilet visits and use the opportunity when you pass a toilet. In the wilderness, make sure you are not a nuisance to others.

Respect the local wildlife. Keep a good distance from wildlife, livestock and birds. Keep your dog leashed.

Respect private property. Keep a respectful distance from houses and cabins.

Show good boating sense. Keep a good distance from shore and drive at a low speed, especially when you are close to anyone or anything on the water, including birds or animals. Avoid loud and disturbing engine noise.

Be aware that some islands and nature reserves are important nesting sites, and that going ashore is prohibited during the nesting season.

Follow the Norwegian Mountain Code (Fjellvettreglene). Plan your excursion according to the weather forecast, your skills and experience.

Join a guided excursion or consider hiring an experienced guide, especially when you don't have sufficient experience or knowledge to guarantee a safe trip.