Ski touring: Tomskjevelen, 922 m
Tomskjevelen is a 922-meter peak located on the island of Tomma in Nesna, in the middle of the stunning Helgeland coast. The pointed peak rises steeply from the sea, presenting a challenging and rewarding experience for experienced and skilled skiers.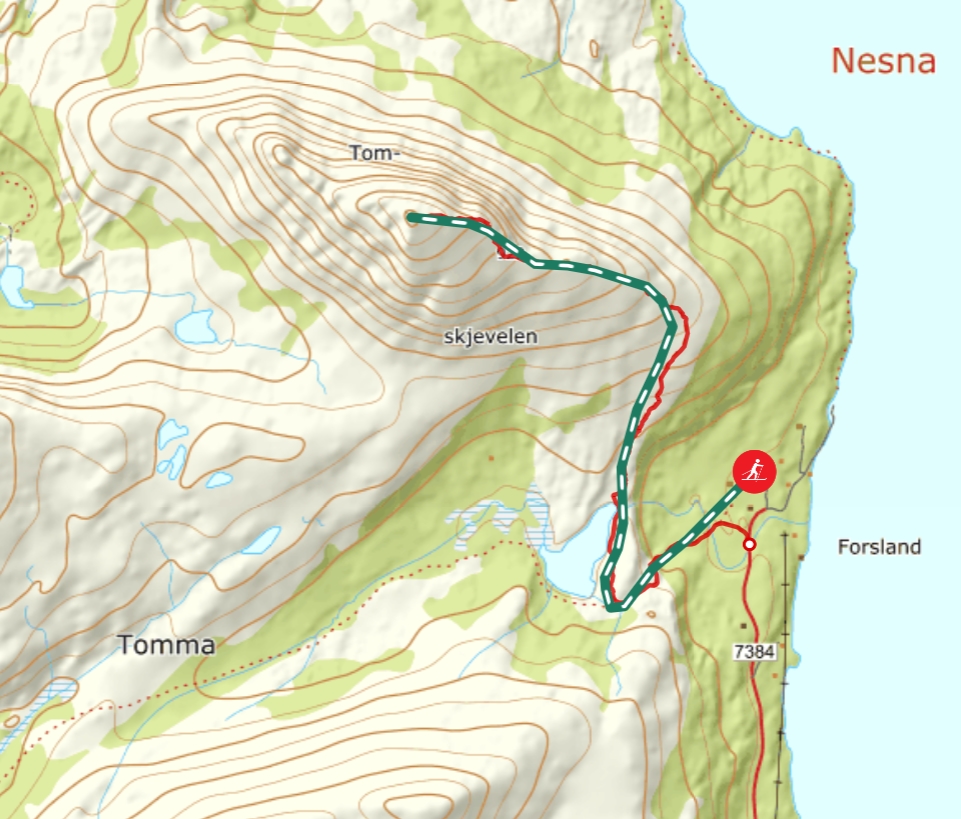 Tomskjevelen rises dramatically from the sea, offering a steep and demanding ascent that is truly rewarding for those with the necessary skills. If you're seeking a challenging and memorable peak ride, Tomskjevelen delivers in spades when conditions are favorable.
Tomma is easiest to reach by car, taking a scenic drive followed by a ferry from Nesna. Upon arrival with the ferry, take a right turn towards Forsland and look for a suitable parking spot that won't obstruct others. In case of doubt, don't hesitate to ask the locals. From there, follow a tractor road up to Forslandsvatnet, and keep to the east side of the lake as you turn north towards the imposing east ridge of Tomskjevelen.
See the starting point with Google Maps.
Remember to check the weather forecast and the avalanche warning on the same day as the trip.
Tips for a safe and rewarding ski trip
Plan your trip well
Route choices should be made with safety in mind, considering the current conditions and your group's skills.
Always check both the weather and avalanche forecasts on the day of your trip.
Utilize maps that detail avalanche zones and release areas, such as those available on UT.no or Fatmap.
If the weather turns or conditions worsen unexpectedly, have an alternative hike or activity ready as plan B.
Remember, enlisting a local professional guide will streamline this process, allowing your group to focus more on the experience and less on the logistics.
Carry the necessary gear
Equipping yourself with appropriate clothing and gear is essential. Be prepared for weather changes and bring extra clothes in case the weather worsens or in case of injuries. In the wild terrains of Helgeland, it might take time for help to arrive, making the risk of hypothermia a real concern.
Even if you're not venturing into avalanche-prone terrains, carrying an avalanche transceiver, probe, and shovel is always a wise precaution.
A mountain guide enriches the ski trip
Engaging a local, professional guide can greatly enrich your experience. Well-acquainted with the local terrains and conditions, guides expertly plan routes that cater to your group's composition and adapt to the day's weather and conditions. Their adept skills in assessing conditions on the go ensure you traverse safe and enjoyable paths, both ascending and descending.
This way you have less planning and less to concider, and more time to just enjoy your journey.
Useful Links:
Weather Forecast on YR.no
Avalanche Warning for Southern Helgeland on Varsom.no
Avalanche Warning for Northern Helgeland (Svartisen) on Varsom.no
Mountain Safety Rules on DNT.no
Packing list for skiing in the mountains from DNT.no
Contribute to sustainable tourism
Thank you for respecting the local communities, and for helping us preserve the natural beauty of Helgeland!
Please:
Strive to leave no trace of your visit. Bring back all your rubbish, including used toilet paper, and discard it in the nearest rubbish bin.
Plan your toilet visits and use the opportunity when you pass a toilet. In the wilderness, make sure you are not a nuisance to others.
Respect the local wildlife. Keep a good distance from wildlife, livestock and birds. Keep your dog leashed.
Respect private property. Keep a respectful distance from houses and cabins.
Show good boating sense. Keep a good distance from shore and drive at a low speed, especially when you are close to anyone or anything on the water, including birds or animals. Avoid loud and disturbing engine noise. Be aware that some islands and nature reserves are important nesting sites, and that going ashore is prohibited during the nesting season.
Follow the Norwegian Mountain Code (Fjellvettreglene). Plan your excursion according to the weather forecast, your skills and experience.
Join a guided excursion or consider hiring an experienced guide, especially when you don't have sufficient experience or knowledge to guarantee a safe trip.
Find other winter trails and hikes