Norwegian Aquaculture Centre - A salmon success story
The Norwegian Aquaculture Centre is beautifully situated by Toftsundet. The actual fish farm is reached by a gangway from the shore. This is the place to learn more about the fascinating life cycle of salmon, and the pioneering work that made Norwegian aquaculture such an international success.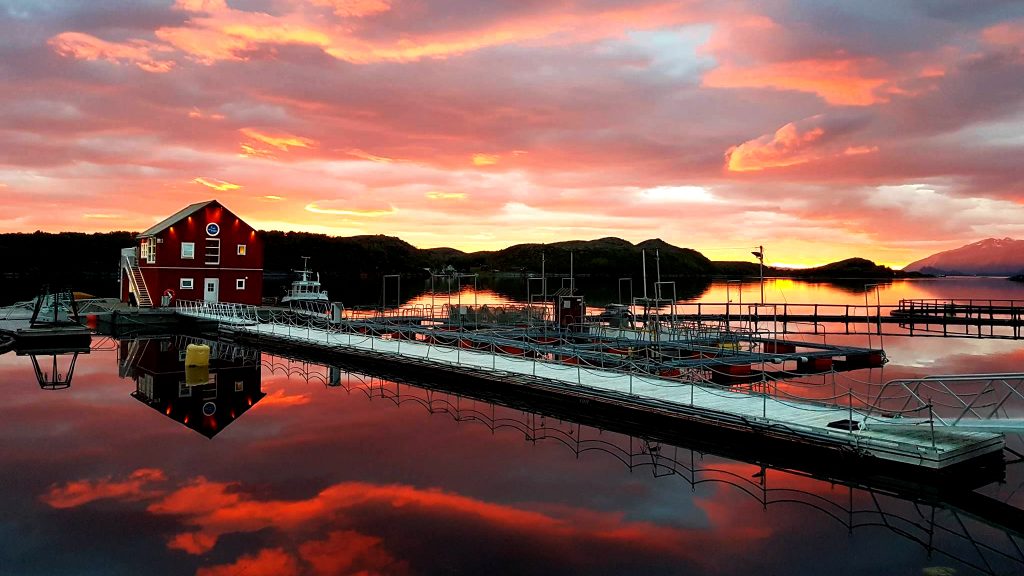 Designalkymisten AS
The success story of salmon farming
Knowledgeable guides will lead you on a journey through the many chapters of modern fish farming, and the story's environmental context. The tour makes use of mini-aquariums as well as underwater cameras. You will witness feeding, hear about the development of salmon from fertilised fish egg to sexual maturity, and see how it is cared for during the various stages of its life. Naturally you are welcome to visit at any time of the year.
Indoors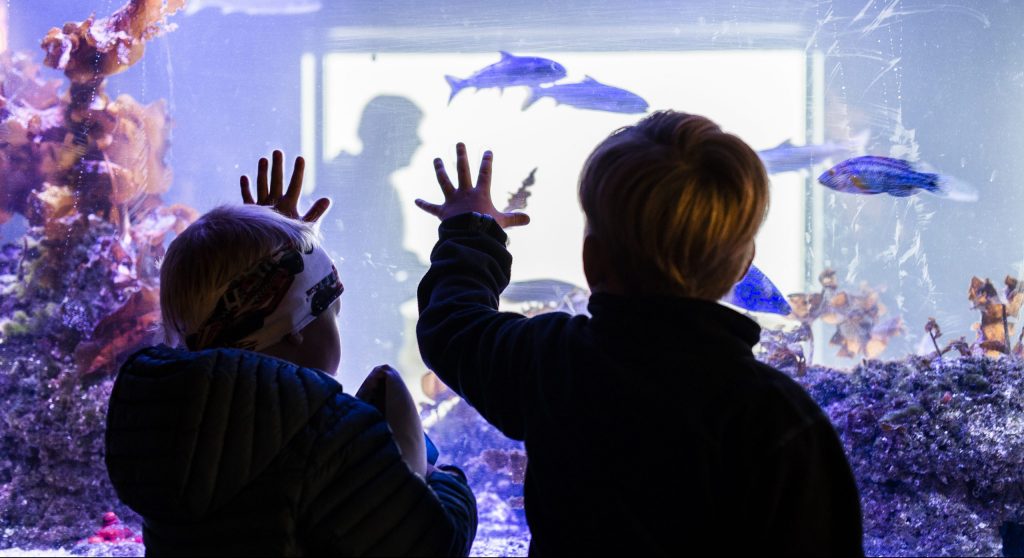 The centre also has an indoor exhibition that documents the history of Norway's aquaculture industry and sheds light on some local history. There is also a restaurant that features a menu based on local ingredients.
The Aquaculture Centre can offer tailor-made visitor programmes for you and your friends.
You can read more about the food experience at the Aquaculture Center here
The Norwegian Aquaculture Center welcomes tourists and visitors all year round.
Sommer:
Været på Helgelandskysten kan variere mye, og på sommeren kan temperaturen være alt fra 15 til 30 grader, og regnet kan gjerne komme og gå i «ærlinger», eller «byger» som det heter sørpå. Vi anbefaler at du pakker både allværsjakke og badeklær, fjellsko og sandaler, så du er klar for det meste.
Vinter:
Om vinteren varierer temperaturen gjerne fra +5 til minus 15. Hvis du skal være mye ute, er ullundertøy og vindtette klær dine beste venner. Kle deg etter trelagsprinsippet med et innerlag, mellomlag og ytterlag. Tykk lue og tykke hansker eller votter er spesielt anbefalt hvis du skal på være ute med lavt aktivitetsnivå, for eksempel hvis du skal se på nordlyset.
Sporløs ferdsel og bærekraftig turisme
Takk for at du hjelper oss med å ta vare på naturen og lokalsamfunnene på Helgeland.
Takk for at du:
Praktiserer sporløs ferdsel, og tar med avfall og toalettpapir tilbake til nærmeste søppeldunk.

Planlegger toalettbesøk, slik at du får gjort det du må der det ikke er til sjenanse for andre.

Respekterer det lokale dyrelivet, holder hunden i bånd og holder god avstand til både ville og tamme dyr og fugler.

Respekterer privat eiendom, og holder avstand til private hus og hytter.

Viser godt båt-vett, holder god avstand til land, lav fart nært andre på vannet, inkludert dyr og fugler, og unngår unødig kjøring som skaper forstyrrende motorstøy.

Respekterer ferdsels- og ilandstigningsforbudet i sjøfuglereservatene i hekketiden.

Følger fjellvettreglene, og planlegger turer etter evne og erfaring.

Leier en erfaren guide på turene der du selv ikke har kunnskapen eller erfaringen som trengs for en trygg tur.