The Sámi heritage is an integral aspect of today's Helgeland, and you find very modern as well as highly traditional Sámi cultural expressions. Reindeer herding is still a livelihood, and yet the traditional Sámi chanting, the joik, can sometimes be heard combined with contemporary electronic music.
The Sámi are an indigenous people of the Arctic. Since time immemorial they have lived in the area they call Sápmi: the northern parts of Norway, Sweden, Finland and Russia.
Southern Sámi culture and language
Since ancient times the South Sámi had settlements in Helgeland, especially in the inland valleys and mountains. Place names, a rich oral tradition and lots of cultural monuments document the ancient Sámi roots in this region.
The Sámi people actually have several languages, with Southern Sámi being the most widespread in Helgeland. Today, few of the younger generations have it as their mother tongue or even their second language. Active efforts have to be made to keep it alive. You can see Sámi place names on road signs and good maps, especially in the inland mountains and wilderness areas. One example is Aarpije (Hatten in Norwegian) in Hattfjelldal. While this mountain's Norwegian name reflects its distinct hat shape, the translation of the Sámi name is "the one who stands alone".
An excellent example of how Sámi culture adapts to modern culture is found in the Helgeland music duo, DJ Idja. They actively use the Sámi language and incorporate elements of traditional music in their music. For example, one of their latest songs, Leam Dihte, mixes joik chanting with lo-fi electronic sounds.
Experience Sámi culture
At Aernie, situated a little south of Saltfjellet and the Arctic Circle, you can experience and learn more about the Sámi culture of Helgeland, past and present, through storytelling and joik. Their legends and stories are fascinating, and you may even learn a few Sámi words. If you are eager for a hands-on experience, you can also learn the traditional way to start a fire, carve wood, and how to make the traditional Sámi bread prepared over the fire. It's delicious with reindeer meat! Make it an immersive educational experience for your whole family.
Book your experience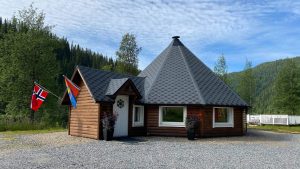 Storli Camping and Aernie – Accommodation and a sámi experience
At Aernie, you can indulge in culinary and cultural experiences based on the history and traditions of the Southern Sami people. You can stay overnight in a luxury Sami hut or in a cabin, motorhome, caravan, or tent. Storli Camping and Aernie are located along the E6, a 20-minute drive north of Mo i Rana.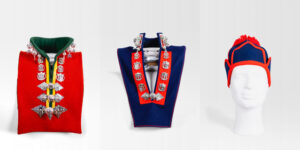 Sijti Jarnge – Center for sami language and culture
Sijti Jarnge is a Sami language and cultural center located in Hattfjelldal, where you can experience and learn about Sami culture in Helgeland.