Enjoy the bliss of cross-country skiing in some of Norways most beautiful winter landscapes.
Whether you are looking for a challenging workout, or a scenic tour, Helgeland has something for everyone. Go skiing on newly-prepared tracks along in the lighted trails close to town. Or make your own tracks as you explore off-piste in the beautiful mountain areas.
Cross country skiing trails and backcountry skiing adventures
Book your experience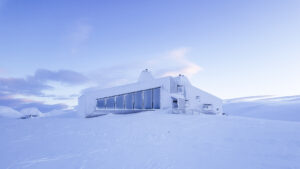 A guided skiing trip up to Rabothytta cabin
You are invited to join us on an excursion to Rabothytta, one of Norway's most impressive cabins. Given its dramatic location, perched at the edge of Okstindbreen glacier at 1200 metres altitude, and its elegant architecture, it is no wonder that this is one of Helgeland's favourite hiking destinations. On clear days your panorama includes several legendary mountains on the Helgeland coast.