Mosjøen Via Ferrata - The first in northern Norway
At the heart of Nordland County, in the geographic middle of Norway, is the friendly town of Mosjøen. Here you can join Hi North on an exhilarating mountain adventure on the world's northernmost via ferrata. Take the challenge and feel the satisfaction as you reach the summit!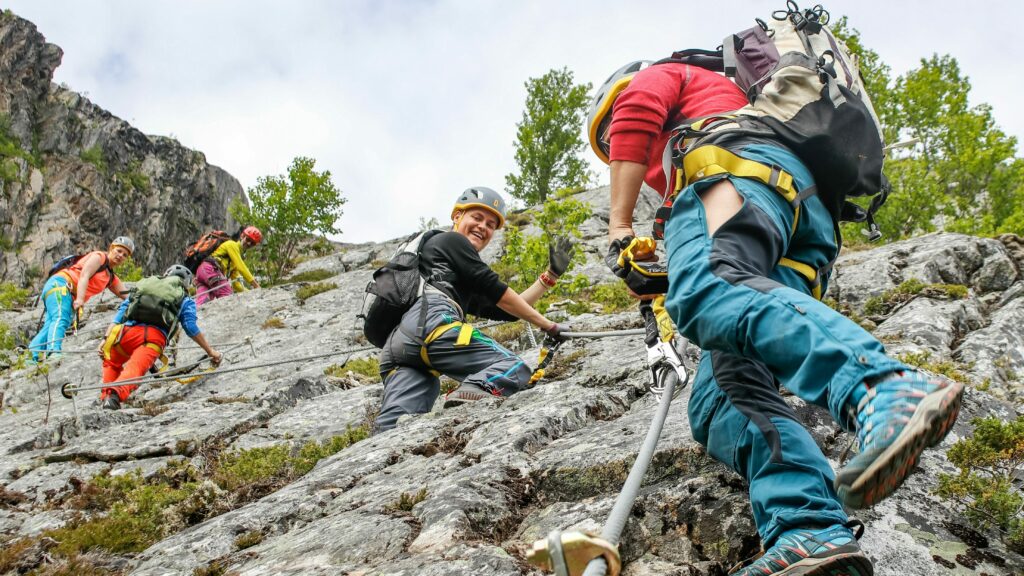 Hans Petter Sørensen
Via ferrata means "iron path". Clip yourself onto the cable that is securely attached to the mountainside, and ascend safely using the natural holds and steps in the rock. This mountain-climbing adventure doesn't require any specialised knowledge or prior experience. The route is classified as B/C, easy to moderately difficult, making it a fun and exciting way to climb a mountain that is within most people's reach.
Øyfjellet Mountain awaits you just outside Mosjøen town centre. The first part of your journey climbs the Sherpa Path, up the narrow Trongskaret pass. The via ferrata itself starts at 350 metres altitude. Here your harness will be connected to the first stretch of cable. After a while, you reach a viewpoint where the hole group unpack their lunch and savour the incredible panorama of Mosjøen and its environs. The second stretch of the via ferrata take you to the summit, 660 metres. The descent follows a regular hiking trail down to the rock stairs called Helgelandstrappa, and thence to the starting point.
For more incredible adrenaline rush, soar down Mosjøen's Zip-Line. This awesome airborne ride carries you across the Vefsna river (700 metres) landing you safely in the gardens of Fru Haugans Hotel.
Where to meet up
We meet up on the "island" near the foot of the mountain called Øyfjellet. The walk from the town centre to the island takes about 15 minutes. Just follow the signs towards the airport and walk (or drive) across the bridge, then immediately turn right and continue towards the mountain until you see a large flag and Hi North's hut. We'll provide you with the necessary information and equipment before we start our excursion.
Mosjøen via ferrata is open from about June to about October depending on snow and conditions in Øyfjellet.
You must have good shoes with a good grip, gloves (can be bought from the guide), clothes according to the weather and a day trip bag with an extra sweater, windproof jacket, food and plenty of drinks.
Children must be 12 years old and weigh at least 40 kilos.
Takk for at du hjelper oss med å ta vare på naturen og lokalsamfunnene på Helgeland. Takk for at du:
Praktiserer sporløs ferdsel, og tar med avfall og toalettpapir tilbake til nærmeste søppeldunk.
Planlegger toalettbesøk, slik at du får gjort det du må der det ikke er til sjenanse for andre.
Respekterer det lokale dyrelivet, holder hunden i bånd og holder god avstand til både ville og tamme dyr og fugler.
Respekterer privat eiendom, og holder avstand til private hus og hytter.
Viser godt båt-vett, holder god avstand til land, lav fart nært andre på vannet, inkludert dyr og fugler, og unngår unødig kjøring som skaper forstyrrende motorstøy.
Respekterer ferdsels- og ilandstigningsforbudet i sjøfuglereservatene i hekketiden.
Følger fjellvettreglene, og planlegger turer etter evne og erfaring.
Leier en erfaren guide på turene der du selv ikke har kunnskapen eller erfaringen som trengs for en trygg tur.