Mosjøen Via Ferrata - The first in northern Norway
At the heart of Nordland County, in the geographic middle of Norway, is the friendly town of Mosjøen. Here you can join Hi North on an exhilarating mountain adventure on the world's northernmost via ferrata. Take the challenge and feel the satisfaction as you reach the summit!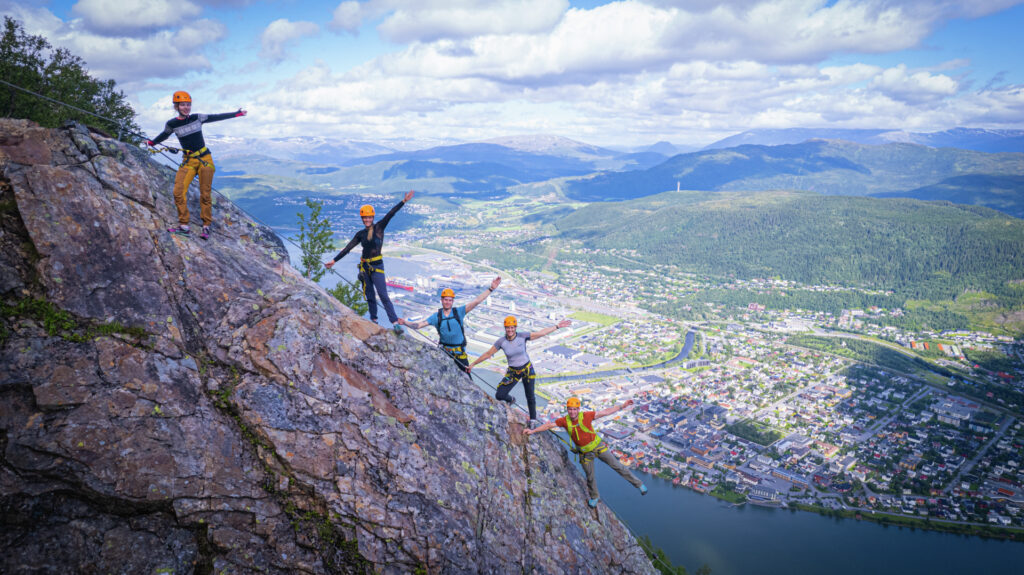 Broadstone / Visit Helgeland
Via ferrata means "iron path". Clip yourself onto the cable that is securely attached to the mountainside, and ascend safely using the natural holds and steps in the rock. This mountain-climbing adventure doesn't require any specialised knowledge or prior experience. The route is classified as B/C, easy to moderately difficult, making it a fun and exciting way to climb a mountain that is within most people's reach.
Øyfjellet Mountain awaits you just outside Mosjøen town centre. The first part of your journey climbs the Sherpa Path, up the narrow Trongskaret pass. The via ferrata itself starts at 350 metres altitude. Here your harness will be connected to the first stretch of cable. After a while, you reach a viewpoint where the hole group unpack their lunch and savour the incredible panorama of Mosjøen and its environs. The second stretch of the via ferrata take you to the summit, 660 metres. The descent follows a regular hiking trail down to the rock stairs called Helgelandstrappa, and thence to the starting point.
For more incredible adrenaline rush, soar down Mosjøen's Zip-Line. This awesome airborne ride carries you across the Vefsna river (700 metres) landing you safely in the gardens of Fru Haugans Hotel.
Where to meet up
Meet up at Hi North's office at Ytterøra 23, just outside the center of Mosjøen.
Contact
Go to booking
Miljøsertifisert
Mosjøen via ferrata is open from about June to about October depending on snow and conditions in Øyfjellet.
You must have good shoes with a good grip, gloves (can be bought from the guide), clothes according to the weather and a day trip bag with an extra sweater, windproof jacket, food and plenty of drinks.
Children must be 12 years old and weigh at least 40 kilos.
Contribute to sustainable tourism
Thank you for respecting the local communities, and for helping us preserve the natural beauty of Helgeland!
Please:
Strive to leave no trace of your visit. Bring back all your rubbish, including used toilet paper, and discard it in the nearest rubbish bin.

Plan your toilet visits and use the opportunity when you pass a toilet. In the wilderness, make sure you are not a nuisance to others.

Respect the local wildlife. Keep a good distance from wildlife, livestock and birds. Keep your dog leashed.

Respect private property. Keep a respectful distance from houses and cabins.

Show good boating sense. Keep a good distance from shore and drive at a low speed, especially when you are close to anyone or anything on the water, including birds or animals. Avoid loud and disturbing engine noise.

Be aware that some islands and nature reserves are important nesting sites, and that going ashore is prohibited during the nesting season.

Follow the Norwegian Mountain Code (Fjellvettreglene). Plan your excursion according to the weather forecast, your skills and experience.

Join a guided excursion or consider hiring an experienced guide, especially when you don't have sufficient experience or knowledge to guarantee a safe trip.