A guided skiing trip up to Rabothytta cabin
You are invited to join us on an excursion to Rabothytta, one of Norway's most impressive cabins. Given its dramatic location, perched at the edge of Okstindbreen glacier at 1200 metres altitude, and its elegant architecture, it is no wonder that this is one of Helgeland's favourite hiking destinations. On clear days your panorama includes several legendary mountains on the Helgeland coast.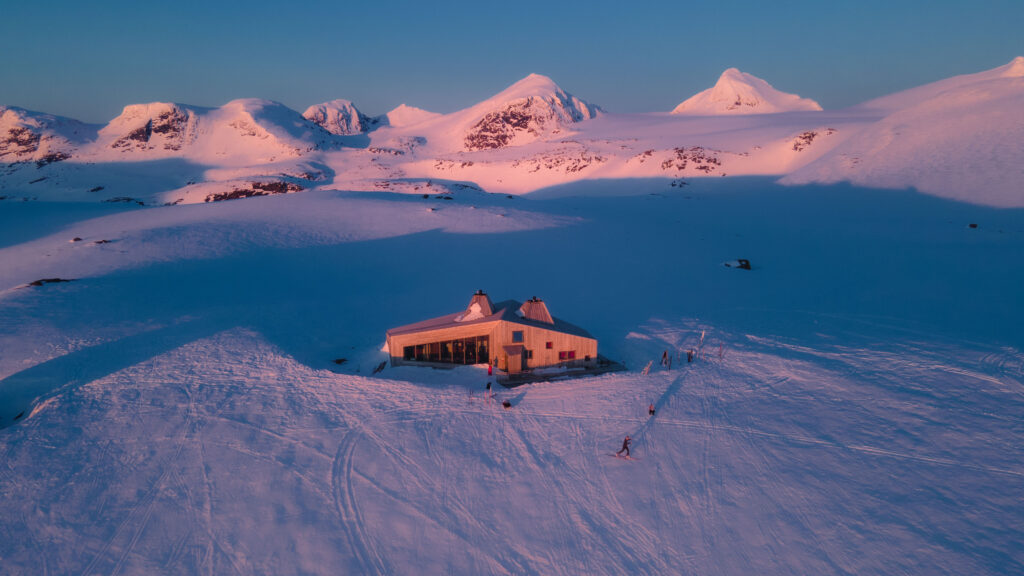 Emilie Solbakken / Visit Helgeland
Rabothytta is named after Charles Rabot, the 19th-century French explorer who became enchanted by the Norwegian mountain wilderness. This guided ski trip with Hi North follows in his footsteps, and lets you experience the beauty of the Okstindan range and the magnificent Okstindbreen glacier, just as Rabot did.
Okstindan has eleven peaks, of which the highest is Oksskolten at 1916 metres. The peaks and glaciers combine to create an exotic landscape. It's easy to see why this is paradise for eager hikers, locals as well as travellers from many other countries.
Once we arrive at Rabothytta, we'll light a fire and enjoy a good meal in the warmth of the cabin. Here you can enjoy the silence and the great view of the surrounding mountains. The cabin has room for up to 30 people, and with six bedrooms and a loft, there is more than enough space.
Our return trip follows the same route, but with an opportunity for a detour across the glacier itself! The return route's 750-metre descent is gentle, giving you time to appreciate the astounding beauty of the surrounding landscape.
Practical information
Depending on the weather and snow conditions, we'll start our ski trip either from Leirskardalen or Brygfjelldalen. With either choice, the 13-km trek up to the cabin takes three to four hours. We recommend you choose skis that don't require waxing, or mountain skis with several different ski skins (strips that attach under your skis).
If you prefer a longer excursion with several overnight stays, or perhaps a guided cabin-to-cabin ski trek in these beautiful mountains, HiNorth would be happy to tailor the adventure to your group. Please contact them about details and a quote.
Contact
Go to booking
Eco-certified
This cross-country ski excursion is offered throughout the winter, typically from November through May, depending on the amount of snow in the mountains. Please contact HiNorth for more detailed information.
Your equipment and physical form
Your package price will include the guide, all meals, safety equipment, and transportation from Mosjøen or Korgen.
You must have (or rent) your own ski equipment. You must also bring personal equipment such as suitable winter clothing, a backpack, thermos, etc. Although this excursion is not very demanding, all participants should be in reasonably good physical form and used to mountain treks and cross country skiing.
Your tour guide will have all the necessary emergency equipment.
Please contact HiNorth for further information about the equipment they recommend.
Contribute to sustainable tourism
Thank you for respecting the local communities, and for helping us preserve the natural beauty of Helgeland!
Please:
Strive to leave no trace of your visit. Bring back all your rubbish, including used toilet paper, and discard it in the nearest rubbish bin.
Plan your toilet visits and use the opportunity when you pass a toilet. In the wilderness, make sure you are not a nuisance to others.
Respect the local wildlife. Keep a good distance from wildlife, livestock and birds. Keep your dog leashed.
Respect private property. Keep a respectful distance from houses and cabins.
Show good boating sense. Keep a good distance from shore and drive at a low speed, especially when you are close to anyone or anything on the water, including birds or animals. Avoid loud and disturbing engine noise. Be aware that some islands and nature reserves are important nesting sites, and that going ashore is prohibited during the nesting season.
Follow the Norwegian Mountain Code (Fjellvettreglene). Plan your excursion according to the weather forecast, your skills and experience.
Join a guided excursion or consider hiring an experienced guide, especially when you don't have sufficient experience or knowledge to guarantee a safe trip.