RIB sea rafting trips with Meløy Adventure
You are invited to join Meløy Adventure on a RIB sea-rafting adventure to the island of Rødøya and Rødøyløva (443 m). Other great options include a sea-rafting safari to explore the scenic Nordfjord, the spectacular island of Træna, or a visit to the remote island of Myken with a tour of its whiskey distillery. These excursions start from Ørnes in Meløy municipality – but for your convenience you can request to be picked up elsewhere en route.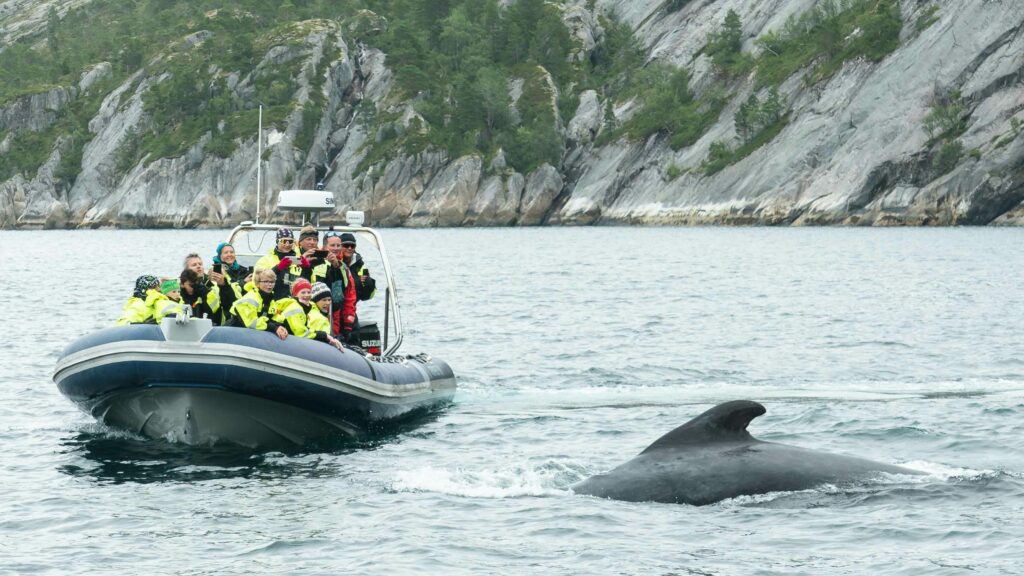 Andres Duran
On Meløy Adventure's RIB sea-rafting trips, you speed across the waves to unique scenic and cultural gems on the Helgeland coast. Join us, for instance, on an excursion to Rødøya with a summit hike up Rødøyløva, and come visit Myken Distillery or climb the mighty Trænstaven. There are many other options as well. On the sea-rafting safari into the Nordfjord, we cross the Arctic Circle and may well see the pilot whale that thrives in the Melfjord.
The RIB sea-rafting adventures from Ørnes are fast paced, and you can quickly arrive at one of the amazing hiking destinations on the Helgeland coast. We lend all participants a thermal flotation suit, so you will be snug and warm in any kind of weather. Here are the most popular tours offered by Meløy Adventure:
Sea rafting to Rødøya – and a summit hike up Rødøyløva
This sea-rafting adventure also includes a hike to the top of Rødøyløva and dining at Klokkergården, the old sexton's residence. If you prefer, you can choose a more relaxing alternative to the summit hike, such as a walk on one of island's chalk-white sand beaches, a family visit to Bamsehuset, Norway's only teddy bear museum, or a walk with your children into the magical fairytale forest, Eventyrskogen.
The summit of Rødøyløva (443 m) offers a stunning panorama of the thousands of islands, islets and skerries that dot the surrounding waters. In clear weather, you can see the jagged peaks of the Lofoten Islands far to the north and the Vega archipelago to the south.
Day excursion to Myken
Myken is a small fishing community far from the mainland. Although today Myken has only twelve year-round residents, it's a great place to experience the islanders' heritage and culture. We'll visit the world's first Arctic whiskey distillery and perhaps taste the result of the master distiller's craft. Hungry? You can buy a waffle at the local shop or enjoy dining at one of the island's two restaurants.
Time and again, visitors report that Myken is a place to come for tranquillity.
A climb to the top of Trænstaven
Seize the opportunity to visit the thriving island community of Træna and climb its iconic mountain. Trænstaven is situated on the island of Sanna. Parts of the climb are rather exposed and you have the Atlantic Ocean raging against the rocky shore below you. We'll equip you with the necessary gear and safely guide you to the top. The 338-metre summit rewards you with a magnificent Helgeland panorama. Trænstaven really is one of the most amazing mountain destinations – and an unforgettable adventure.
A RIB excursion to the Melfjord and Nordfjord
Welcome to a sea-rafting trip to two beautiful fjords: the Melfjord and the Nordfjord. Judging from past experience, there is an excellent chance you will see the pilot whale that lives in the Melfjord and some of seals that thrive in the Nordfjord. Other sights include Nattmoråga, a might 300-metre waterfall, which we'll see up close. Nattmoråga and the surrounding area are part of Saltfjellet-Svartisen National Park. As we enter the Nordfjord you will see one of the arms of the Svartisen glacier.
Be sure to bring a camera, because there are many incredible photo opportunities on this sea-rafting excursion!
Ørnes is situated on route Rv17, about 120 km south of Bodø. If you are driving to Ørnes from Sandnessjøen, which is to the south, the 235-km trip will require three ferries. From Mo i Rana, the 200-km drive has two ferry crossings. You can also drive the highway E6 to Saltdal, turning onto the scenic Coastal Highway Rv17 at Rognan.
See directions with Google Maps »
Yet another alternative is to take the express boat directly to Ørnes. There are daily departures from Sandnessjøen and Bodø. For schedules and details on Nordlandsekspressen.
Please visit reisnordland.no for departures.
Contribute to sustainable tourism
Thank you for respecting the local communities, and for helping us preserve the natural beauty of Helgeland!
Please:
Strive to leave no trace of your visit. Bring back all your rubbish, including used toilet paper, and discard it in the nearest rubbish bin.

Plan your toilet visits and use the opportunity when you pass a toilet. In the wilderness, make sure you are not a nuisance to others.

Respect the local wildlife. Keep a good distance from wildlife, livestock and birds. Keep your dog leashed.

Respect private property. Keep a respectful distance from houses and cabins.

Show good boating sense. Keep a good distance from shore and drive at a low speed, especially when you are close to anyone or anything on the water, including birds or animals. Avoid loud and disturbing engine noise.

Be aware that some islands and nature reserves are important nesting sites, and that going ashore is prohibited during the nesting season.

Follow the Norwegian Mountain Code (Fjellvettreglene). Plan your excursion according to the weather forecast, your skills and experience.

Join a guided excursion or consider hiring an experienced guide, especially when you don't have sufficient experience or knowledge to guarantee a safe trip.