Dog-sledding in scenic surroundings
If you're looking for a truly exotic wilderness adventure, we offer dog-sledding in magnificent scenery in cooperation with Granåsen Huskies. This company really know the mountain wilderness near Mosjøen. On this shared adventure you may well make new friends, four-legged as well as two-legged!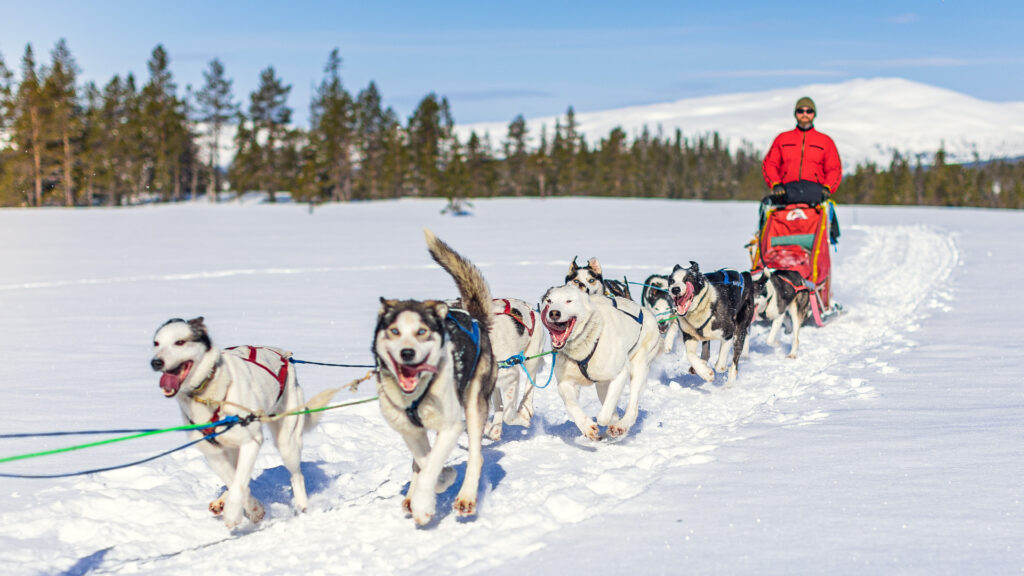 Sarah Aakerøy Johansen – Fru Haugans Hotel
Fru Haugans Hotel is the oldest hotel in Northern Norway. In cooperation with our experienced partners, we offer a wide range of activities and adventures. Your base at our hotel in the friendly town of Mosjøen gives you easy access to amazing sights and attractions on the Helgeland coast, as well as the Børgefjell National Park and other areas in the scenic interior.
The guides has more than ten years' experience with dog-sledding, and really knows the mountain wilderness near Mosjøen. Each excursion is tailored to groups eager to discover the fascinating sport of dog-sledding. You can enjoy the ride as a passenger or try your own hand at dog-sledding!
Here are some examples of what is offered:
Short trip – Approx. 9 KM. driving
Time: Approx. 1.5 hours
Price: NOK 1,000 per pers. minimum 3 people
Children 4-12 years: NOK 550
Medium trip – Approx. 2 mile drive
Time: Approx. 3 hours
Price: NOK 1,500 per pers
Children 4-12 years: NOK 950
Long trip – Approx. 3-4 mile drive
Time: All day
Price: NOK 2,750 per pers. Minimum 2 people
Age limit 15 years
Max 5 people on tour at the same time. If there are more than this, it is counted as a group, and requires a different arrangement.
Groups
6-10 people, 1 sled: NOK 3,000
6-15 people, 2 sleds: NOK 5,000 (May drive yourself)
Up to 30 people, 4 sleds, 2 guides: NOK 12,000
Trips are also tailored for special wishes, ability level and needs. Come with your wishes, and a plan will be put together that will give you or your group a memory for life.
Dog sledding is available all throughout the winter season, usually from December to May, depending on the amount of snow.
Depending on the winter weather and altitude, the temperature may vary from zero to –20˚C (32˚ to –4˚F). For outdoor activities, we highly recommend woollen or thermal underwear, combined with windproof outer garments, and that you layer your clothing with an inner layer, a middle layer, and the windproof outer layer.
Thick warm headwear and gloves or mittens are strongly recommended, especially if your chosen adventure has a lower level of activity, such as when you're "hunting" for the Northern Lights.
Mosjøen lies along highway E6. The town has a train station and an airport.
For driving directions, see Google Maps
To plan your journey here by train, bus or plane, please visit Entur.no
Bus connections:
Mo i Rana
Sandnessjøen
Brønnøysund
Distances and driving times by car:
From Mo i Rana: 87 km, 1 hour and 15 minutes
From Sandnessjøen: 64 km, 1 hour
From Brønnøysund: 154 km, 2 hours and 30 minutes
From Bodø, via highway E6: 315 km, 4 hours and 30 minutes
From Trondheim, via highway E6: 389 km, 5 hours and 30 minutes
Contribute to sustainable tourism
Thank you for respecting the local communities, and for helping us preserve the natural beauty of Helgeland!
Please:
Strive to leave no trace of your visit. Bring back all your rubbish, including used toilet paper, and discard it in the nearest rubbish bin.

Plan your toilet visits and use the opportunity when you pass a toilet. In the wilderness, make sure you are not a nuisance to others.

Respect the local wildlife. Keep a good distance from wildlife, livestock and birds. Keep your dog leashed.

Respect private property. Keep a respectful distance from houses and cabins.

Show good boating sense. Keep a good distance from shore and drive at a low speed, especially when you are close to anyone or anything on the water, including birds or animals. Avoid loud and disturbing engine noise.

Be aware that some islands and nature reserves are important nesting sites, and that going ashore is prohibited during the nesting season.

Follow the Norwegian Mountain Code (Fjellvettreglene). Plan your excursion according to the weather forecast, your skills and experience.

Join a guided excursion or consider hiring an experienced guide, especially when you don't have sufficient experience or knowledge to guarantee a safe trip.