Jacobsenbrygga and the folk museum in Mosjøen
The Vefsn Museum has numerous exhibitions at several locations in and around the town of Mosjøen. These focus on everything from rural life and urban history, to weapons smuggling and the work of the Norwegian resistance during Nazi Germany's World War II occupation. You can also join a guided tour of the historical street Sjøgata, which is lined with 19th-century houses.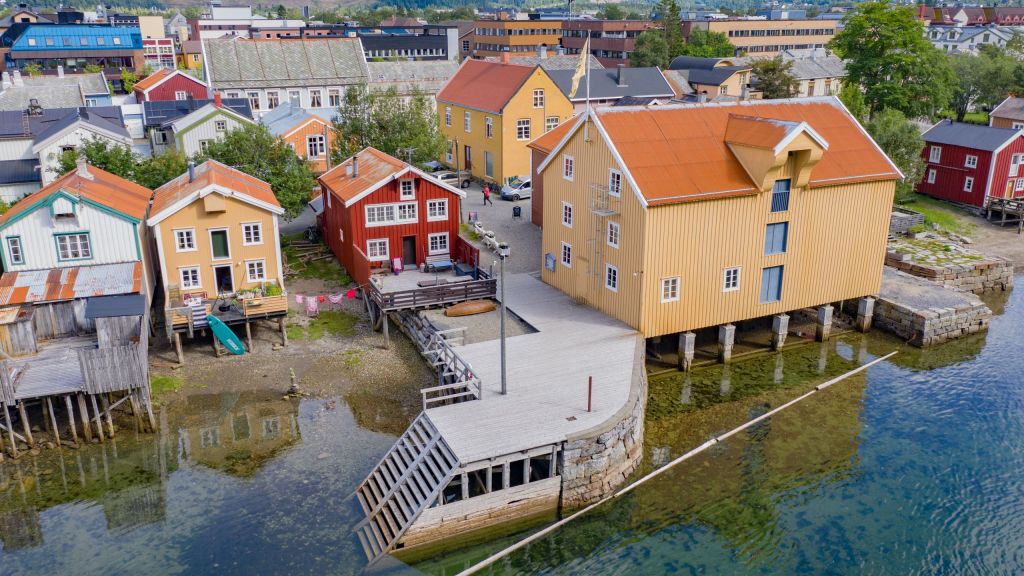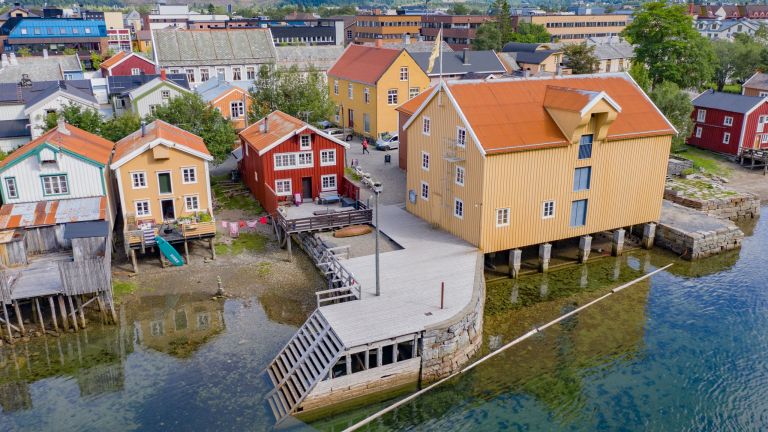 Jacobsenbrygga
The main museum in the Mosjøen town centre is housed in Jacobsenbrygga, a yellow wharf building at Sjøgata No. 31B. This historic street is a living museum, and the houses are still in use as residences, shops and charming cafés. A guided walk is very worthwhile. In Jacobsen wharf are exhibitions on Mosjøen's development into a town, about how the preceding era was dominated by fishermen-farmers, about the amazing salmon fishing on the Vefsna river that attracted aristocrats and wealthy English anglers starting in the 19th century, and much more. The museum shop sells handicrafts, antique toys, books and coffee mugs.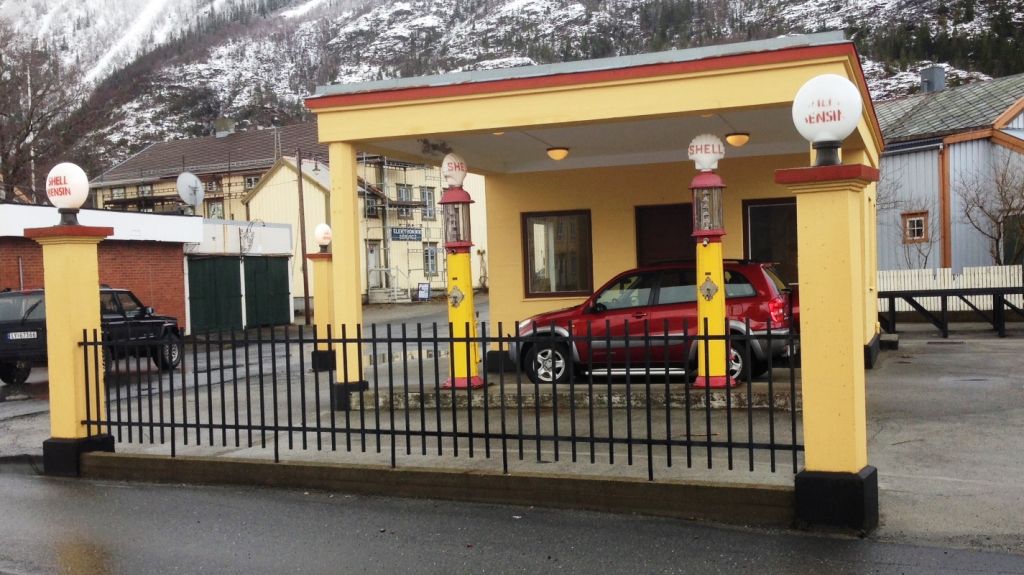 A historic gas station
At Strandgata No. 1, very close to Sjøgata, is a historic gas station, the second oldest in Norway. Built in 1933, it is now part of the Helgeland Museum.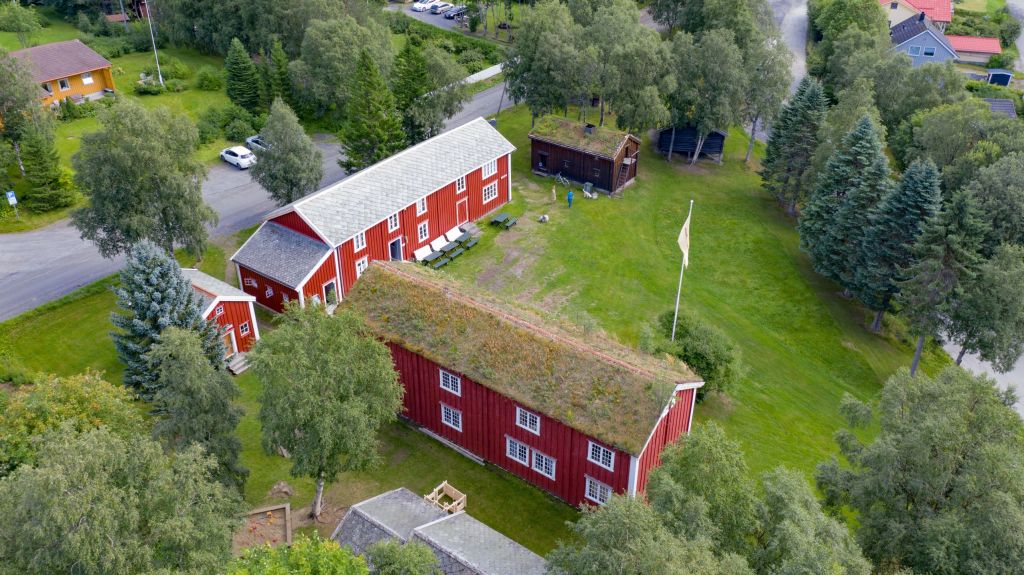 Vefsn rural museum
This rural museum is situated next to Dolstad church, the striking red cruciform octagonal church built of wood in 1735. The rural museum, one of the oldest in Nordland County, documents the local building heritage from the 17th century up until modern industrialisation. You can join a tour that takes you inside the houses, which have small exhibitions and display many historical objects. During the summer, there is a café in the yard, and a variety of activities take place. Vefsn rural museum is situated at Austerbygdveien No. 1.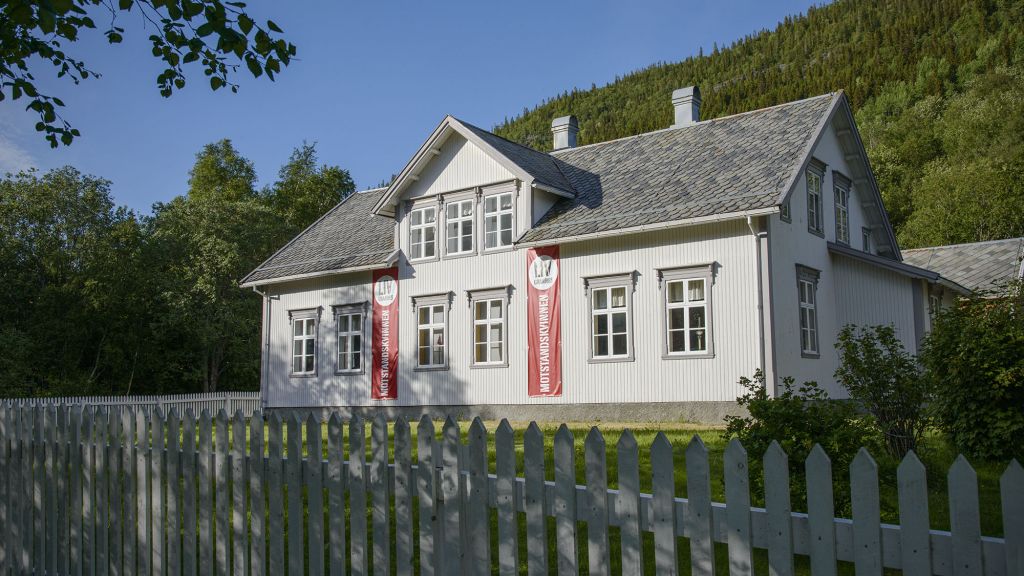 The police station
Behind the rural museum is the old police station. Today it houses the office of Vefsn museum and the Vefsn Historical Association. On the ground floor is an exhibition about Liv Grannes (1918–2004) of Mosjøen, a brave woman who played a key role in the Resistance during World War II. In 1940, she began working at the police station, and soon proved herself a valuable agent for the secret British Special Operations Executive (SOE). After the war, Liv Grannes was awarded the British George Medal for her heroic efforts. The address of the old police station is Austerbygdveien No. 3.
Summer 2023:
Bygdetunet (June 24th – August 13th):
Friday-Sunday: 10:00 AM – 3:00 PM
Jacobsenbrygga (June 24th – August 13th):
Tuesday-Friday: 11:00 AM – 5:00 PM
Saturday: 12:00 PM – 3:00 PM
Spring and Autumn:
Tuesday-Friday: 12:00 PM – 3:00 PM
Politimestergården (June 23rd – August 13th):
Open upon request between 10:00 AM – 3:00 PM
Sjøgatavandring (June 27th – August 12th):
Tuesdays: 10:00 AM
Thursdays: 10:00 AM
Saturdays: 11:00 AM
Shell (July):
Thursday, Friday, and Saturday: 1:00 PM – 4:00 PM
Subject to changes.
You can get to Mosjøen by plane via Trondheim or Bodø, by train (Nordlandsbanen) or by your own car.
Find an itinerary at www.entur.no
Contribute to sustainable tourism
Thank you for respecting the local communities, and for helping us preserve the natural beauty of Helgeland!
Please:
Strive to leave no trace of your visit. Bring back all your rubbish, including used toilet paper, and discard it in the nearest rubbish bin.

Plan your toilet visits and use the opportunity when you pass a toilet. In the wilderness, make sure you are not a nuisance to others.

Respect the local wildlife. Keep a good distance from wildlife, livestock and birds. Keep your dog leashed.

Respect private property. Keep a respectful distance from houses and cabins.

Show good boating sense. Keep a good distance from shore and drive at a low speed, especially when you are close to anyone or anything on the water, including birds or animals. Avoid loud and disturbing engine noise.

Be aware that some islands and nature reserves are important nesting sites, and that going ashore is prohibited during the nesting season.

Follow the Norwegian Mountain Code (Fjellvettreglene). Plan your excursion according to the weather forecast, your skills and experience.

Join a guided excursion or consider hiring an experienced guide, especially when you don't have sufficient experience or knowledge to guarantee a safe trip.