Toppen Panorama Mosjøen - in tranquil surroundings
Toppen Panorama, a hotel in Mosjøen that is open during the summer, offers a panoramic view of both this coastal town and the nearby fjord. Guests here enjoy tranquillity and scenic surroundings, and yet are only a few minutes' drive away from the centre of Mosjøen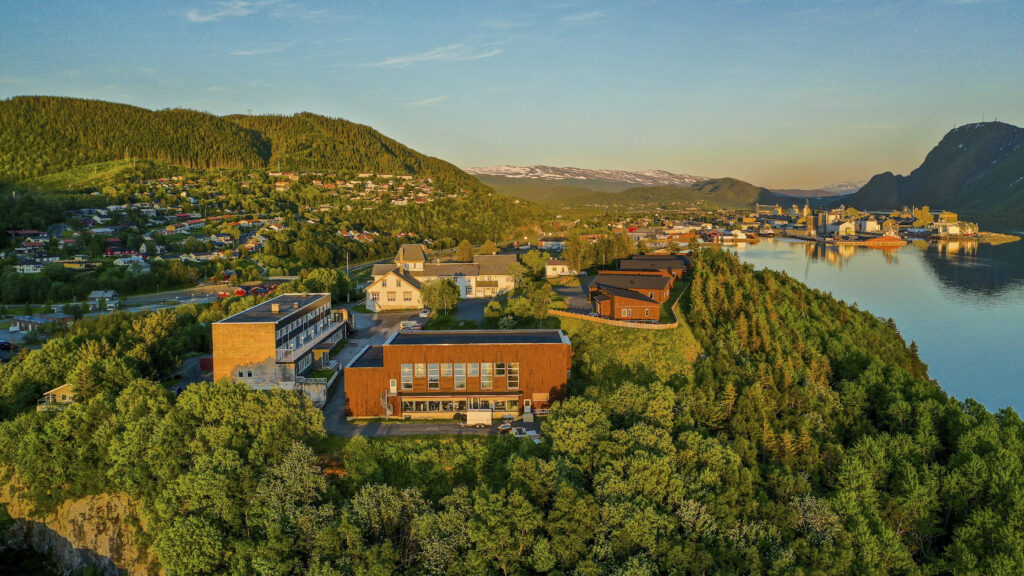 Hans Christian Digermul / Toppen Panorama
This summer hotel is operated by the local "folk high school" – and during the summer you can rent a room or even a holiday house at this boarding school.
Rent a room or a house
When you rent a room, you have it completely to yourself. The houses available are detached units with four bedrooms, each equipped with two single beds – eight beds total. Moreover, each bedroom has its own private bathroom. The house also has a fully equipped kitchen, allowing you to make the food of your choice. There is also a living room with a dining area. These houses are an ideal choice for one or two families, or a group of friends on holiday together.
If you do not need a whole house, you can rent a room in the dormitories. These have shared bathrooms, as well as a shared kitchen and lounge. These rooms are well suited for travellers looking for reasonable accommodation and who enjoy meeting new people.
Overnight guests are welcome to use the laundry room during the day.
Catering, courses and conferences
Toppen Panorama makes it easy for guests to prepare their own food. Whether you are preparing dinner or baking, you will find that each kitchen is fully equipped. Nearby are a several grocery stores and two gas stations. Just below Toppen, there is a good Chinese restaurant that offers catering as well as dine-in meals.
At Toppen, you can also host a celebration, private party or conference. We can offer good menu options, including both vegan and vegetarian dishes.
Activities
There are excellent hiking opportunities near Toppen Panorama. For instance, you can walk right down the hill to Finnvika, a cove where you can enjoy a good barbecue and the view towards town. If you want a more serious hike, you can ascend "Tårnet" ("The Tower"); the summit awards you with a magnificent panorama of the fjord.
The town of Mosjøen has many options. Take a stroll along Sjøgata, a historic street lined with beautiful 19th-century wooden houses, shops, friendly cafés and good restaurants. Visit the town beach. Or take the challenge and climb the Mosjøen Via Ferrata up Øyfjellet, the mountain overlooking the town, before soaring like a bird down the Zip-line
Toppen Panorama offers accommodation to travellers from 20 May to 15 August.
The reception is staffed 8am – 3:30pm.
The location of your key and information about house rules is given when you book your accommodation.
Toppen Panorama does not serve food, but all guests have access to a well-equipped kitchen, and the grocery store is nearby. Mosjøen offers dining in its many pleasant cafés and excellent restaurants.
Guests have access to a laundry room during the daytime.
Contribute to sustainable tourism
Thank you for respecting the local communities, and for helping us preserve the natural beauty of Helgeland!
Please:
Strive to leave no trace of your visit. Bring back all your rubbish, including used toilet paper, and discard it in the nearest rubbish bin.
Plan your toilet visits and use the opportunity when you pass a toilet. In the wilderness, make sure you are not a nuisance to others.
Respect the local wildlife. Keep a good distance from wildlife, livestock and birds. Keep your dog leashed.
Respect private property. Keep a respectful distance from houses and cabins.
Show good boating sense. Keep a good distance from shore and drive at a low speed, especially when you are close to anyone or anything on the water, including birds or animals. Avoid loud and disturbing engine noise. Be aware that some islands and nature reserves are important nesting sites, and that going ashore is prohibited during the nesting season.
Follow the Norwegian Mountain Code (Fjellvettreglene). Plan your excursion according to the weather forecast, your skills and experience.
Join a guided excursion or consider hiring an experienced guide, especially when you don't have sufficient experience or knowledge to guarantee a safe trip.