Kulturverkstedet Mosjøen - A cultural workshop
The cultural workshop in the old town, Sjøgata in Mosjøen, is a unique environment where past and present blend together.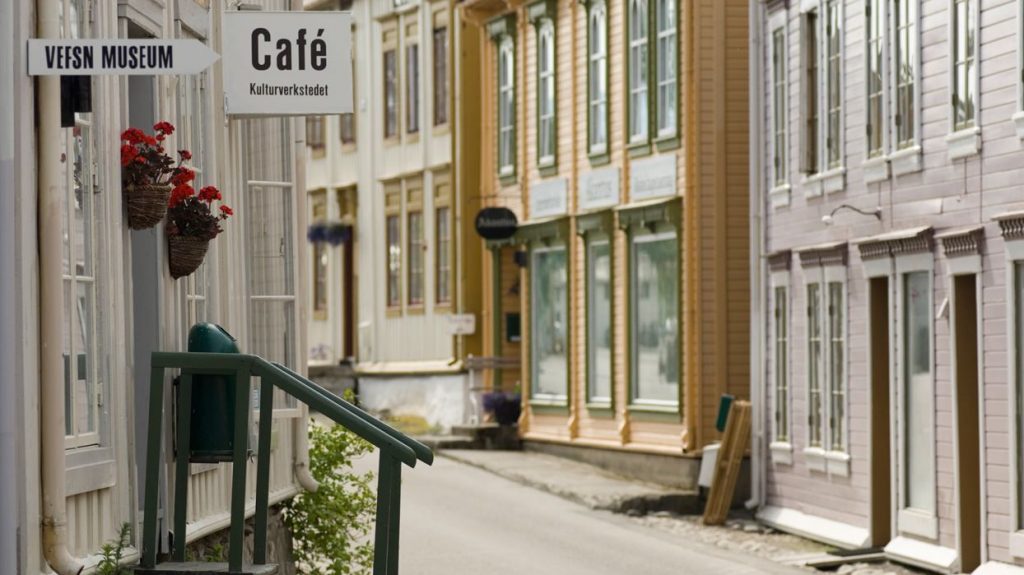 Terje Rakke, NordicLife / Visit Helgeland
A café with soul
The cosy café on the ground floor is open every weekday. Here you can enjoy a cup of coffee or hot chocolate, and traditional dishes, and see exhibitions of paintings by foreign as well as Norwegian artists. Every Friday there is a lunch concert at 1200 with local musicians, eager amateurs and professionals. On some Fridays there are special guest musicians and even choirs. All concerts are free.
Originally a commercial building dating from 1862, the venue has been lovingly restored under guidance of the Norwegian Directorate of Cultural Heritage. Today, the Cultural Workshop is a popular multi-purpose house that rents out facilities for many different activities and is Mosjøen's favourite hangout.
Every Friday throughout the year there is a lunch concert at 12:00 with local musicians – from amateurs to professionals. Guest musicians and choirs are also invited on some Fridays. All concerts are free.
Open Monday-Saturday 09.00 – 15.00. Sunday: Closed.
Alrunen Antikvariat is open on Saturdays from 10.00 – 14.00.
Train, plane or car to Mosjøen. The cultural workshop is located in the old town right in the center.
Takk for at du hjelper oss med å ta vare på naturen og lokalsamfunnene på Helgeland. Takk for at du:
Praktiserer sporløs ferdsel, og tar med avfall og toalettpapir tilbake til nærmeste søppeldunk.
Planlegger toalettbesøk, slik at du får gjort det du må der det ikke er til sjenanse for andre.
Respekterer det lokale dyrelivet, holder hunden i bånd og holder god avstand til både ville og tamme dyr og fugler.
Respekterer privat eiendom, og holder avstand til private hus og hytter.
Viser godt båtvett, holder god avstand til land, lav fart nært andre på vannet, inkludert dyr og fugler, og unngår unødig kjøring som skaper forstyrrende motorstøy.
Respekterer ferdsels- og ilandstigningsforbudet i sjøfuglereservatene i hekketiden.
Følger fjellvettreglene, og planlegger turer etter evne og erfaring.
Leier en erfaren guide på turene der du selv ikke har kunnskapen eller erfaringen som trengs for en trygg tur.