Kayaking trips in the Meløy and Rødøy area
Meløy Adventure offers guided kayaking trips on the Glomfjord, to the Svartisen glacier, and on the waters near Rødøyløva (443 m), as well as longer excursions around the island of Mesøy. The company also rents out kayaks, and its experienced instructors offer a variety of kayaking courses.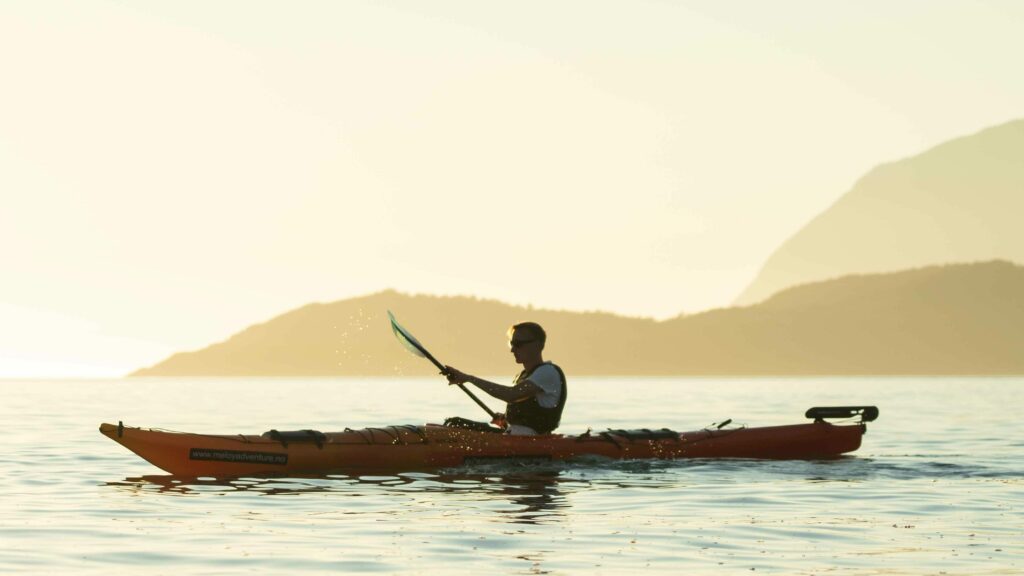 Andres Duran
Helgeland is deal for kayaking, and Meløy Adventure will gladly take you on a guided trip to some of the most beautiful destinations along this magnificent coast. By kayak, you can head for any number of beautiful white-sand beaches, peer up at the impressive mountain called Rødøyløva, or enjoy views of the dazzling Svartisen glacier.
If you have a Wet Card (våttkort) from the Norwegian Kayaking & Canoeing Association NPF or equivalent certification, you are also welcome to rent a kayak and head out on your own adventure.
A kayaking adventure is a sensory immersion in the surrounding scenery. You have the opportunity to really explore the islands, islets and skerries and the often crystal clear waters between them. You can get close to impressive waterfalls and the varied birdlife and rich marine life, discover sheltered coves, and have impressive beaches all to yourself.
Meløy Adventure invites you to join guided kayaking excursions in the Meløy and Rødøy districts. Their expert guides will give you a good introduction to basic kayaking techniques and important safety guidelines. You will be safe on the water and soon experience a satisfying feeling of mastery.
Our guided tours include the use of a sea kayak and all the equipment you need: oar, spray cover, drysuit, life jacket and neoprene shoes.
A kayaking adventure on the Glomfjord
On the kayaking trip into the Glomfjord, you can experience the area's rich birdlife and be close to mountains that seem to rise straight from the sea. As we approach the old hydroelectric facility at Fyken, the head of the fjord, your guide will share some colourful stories.
This facility began producing electricity in 1920. During World War II, it was the focus of the Operation Musketoon. In 1942, Allied commandos successfully sabotaged the power plant, shutting it down for the duration of the occupation, thus forcing Germany to abandon its plans for large-scale aluminium production at Glomfjord.
A kayaking trip to Svartisen glacier
On this family-friendly kayaking trip we cross the Holandsfjord. Scenic highlights include towering mountains, strikingly green waters, and the dazzling Svartisen glacier. We start our excursion in the hamlet of Holandsvika, which is also where the shuttle boat departs. However, we cross the fjord by kayak. On the other side, we hike up to Brestua, which offers food and beverages.
A kayaking excursion towards Rødøyløva
You are invited on a kayaking adventure to the island of Rødøy. On this excursion we move across waters sheltered by small islands, islets and skerries. The area has numerous chalk-white sand beaches. Most likely you will have the opportunity to see soaring sea eagles and seals cavorting in the water or relaxing on shore. En route, we'll choose a nice spot, pull our kayaks ashore, eat the lunches we brought and perhaps take a refreshing bath.
A kayak trip around Mesøy
If you are eager for a longer kayaking adventure, you should sign up for our trip to Mesøy, an island situated beyond Ørnes. With the return, this is a 15–20 km kayaking trip. We'll have ample opportunity to see the birdlife and marine wildlife up close. Be sure to bring plenty of food and drink, which you can enjoy on during our breaks ashore.
Kayaking course
If you want to learn more about kayaking techniques and safe navigation on the sea, we recommend that you sign up for a course. Please visit Meløy Adventure's Facebook page for an overview with details about the scheduled kayaking courses.
Glomfjord overnatting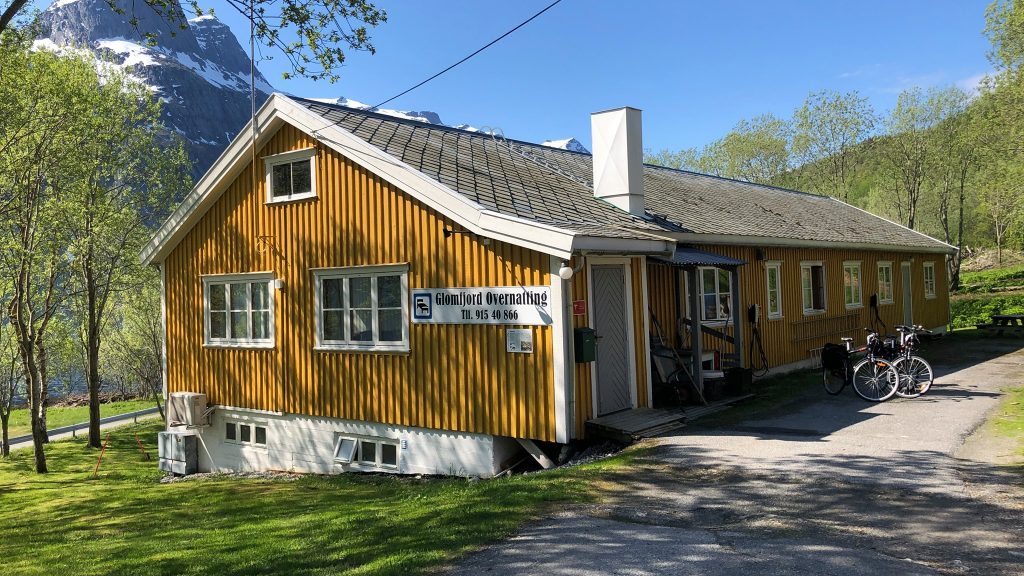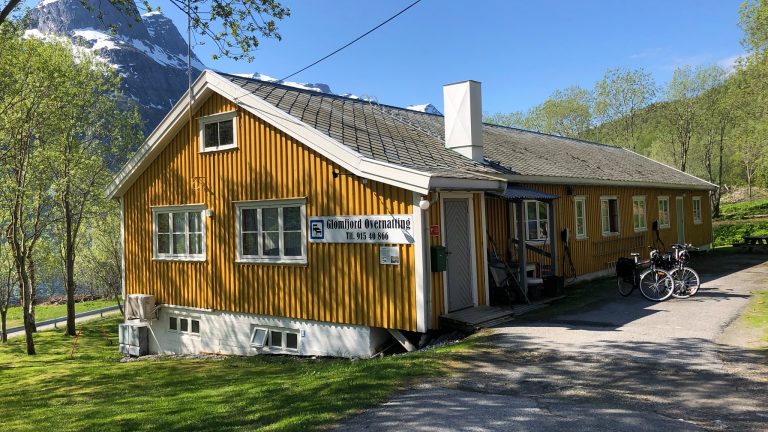 In Glomfjord, you can rent rooms for a reasonable price at Gulbrakka Basecamp. They offer nine rooms and have 20 beds in total. Guests have access to a shared kitchen, a lounge, bathrooms and a sauna – as well as two Tesla charging stations. Gulbrakka is easily accessible from county road Fv17. It's the perfect base for Kayaking and other adventures in the Meløy area.
Takk for at du hjelper oss med å ta vare på naturen og lokalsamfunnene på Helgeland. Takk for at du:
Praktiserer sporløs ferdsel, og tar med avfall og toalettpapir tilbake til nærmeste søppeldunk.
Planlegger toalettbesøk, slik at du får gjort det du må der det ikke er til sjenanse for andre.
Respekterer det lokale dyrelivet, holder hunden i bånd og holder god avstand til både ville og tamme dyr og fugler.
Respekterer privat eiendom, og holder avstand til private hus og hytter.
Viser godt båt-vett, holder god avstand til land, lav fart nært andre på vannet, inkludert dyr og fugler, og unngår unødig kjøring som skaper forstyrrende motorstøy.
Respekterer ferdsels- og ilandstigningsforbudet i sjøfuglereservatene i hekketiden.
Følger fjellvettreglene, og planlegger turer etter evne og erfaring.
Leier en erfaren guide på turene der du selv ikke har kunnskapen eller erfaringen som trengs for en trygg tur.