Hunting the Northern Lights with Hi North
Join us on a hunt, an adventure into the night darkness beyond the bright lights of villages and towns. Suddenly you may see curtains or rays dancing across the night sky!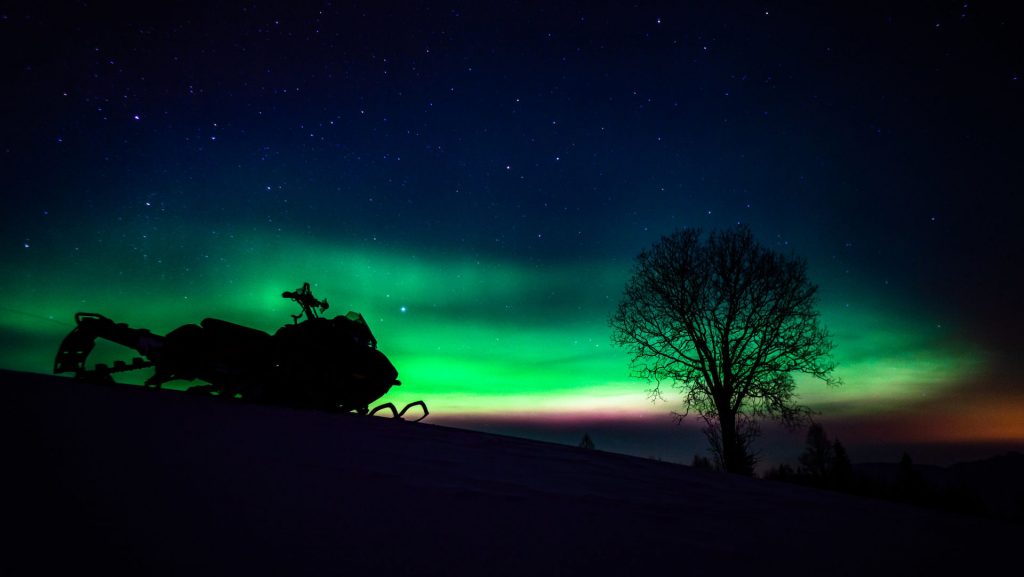 Petter Røsdal
This is the Northern Lights, an experience that is magical and unforgettable. This celestial phenomenon, which usually is seen only in the far north, has fascinated mankind since time immemorial.
HiNorth's guide picks you up where you're staying in Mosjøen and drives out to a spot that is undisturbed by light from the town. We'll serve you a hot beverage, chocolate and biscuits. On this excursion you will need good winter clothing and warm boots. Also bring your camera. All in all, our excursion takes between three and five hours, depending on far we need to drive and how long we have to wait for the Northern Lights to appear.
To catch this performance requires good planning, and a bit of luck and a clear dark sky. The mysterious Northern Lights occur when charged particles thrown out from the sun's corona break through Earth's magnetic field and into our atmosphere. This usually happens where our magnetic field is weakest, near the poles. When the charged particles from the solar winds react with oxygen and nitrogen high up in our atmosphere, you can see green, red and purple light dance across the sky.
Contact
Go to booking
Miljøsertifisert
This excursion is suitable for all adults as well as children who are at least four years of age.
HiNorth will use its considerable experience, the Northern Lights forecast and the weather forecast to increase our odds of witnessing this amazing celestial display. That said, we cannot guarantee that the Northern Lights will actually appear, but regardless of whether we are lucky we believe you will find this excursion rewarding.
We urge you to bring really warm clothing, including woollen or thermal underwear, thick mittens, an extra warm hat, warm sock and warm winter boots.
If you wish, you can rent a set of winter clothing, including a windproof snowsuit, mittens, balaclava and boots from HiNorth for NOK 300.
Depending on the winter weather and altitude, the temperature may vary from zero to –20˚C (32˚ to –4˚F). For outdoor activities, we highly recommend woollen or thermal underwear, combined with windproof outer garments, and that you layer your clothing with an inner layer, a middle layer, and the windproof outer layer.
Thick warm headwear and gloves or mittens are strongly recommended, especially if your chosen adventure has a lower level of activity, such as when you're "hunting" for the Northern Lights.
Contribute to sustainable tourism
Thank you for respecting the local communities, and for helping us preserve the natural beauty of Helgeland!
Please:
Strive to leave no trace of your visit. Bring back all your rubbish, including used toilet paper, and discard it in the nearest rubbish bin.

Plan your toilet visits and use the opportunity when you pass a toilet. In the wilderness, make sure you are not a nuisance to others.

Respect the local wildlife. Keep a good distance from wildlife, livestock and birds. Keep your dog leashed.

Respect private property. Keep a respectful distance from houses and cabins.

Show good boating sense. Keep a good distance from shore and drive at a low speed, especially when you are close to anyone or anything on the water, including birds or animals. Avoid loud and disturbing engine noise.

Be aware that some islands and nature reserves are important nesting sites, and that going ashore is prohibited during the nesting season.

Follow the Norwegian Mountain Code (Fjellvettreglene). Plan your excursion according to the weather forecast, your skills and experience.

Join a guided excursion or consider hiring an experienced guide, especially when you don't have sufficient experience or knowledge to guarantee a safe trip.