An evening wilderness adventure with a taste of Sámi culture
Come along for a wilderness adventure in Helgeland. With the moon and perhaps the glow of the Northern Lights illuminating our way, and equipped with headlights if needed, Hi North will guide you on a magical adventure!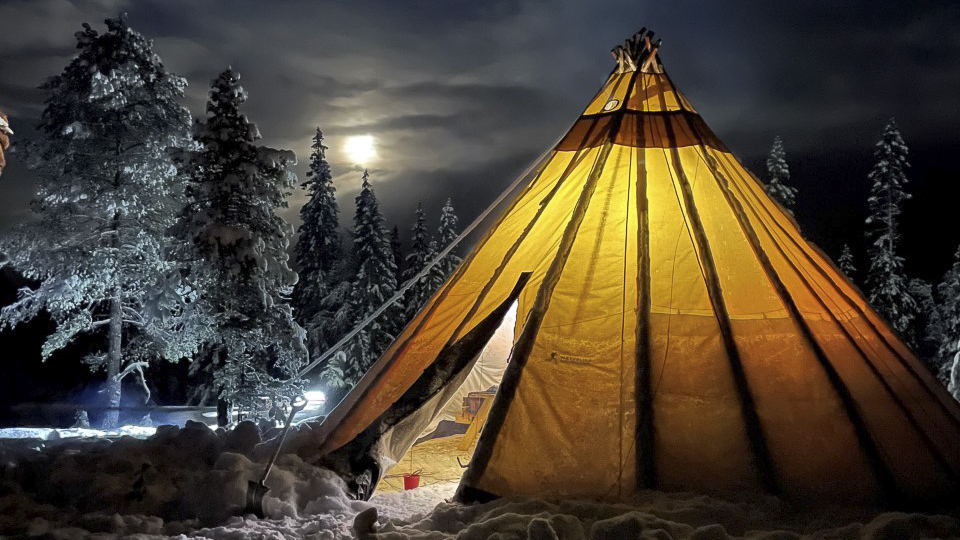 Merethe Kvandal / Hi North
Sjåmoen is a recreation area at the threshold of the wilderness, situated a short distance from the town of Mosjøen. This site has been used by many generations of Sámi reindeer herders for gathering and sorting their flocks. Grateful to be away from the noise and light disturbances of the city, visitors often speak of experiencing a deep tranquillity at Sjåmoen.
Your guide will equip you with snowshoes and then we'll go on a short trek to our destination, a nearby lavvo. This tipi-shaped tent is a portable traditional dwelling that is used by the nomadic Sámi reindeer herders. Away from the lights of the city, you will be amazed at how many stars there are. If we're lucky, we may even see the Northern Lights dancing across the skies above!
The brief snowshoe walk through easy terrain will keep you warm until we arrive at the lavvo. Inside, we'll sit by the crackling fire and enjoy good conversation over a delicious meal prepared with reindeer meat and other local ingredients.
After our meal, we'll hear about the ancient culture of the indigenous Sámi people, their reindeer herding, their language, their history, myths and beliefs. Theirs is a way of life that has been passed down through the generations since time immemorial. A reindeer herder has to really know and respect his or her animals, and be attuned to wind and weather, the life cycle of the reindeer, and the ever-changing wilderness. Here, life is not regulated by a wristwatch! Did you know that the Sámi people count eight seasons?
Our Sámi host will be happy to answer questions. We invite you to join us for an unforgettable wilderness evening. This is a unique opportunity to gain insights into an ancient Arctic culture.
Contact
Go to booking
Miljøsertifisert
The package is available all throughout the winter season, usually from November to May, depending on the amount of snow. Contact Hi North for more information.
Your price includes:
Transport to and from Mosjøen.
Traditional reindeer stew, dried meat, dessert and coffee, plus two glasses of wine or beer, and two snaps (strong drinks) per person. Non-alcoholic drinks are also available.
Guides and Sámi host.
Snowshoes, poles and headlamps are provided.
You need to bring:
Good winter boots, warm trousers and jacket, woollen or thermal underwear, a warm hat, scarf or neck gaiter, and mittens.
Minimum number of participants: 8 people.
Depending on the winter weather and altitude, the temperature may vary from zero to –20˚C (32˚ to –4˚F). For outdoor activities, we highly recommend woollen or thermal underwear, combined with windproof outer garments, and that you layer your clothing with an inner layer, a middle layer, and the windproof outer layer.
Thick warm headwear and gloves or mittens are strongly recommended, especially if your chosen adventure has a lower level of activity, such as when you're "hunting" for the Northern Lights.
Contribute to sustainable tourism
Thank you for respecting the local communities, and for helping us preserve the natural beauty of Helgeland!
Please:
Strive to leave no trace of your visit. Bring back all your rubbish, including used toilet paper, and discard it in the nearest rubbish bin.

Plan your toilet visits and use the opportunity when you pass a toilet. In the wilderness, make sure you are not a nuisance to others.

Respect the local wildlife. Keep a good distance from wildlife, livestock and birds. Keep your dog leashed.

Respect private property. Keep a respectful distance from houses and cabins.

Show good boating sense. Keep a good distance from shore and drive at a low speed, especially when you are close to anyone or anything on the water, including birds or animals. Avoid loud and disturbing engine noise.

Be aware that some islands and nature reserves are important nesting sites, and that going ashore is prohibited during the nesting season.

Follow the Norwegian Mountain Code (Fjellvettreglene). Plan your excursion according to the weather forecast, your skills and experience.

Join a guided excursion or consider hiring an experienced guide, especially when you don't have sufficient experience or knowledge to guarantee a safe trip.