Topcamp Havblikk - Good food and lodging at Nesna
When you stay at Topcamp Havblikk at Nesna, you have access to varied activities that you can enjoy with family or friends. This campsite is well-suited to people travelling with caravans, campers or tents. If you prefer, you can choose a cabin or room.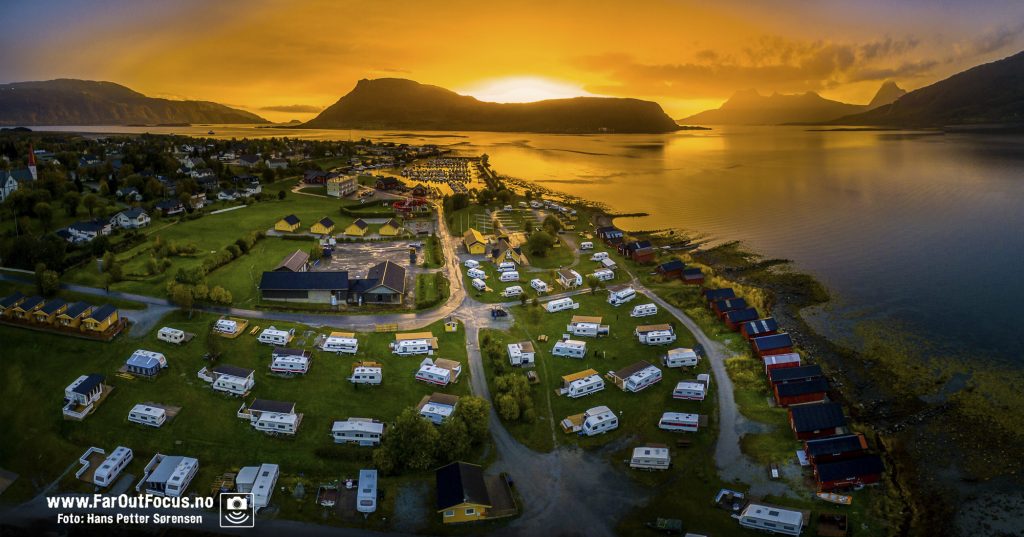 Hans Petter Sørensen / FarOutFocus
Havblikk is a family-friendly campsite with many different options for accommodation and activities. Here you can stay in safe and quiet surroundings with a short way to varied activities on the coast and inland.
At Nesna you can join a sea eagle safari, go fishing, rent a bike or paddle a kayak. Nesna is a hub for speedboat and ferry traffic. You can go on a day trip to Tomma, climb the mighty Tomskjevelen or swim on chalk-white beaches. If you want to travel around the Helgeland coast, we recommend going island hopping with "Nordlandsekspressen" (often abbreviated NEX). This is a fast boat route that goes from Sandnessjøen to Bodø, and in the summer it also goes via the outer islands such as Lovund, Træna and Myken.
About Havblikk
Havblikk is a friendly campsite situated right on the water. In addition to its many accommodation options and restaurant, the campsite has a live stage and offers a range of activities. The entire family can enjoy swimming, and relax with refreshments on sun loungers.
Right next to the campsite is the marina, which bustles with life in the summer. Here you will meet the locals as well as tourists travelling by boat.
Accommodation
You can stay overnight in your own cabin, room or holiday apartment. If you've brought your own accommodation in the form of a caravan or camper, you'll get a nice spot with an electricity hook-up, and the service building is equipped with a facility for emptying your sewage tank. If you prefer to pitch a tent, you can find a spot on the lawn that provides shade from the morning sun.
The weather in Helgeland can vary greatly, and in the summer the temperature can range from 10 to 25 degrees Celsius, and rain can come and go in "bursts" or "showers". We recommend that you pack both a rain jacket and shorts, hiking boots and sandals, so you are prepared for anything.
In the winter, the temperature typically ranges from plus 5 to minus 15 degrees Celsius. If you plan to be outside a lot, woolen underwear and windproof clothes are your best friends. Dress in layers with an inner layer, middle layer, and outer layer. A thick hat and gloves or mittens are especially recommended if you will be outside with low activity levels, such as when viewing the northern lights.
Contribute to sustainable tourism
Thank you for respecting the local communities, and for helping us preserve the natural beauty of Helgeland!
Please:
Strive to leave no trace of your visit. Bring back all your rubbish, including used toilet paper, and discard it in the nearest rubbish bin.
Plan your toilet visits and use the opportunity when you pass a toilet. In the wilderness, make sure you are not a nuisance to others.
Respect the local wildlife. Keep a good distance from wildlife, livestock and birds. Keep your dog leashed.
Respect private property. Keep a respectful distance from houses and cabins.
Show good boating sense. Keep a good distance from shore and drive at a low speed, especially when you are close to anyone or anything on the water, including birds or animals. Avoid loud and disturbing engine noise. Be aware that some islands and nature reserves are important nesting sites, and that going ashore is prohibited during the nesting season.
Follow the Norwegian Mountain Code (Fjellvettreglene). Plan your excursion according to the weather forecast, your skills and experience.
Join a guided excursion or consider hiring an experienced guide, especially when you don't have sufficient experience or knowledge to guarantee a safe trip.