A glacier trek on Svartisen
Join us for an exotic adventure: a guided glacier trek on Engabreen. The experienced guides from Meløy Adventure will ensure that this is a safe and unforgettable adventure.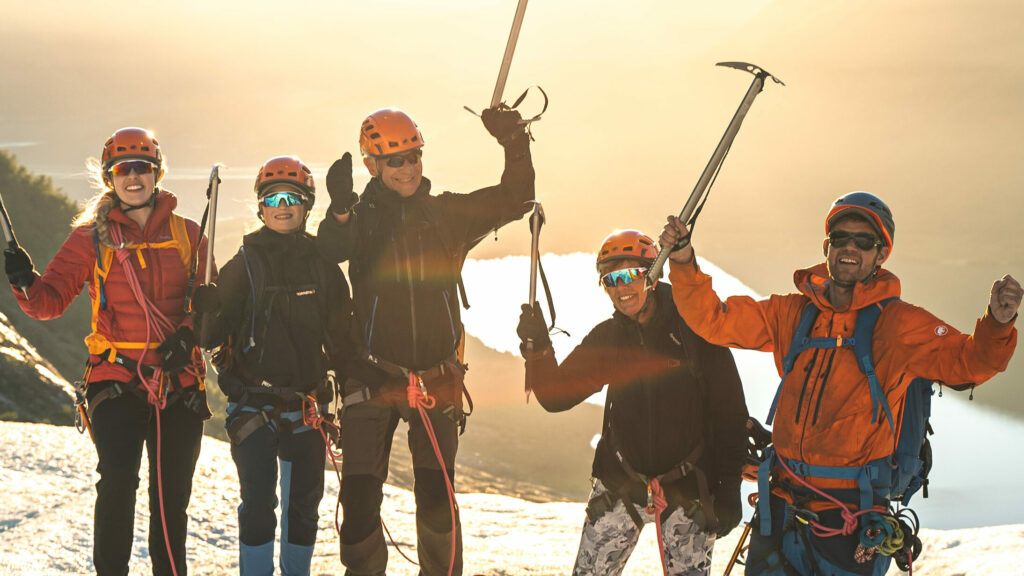 Carl Filip Olsson
Svartisen is the second largest glacier on the Norwegian mainland, and Engabreen is an impressive glacier arm that reaches almost all the way down to the fjord. Before setting out on this glacier trek, your experienced guides will equip you with crampons, ice axes and safety harnesses. To keep everyone safe, we will be linked together by rope.
This glacier trek is a unique opportunity to experience up close the dense glacial ice, the amazing ice formations that sometimes look like sculptures, and the deep crevasses in the glacier.
During the summer, daily excursions start every morning. In June and July, you can also join a glacier trek under the midnight sun! This makes your glacier adventure even more amazing.
The guided glacier treks are suitable for everyone over the age of 12 who is in reasonably good shape. Please note that you do not need any prior experience. Your expert guides will provide you with all the equipment you need and lead you safely across the glacier. All you need is good footwear, warm clothing, and a small backpack with a packed lunch and plenty of water.
Engabreen is situated Meløy municipality and is easily accessible from route Fv17. From Holandsvika the shuttle boat MS "Isprins" regularly crosses the fjord towards Svartisen. From the quay on the other side, we have a 3 km walk along a gravel road up to the glacier.
The total duration for this glacier adventure is 6–7 hours.
Season and how to join the trek
Guided glacier treks are offered daily during the summer.
For the treks departing in the morning, meet up at the quay in Holandsvika at 9:20 am.
In addition, in June and July, midnight sun glacier treks are offered daily. To join this excursion, meet up at the Holandsvika quay at 4:50 pm.
The shuttle boat leaves from Holand in Meløy.
Holand is located along county road 17.
From Mo i Rana you have to calculate approximately 4 hours if you drive the coastal road. The trip involves a ferry from Kilboghamn to Jektvik and from Ågskardet to Forøy.
Takk for at du hjelper oss med å ta vare på naturen og lokalsamfunnene på Helgeland.
Takk for at du:
Praktiserer sporløs ferdsel, og tar med avfall og toalettpapir tilbake til nærmeste søppeldunk.
Planlegger toalettbesøk, slik at du får gjort det du må der det ikke er til sjenanse for andre.
Respekterer det lokale dyrelivet, holder hunden i bånd og holder god avstand til både ville og tamme dyr og fugler.
Respekterer privat eiendom, og holder avstand til private hus og hytter.
Viser godt båt-vett, holder god avstand til land, lav fart nært andre på vannet, inkludert dyr og fugler, og unngår unødig kjøring som skaper forstyrrende motorstøy.
Respekterer ferdsels- og ilandstigningsforbudet i sjøfuglereservatene i hekketiden.
Følger fjellvettreglene, og planlegger turer etter evne og erfaring.
Leier en erfaren guide på turene der du selv ikke har kunnskapen eller erfaringen som trengs for en trygg tur.