Hi North - moments to remember!
Hi North is a tour operator offering adventures and activities that highlight the experience of Helgeland's natural treasures. They offer short excursions as well as longer trips with overnight stays surrounded by beautiful scenery.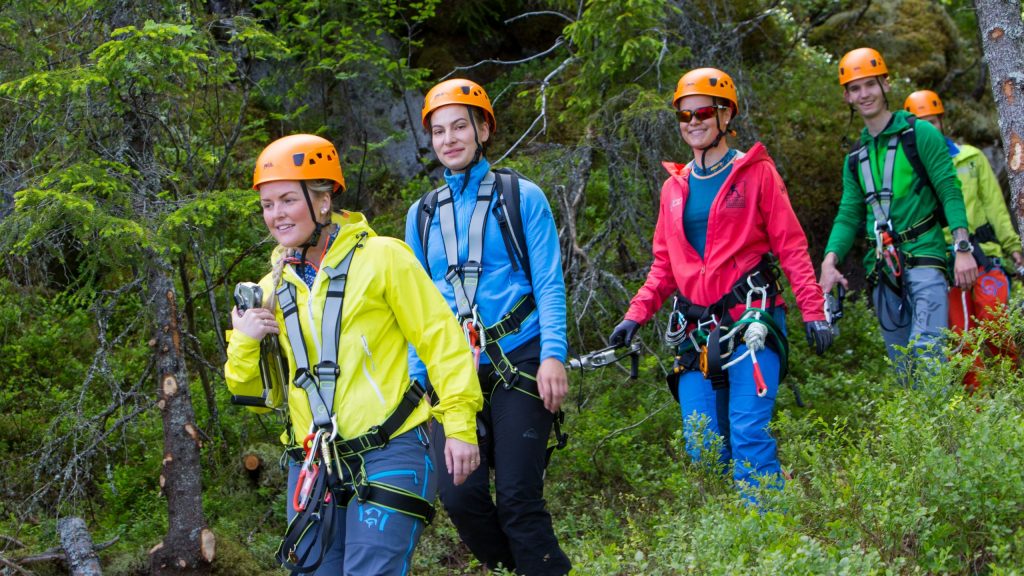 Merethe Kvandal/Hi North
The company is situated in Mosjøen, a town in the geographical heart of Norway. Nearby are the Børgefjell National Park to the southeast and Lomsdal-Visten National Park to the southwest; to the northeast is the Okstindan range and glaciers, with the highest peak in Northern Norway, and to the west is the Helgeland coast, perhaps the most beautiful in all of Norway. In short, nowhere else will you find so much exciting and varied scenery as here in Helgeland!
NaturligHi North offers a menu of events and adventures that are perfect for small groups, such as friends travelling together. This is also the perfect complement to a business conference in Mosjøen. Hi North will be delighted to tailor a programme to your needs and wishes. They can handle every key detail, including conference facilities, transport and dining, as well as activities and excursions.
Mosjøen Zip-line
Northern Norway's longest and most spectacular Zip-line takes you 700 meters across the salmon river Vefsna. Join in and experience the feeling of flying, feel the excitement in your stomach and get a real adrenaline kick. The trip up to the starting point goes via the famous Helgeland stairs, built by Sherpas from Nepal.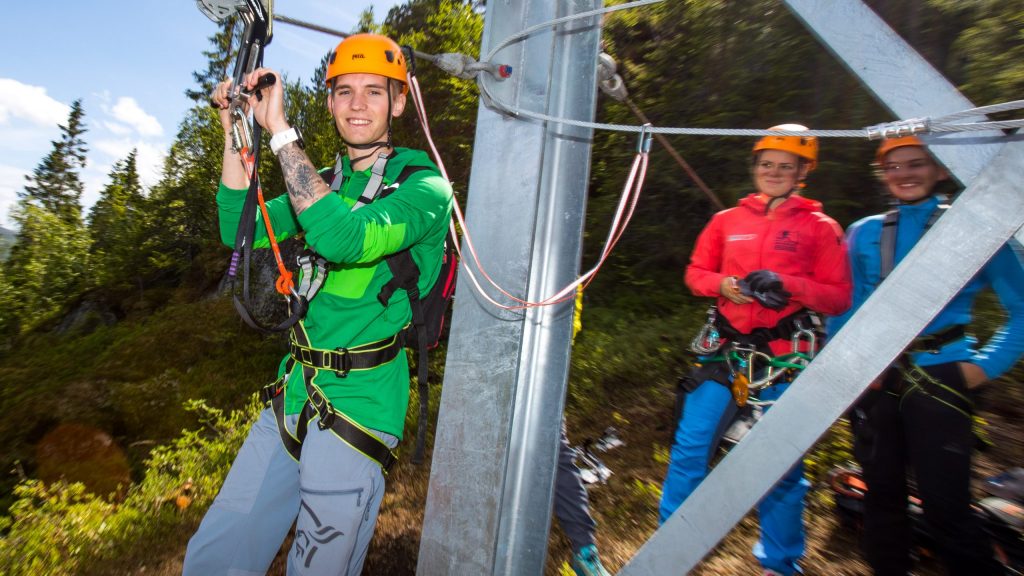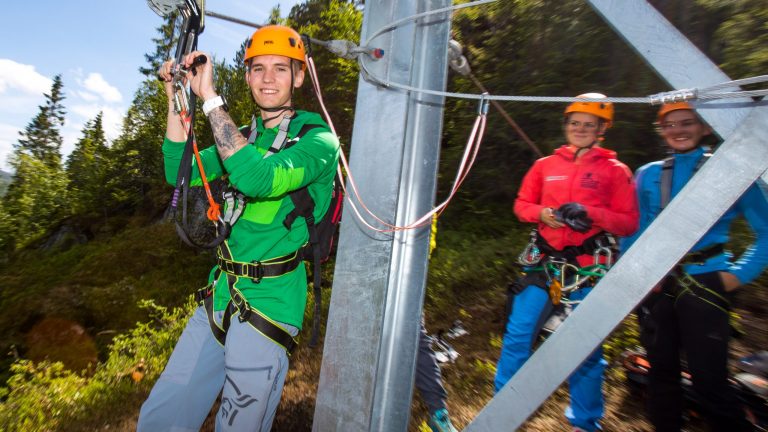 Mosjøen via ferrata
Via ferrata is a climbing route in the mountains and in Mosjøen this is located in Øyfjellet, 818 masl. Here you get a safe and great trip that does not require special prior knowledge, just that you are in a little decent shape. The route is classified as B / C, ie easy to medium difficult, and is an exciting and fun way to climb the mountain. At the top you get a fantastic view.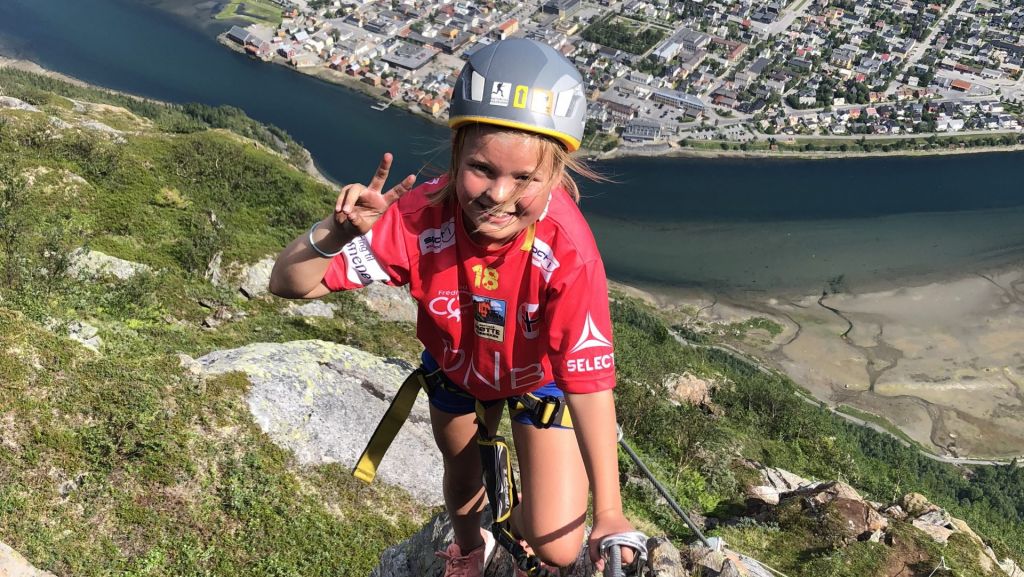 Øyfjellgrotta – into the unknown
Join the 500 meter long limestone cave, located just outside the center of Mosjøen. Øyfjellgrotta is suitably challenging for most people and an exciting trip with some narrow sections, some crawling, an underground river and a lot to see in the mountains for a watchful eye.
With care and a desire to take care of their customers so that they get the best possible experience, you are guaranteed to have moments you remember with Natural Helgeland.
The office in Ytterøra 23 is open 0900-1800 on weekdays. Order otherwise online, send email or call.
All trips with Hi North include necessary safety equipment. You can also rent climbing harnesses with a shock absorber, helmet, snowshoes and poles. In addition, snowmobiles and scooter clothing are rented out.
Contribute to sustainable tourism
Thank you for respecting the local communities, and for helping us preserve the natural beauty of Helgeland!
Please:
Strive to leave no trace of your visit. Bring back all your rubbish, including used toilet paper, and discard it in the nearest rubbish bin.

Plan your toilet visits and use the opportunity when you pass a toilet. In the wilderness, make sure you are not a nuisance to others.

Respect the local wildlife. Keep a good distance from wildlife, livestock and birds. Keep your dog leashed.

Respect private property. Keep a respectful distance from houses and cabins.

Show good boating sense. Keep a good distance from shore and drive at a low speed, especially when you are close to anyone or anything on the water, including birds or animals. Avoid loud and disturbing engine noise.

Be aware that some islands and nature reserves are important nesting sites, and that going ashore is prohibited during the nesting season.

Follow the Norwegian Mountain Code (Fjellvettreglene). Plan your excursion according to the weather forecast, your skills and experience.

Join a guided excursion or consider hiring an experienced guide, especially when you don't have sufficient experience or knowledge to guarantee a safe trip.