Ski & Sail along the enchanting Helgeland Coast
Join the thrill of a 6-day ski touring and sailing adventure along the enchanting Helgeland coast with Nordværs exclusive spring excursion charters. From March through May, you'll embark on a five-night journey from Nordværs idyllic base in Seløy, setting sail aboard their state-of-the-art catamaran.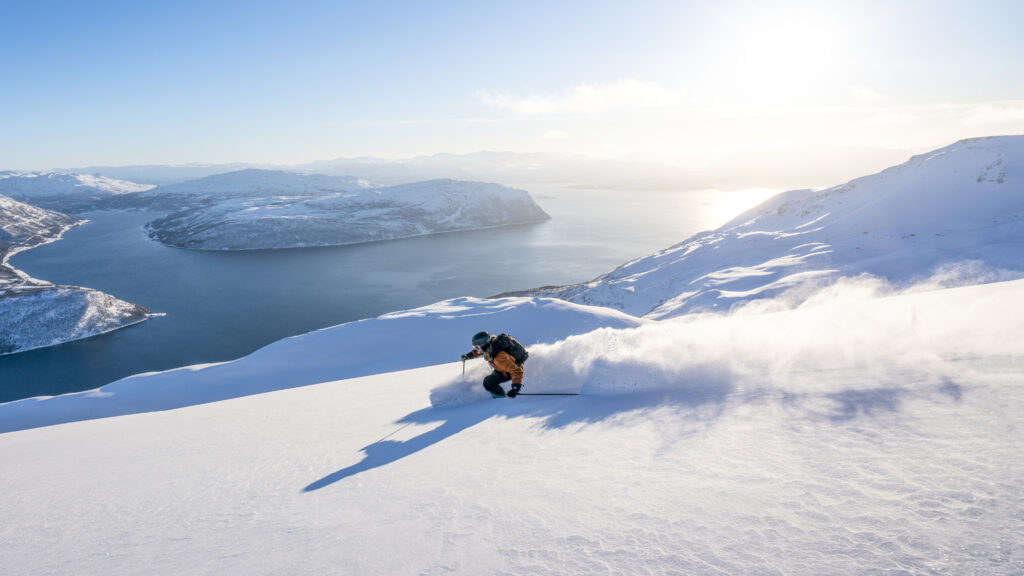 Eric James Ryan
The boat and the food
Set sail on a memorable journey aboard Nordvær's Lagoon 51 catamaran. At 15 meters, it boasts four inviting guest rooms equipped with modern comforts and heaters. Its design offers a harmonious blend of style and practicality, ensuring a comfortable stay while traversing the wild waves of the Norwegian Sea along the scenic Helgeland Coast.
The cuisine aboard is a narrative of the region, with every meal expertly crafted from locally sourced ingredients. If you have an adventurous palate, you can fish or dive for your supper. And as you venture, you'll gather from nature, crafting its riches into delicious meals.
The skiing
Experience pristine ski terrains like Glomfjord, Melfjorden, and areas around Svartisen. Go skiing in the beautiful fjords, with glaciers and high peaks as backdrops for your adventure. Accompanied by professional guides, you'll get to play in untouched snow, on thrilling descents through the breathtaking landscape of the Helgeland Coast.
All of Nordværs skiing excursions are led by professional guides. This ensuring not only an adrenaline-pumping experience, but also a safe one. Guests are required to bring their own backcountry skiing equipment and have the prerequisite skills to navigate the snowy terrains.
The journey
The voyage is an open invitation to explore – from peaceful beach walks and invigorating snorkeling sessions, to tranquil moments of relaxation on board. Embrace the serenity and the boundless beauty that surrounds you both on land and underwater.
Nordværs Sail and Ski adventure is a journey with a conscience. They are supporting local farms through their menu choices, and are imparting sustainable travel practices amongst their guests. The captain, a PhD-level researcher, doubles as your nature guide, enriching your voyage with knowledge and respect for the wild, untamed beauty of the Helgeland Coast.
The Ski and Sail adventure is available from March through April.
The journey is 6 days long, for groups of 1-6 participants. Suitable for ages 14 and up, the activities range from easy to challenging. Guides speak both English and Norwegian.
Please contact Nordvær for further details.
Contribute to sustainable tourism
Thank you for respecting the local communities, and for helping us preserve the natural beauty of Helgeland!
Please:
Strive to leave no trace of your visit. Bring back all your rubbish, including used toilet paper, and discard it in the nearest rubbish bin.
Plan your toilet visits and use the opportunity when you pass a toilet. In the wilderness, make sure you are not a nuisance to others.
Respect the local wildlife. Keep a good distance from wildlife, livestock and birds. Keep your dog leashed.
Respect private property. Keep a respectful distance from houses and cabins.
Show good boating sense. Keep a good distance from shore and drive at a low speed, especially when you are close to anyone or anything on the water, including birds or animals. Avoid loud and disturbing engine noise. Be aware that some islands and nature reserves are important nesting sites, and that going ashore is prohibited during the nesting season.
Follow the Norwegian Mountain Code (Fjellvettreglene). Plan your excursion according to the weather forecast, your skills and experience.
Join a guided excursion or consider hiring an experienced guide, especially when you don't have sufficient experience or knowledge to guarantee a safe trip.