Helgeland has several large glaciers. Those most accessible to visitors are Svartisen and Okstindbreen
Svartisen: Engabreen og Austerdalsisen
Svartisen is the second-largest glacier on the Norwegian mainland. It actually consists of two glaciers, one eastern and one western, respectively Østre Svartisen and Vestre Svartisen. Both have glacier arms that reach down into the valleys, making them easy to reach. If you are approaching from the west, head for Engabreen, taking the shuttle boat across the Holandsfjord.
If you are coming from the east, you can head towards Austerdalsisen. But check with a Tourist Information Office ahead of time, as this requires crossing Svartisvatnet lake – and at present we are unsure whether that shuttle boat will be running this summer. An excellent alternative is to visit Okstindbreen in Hemnes municipality, about an hour's drive south of the town of Mo i Rana. You can read more about Okstindbreen a little further down.
We strongly recommend taking one of the guided glacier treks that are offered on Engabreen and Okstindbreen.
NB. Please keep a safe distance from the edge of the glacier. If you are in the wrong place at the wrong time, a sudden movement of the massive ice blocks can be lethal!
Okstindbreen glacier and Rabothytta cabin
The mountain massif Okstindan is sometimes referred to as "the roof of Northern Norway". One of the peaks, Oksskolten (1916 m) is the highest in Northern Norway. In this mountain range, perched at a thousand metres altitude on the edge of Okstindbreen glacier, you will find Rabothytta, find the most striking cabin owned by the Norwegian Trekking Association (DNT). Locals who are familiar with the glacier, and have the right equipment, go skiing here even in the summer. However, if you are a visitor, for your own safety we strongly suggest you hire a guide or join a guided glacier trek, or enjoy the view of the glacier from a respectful distance at Rabothytta cabin.
NB. Please be mindful and keep a safe distance from the glacier's edge
Safety on and by the glaciers
Please be mindful and keep a safe distance while admiring the glacier.
The large blocks of ice at the glacier's edge are especially unstable, and can suddenly come loose and shift without warning.
Hiking on the glaciers requires the right equipment and experience. Hire a guide if you are in doubt about the equipment and knowledge required.
Book your experience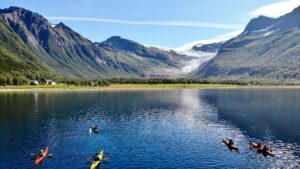 Kayaking trips in the Meløy and Rødøy area
Meløy Adventure offers guided kayaking trips on the Glomfjord, to the Svartisen glacier, and on the waters near Rødøyløva (443 m), as well as longer excursions around the island of Mesøy. The company also rents out kayaks, and its experienced instructors offer a variety of kayaking courses.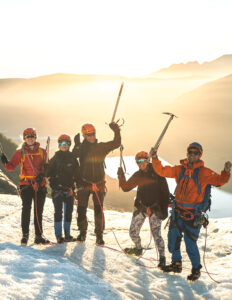 A glacier trek on Svartisen
Join us for an exotic adventure: a guided glacier trek on Engabreen. The experienced guides from Meløy Adventure will ensure that this is a safe and unforgettable adventure.