Storli Camping and Aernie - Accommodation and a sámi experience
Aernie offers a culinary and cultural experience that highlights the Sámi heritage. Accommodation options include spending the night in a luxurious traditional tent (goahti), or staying in a cabin, caravan, camper or a conventional tent. Aerni and Storli Camping are situated by highway E6, a 20-minute drive north of the town of Mo i Rana.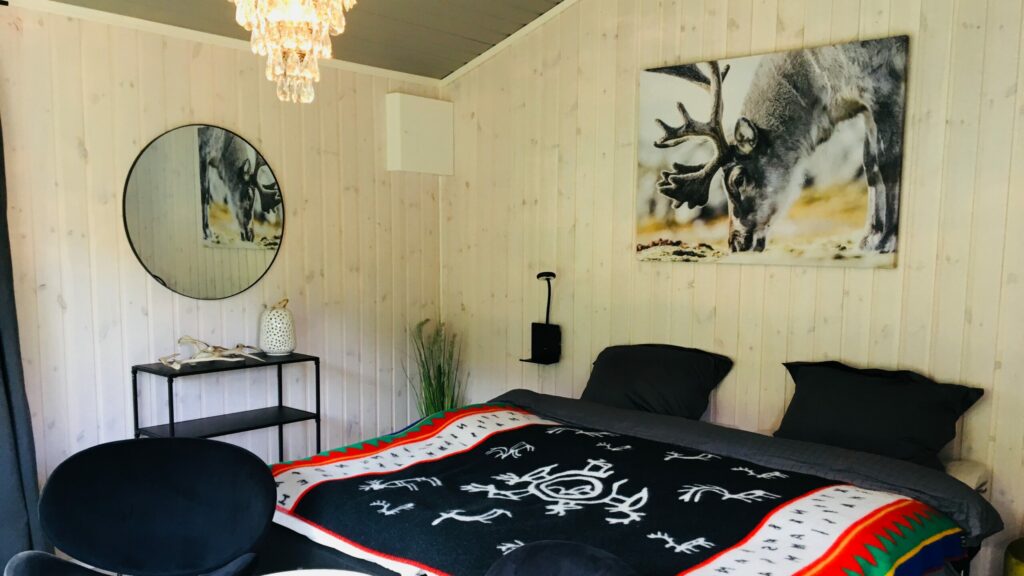 Kaja-Regine Bientie / Aernie
Aernie combines South Sámi culture with traditional robbery food. You can get a story about Sami history, culture and way of life with family or friends. Maybe you want to help prepare your own lunch by the fire or spend the night in a luxury range?
Hearty dining at Aernie's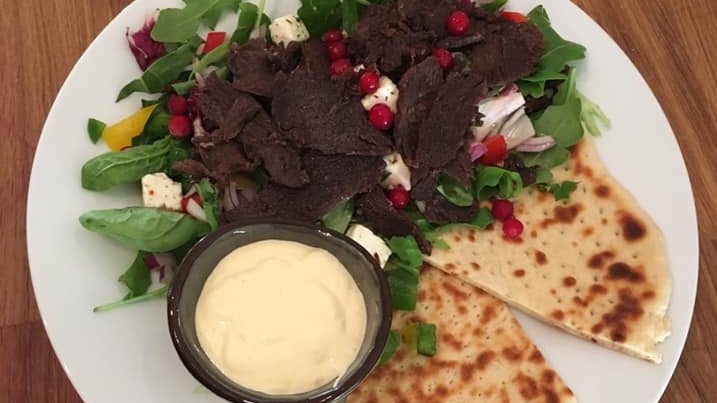 Aernie offers traditional Sámi dishes, as well as regional specialities such as rengakaka. Everything on their menu is homemade with the best ingredients. Consider ordering suovas with salad and fresh-baked Sámi bread. Aernie's café is open 5–10pm, Wednesday through Sunday, starting on 10 July.
For updated information, please see their Facebook page.
The Sámi experience
The word aernie means hearth – gathering around the fire is central to Sámi culture. As you help prepare a delicious meal and listen to the tales of the storyteller, you will find yourself immersed in the fascinating Sámi culture.
For the entire family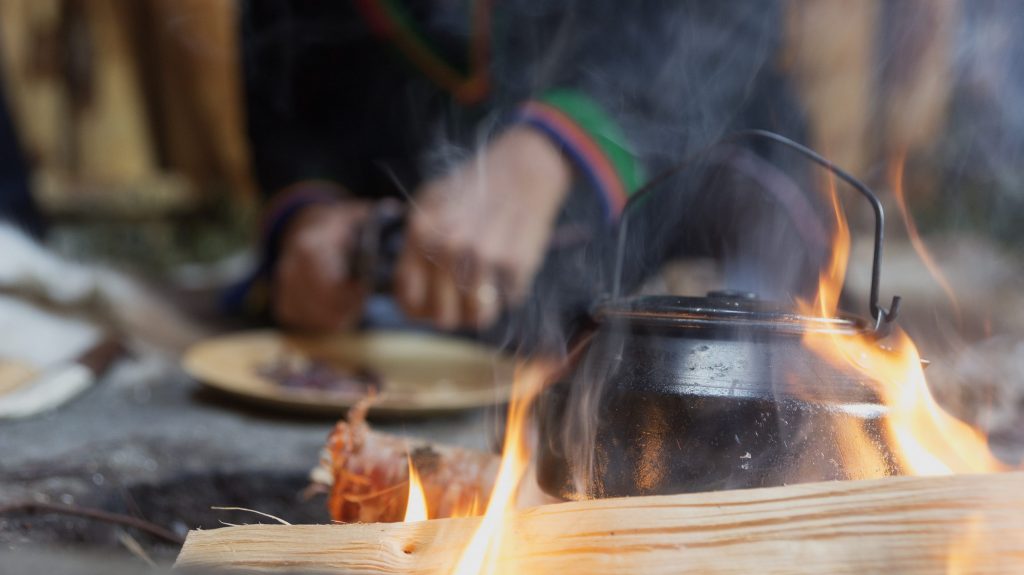 Guests young and old will learn to light a fire, fashion useful object with a knife, and bake bread and roast reindeer meat on the hearth. Listen to ancient legends and joik, the traditional Sámi song. Afterwards, perhaps you would like to compete in lasso throwing, an important skill for Sámi reindeer herders. Duration: 2–2.5 hours. When: from 12 noon. Must be booked in advance.
For adults
You get to take part in preparing your own Sámi lunch while gaining key insights into the Sámi heritage and history. The key ingredient of this traditional meal is reindeer meat roasted on the fire. To your hosts, the taste of reindeer is the very flavour of nature, as well as Sámi community and culture. Guests are encouraged to ask questions. You can always ask questions to learn more. Duration: 2–2.5 hours. When: from 12 noon. Must be booked in advance.
Spend the night in a luxurious Sámi goahti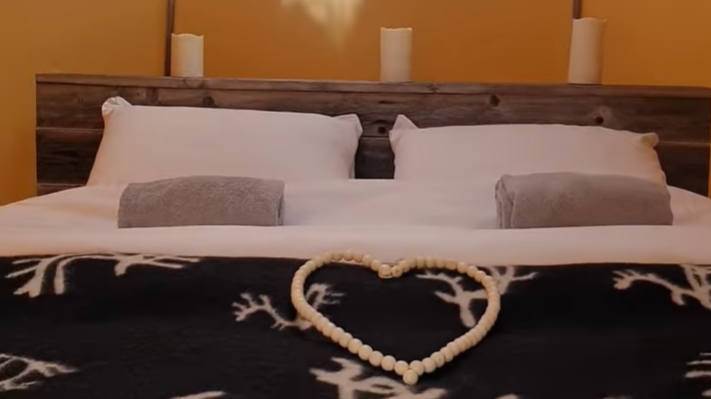 For an exotic experience, consider spending the night in a traditional Sámi tent (goahti). Ours is quite luxurious and beautifully situated on a sheltered spot in the woods by the Ranelva river. The goahti is furnished with two beds, a table with chairs, refrigerator and electric kettle. Linen, towels and breakfast are included. Showers and toilets are located in the nearby service facility.
Storli Camping
This campsite offers two cabins, each equipped with two beds, a refrigerator and an electric kettle. Breakfast, linen and towels are included. Showers and toilets are located in the nearby service house. In addition to the cabins, there are spots for caravans, each with a power hook-up. The campsite also has places where you can pitch a tent.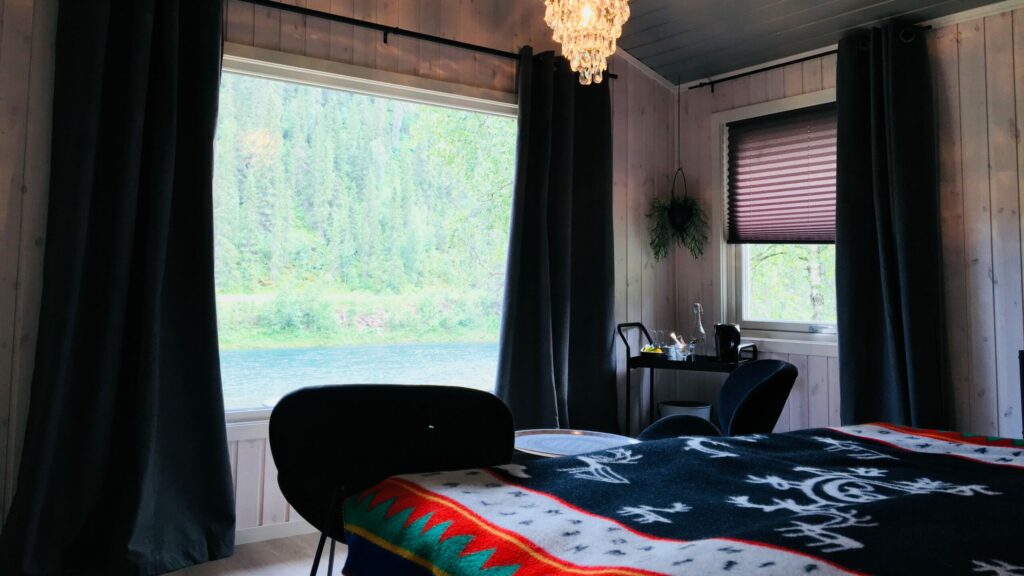 All guests have access to the service facility, which has showers and toilets, a fully-equipped kitchen, and a laundry room with washer and tumble-drier.
Outside the kitchen is a patio with tables.
Storli Camping opens in early June.
About the hosts
At Storli you meet the couple Toamma Bientie and Anne Berit Sætermo.
Toamma grew up in a South Sami reindeer herding family with a strong identity. His mother was an avid craftsman and his grandfather an eminent storyteller. This is a unique cultural heritage that Toamma carries with her, and conveys through farm tourism at Storli.
Anne Berit brings with her the local peasant culture that her family has continued on the farm for 200 years. Her grandmother in particular has been a great source of inspiration and mentor for her interests in several traditions such as weaving and baking.
Both are educated educators and are genuinely interested in knowledge-based storytelling and cultural communication.
Treat yourself to a food and cultural experience at Storli!
Aernie or Storli Camping, which is the old name, is a great starting point for nature experiences. It is a short way to the Arctic Circle and Saltfjellet, Grønligrotta, Setergrotta, Svartisen and Marmorslottet.
Takk for at du hjelper oss med å ta vare på naturen og lokalsamfunnene på Helgeland. Takk for at du:
Praktiserer sporløs ferdsel, og tar med avfall og toalettpapir tilbake til nærmeste søppeldunk.
Planlegger toalettbesøk, slik at du får gjort det du må der det ikke er til sjenanse for andre.
Respekterer det lokale dyrelivet, holder hunden i bånd og holder god avstand til både ville og tamme dyr og fugler.
Respekterer privat eiendom, og holder avstand til private hus og hytter.
Viser godt båt-vett, holder god avstand til land, lav fart nært andre på vannet, inkludert dyr og fugler, og unngår unødig kjøring som skaper forstyrrende motorstøy.
Respekterer ferdsels- og ilandstigningsforbudet i sjøfuglereservatene i hekketiden.
Følger fjellvettreglene, og planlegger turer etter evne og erfaring.
Leier en erfaren guide på turene der du selv ikke har kunnskapen eller erfaringen som trengs for en trygg tur.