Lyngvågen Café on Gjerdøya in Rødøy
At Lyngvågen Café on the beautiful Gjerdøya in Rødøy, you can enjoy delicious, homemade seafood and opt for an overnight stay, making Lyngvågen an excellent base for exploring Gjerdøya and the other islands in Rødøy.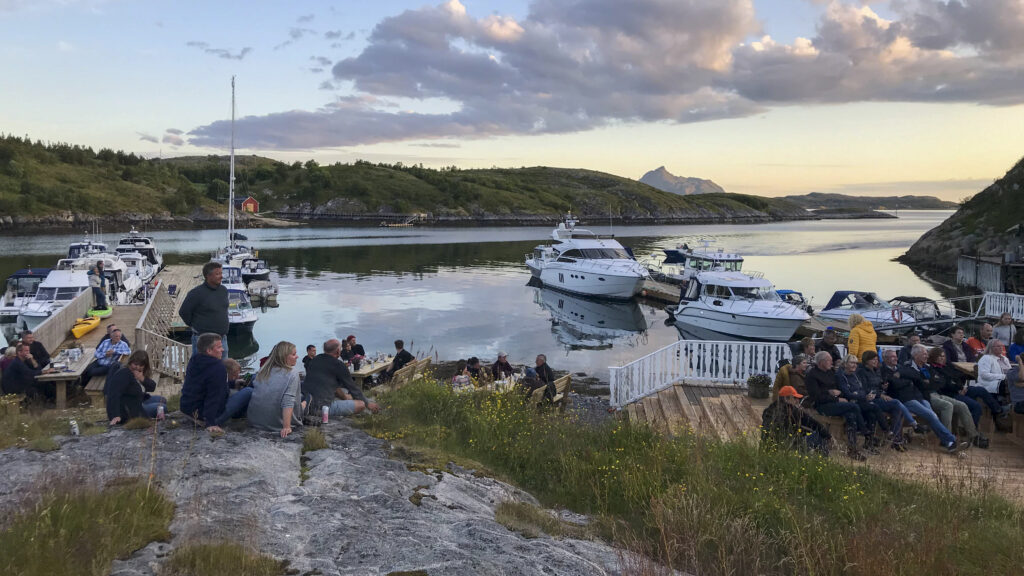 Midttun / Monsen
The Café
Lyngvågen Café is housed in the renovated premises of the old fish receiving station on Gjerdøya. Here, Jim is the chef, offering traditional seafood dishes: fish burgers and whale burgers, bacalao, and fried cod tongues, just to name a few.
Accommodation
The apartment Lyngvågen Panorama is ideal for couples or families keen on exploring Gjerdøya and the neighboring islands in Rødøy. It offers a bedroom with two double beds, a sleeper sofa in the living room, and a splendid view of the sea and the enchanting Hestmannen mountain.
Guest Dock
For those arriving by boat, Lyngvågen offers a 160-meter floating dock with ample space and access to water and electricity. There are also service buildings with toilets, showers, and laundry facilities.
Exploring Gjerøy
A short boat trip from Lyngvågen is Gjerøyhamn, where you can visit the old Sheriff's Farm, now transformed into a small museum with an art exhibition and sales in the restored barn. The ancient farm boasts a remarkably beautiful garden, with significant effort and love invested in preserving the buildings and its rich cultural history.
Gjerdøya also offers well-marked hiking trails, including one to Gjerdøyfjellet. Though the mountain stands only 168 meters above sea level, it offers challenging terrains and a magnificent view of the surrounding islands.
For those keen on exploring the waters, Lyngvågen is a fantastic starting point for kayak paddling. Moreover, Lyngvågen Café can assist with boat rentals or RIB tours in the area.
Lyngvågen Panorama is available for rent year-round.
Lyngvågen Café has fixed opening hours in June, July, and August:
Monday to Saturday: 13:00 – 21:00
Sunday: 13:00 – 18:00
Groups can book meals outside the season.
Contribute to sustainable tourism
Thank you for respecting the local communities, and for helping us preserve the natural beauty of Helgeland!
Please:
Strive to leave no trace of your visit. Bring back all your rubbish, including used toilet paper, and discard it in the nearest rubbish bin.
Plan your toilet visits and use the opportunity when you pass a toilet. In the wilderness, make sure you are not a nuisance to others.
Respect the local wildlife. Keep a good distance from wildlife, livestock and birds. Keep your dog leashed.
Respect private property. Keep a respectful distance from houses and cabins.
Show good boating sense. Keep a good distance from shore and drive at a low speed, especially when you are close to anyone or anything on the water, including birds or animals. Avoid loud and disturbing engine noise. Be aware that some islands and nature reserves are important nesting sites, and that going ashore is prohibited during the nesting season.
Follow the Norwegian Mountain Code (Fjellvettreglene). Plan your excursion according to the weather forecast, your skills and experience.
Join a guided excursion or consider hiring an experienced guide, especially when you don't have sufficient experience or knowledge to guarantee a safe trip.