Hunting the Northern Lights at Støtt
Do you yearn for a truly magical winter adventure, and a respite from the hustle and bustle of everyday life? Between September and May, Støtt invites you to see the amazing celestial display of the Northern Lights! In addition, you will surely appreciate the subtle winter colours of our beautiful island realm.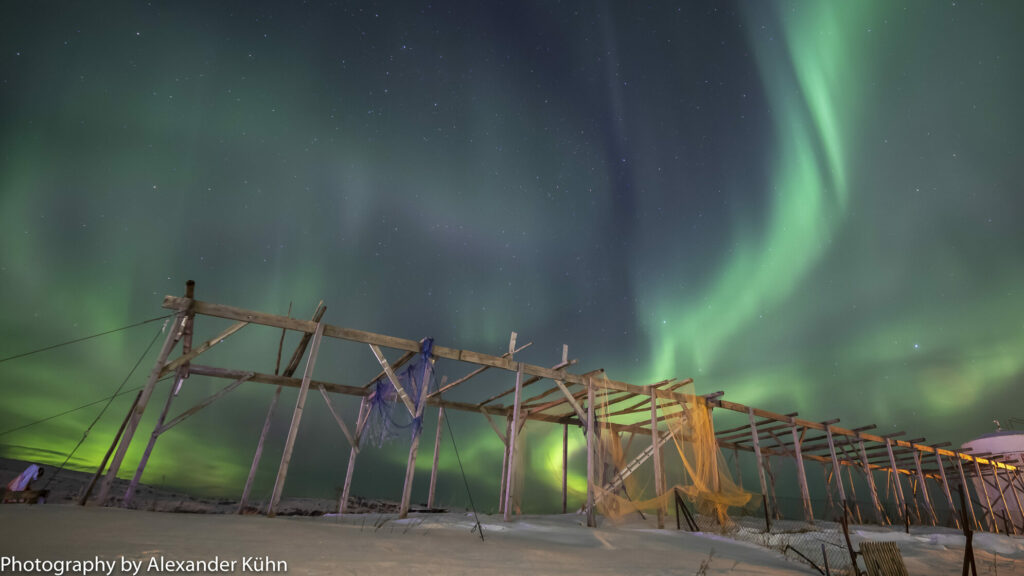 STØTT
Welcome to an authentic trading post. The current, fourth-generation owners invite you to dine on fresh seafood caught in the local waters, and to hear the colourful stories of the hardy islanders who challenge the sea. During the winter, the old houses and wharf buildings on Støtt form a striking image against the background of the majestic snow-covered Meløy Alps on the mainland.
Suddenly in the darkness, you may see vast ribbons of green light moving, and at moments they feel close enough to touch. This is the dance of the Northern Lights! Many travellers have come to Northern Norway just to see this amazing performance on the starry vault!
Naturally we can give no guarantee of when this takes place. But on Støtt you can combine your "hunt" with a wide selection of outdoor adventures: explore the islands on foot, kayak the waters of the beautiful archipelago, or join a deep-sea fishing trip. The excitement of hooking one of the large cod that migrate from the Barents Sea to spawn in the waters during the winter is indescribable! In their very own museum, you can gain insights into the history and culture of the islanders.
Contact
Les mer og bestill
Eco-certified
Støtt is located in Meløy municipality in the far north of the Helgeland coast. Meløy is located along Kystriksveien (Fv.17), 1.5 hours south of Bodø and 4 hours north of Mo i Rana.
You can take a speedboat several times a day from Ørnes (Meløy), or you can fly to Bodø or Sandnessjøen and travel with Nordlandsekspressen (NEX) which runs daily between Bodø and Sandnessjøen, via Støtt.
Check timetables and plan your trip with reisnordland.no
Winter temperatures vary from +5 to –15˚C (41˚ to 5˚F). We highly recommend woollen or thermal underwear, combined with windproof outer garments, and that you layer your clothing with an inner layer, a middle layer, and the windproof outer layer. Thick warm headwear and gloves or mittens are strongly recommended, especially if your chosen adventure has a lower level of activity, such as when you're "hunting" for the Northern Lights.
Contribute to sustainable tourism
Thank you for respecting the local communities, and for helping us preserve the natural beauty of Helgeland!
Please:
Strive to leave no trace of your visit. Bring back all your rubbish, including used toilet paper, and discard it in the nearest rubbish bin.
Plan your toilet visits and use the opportunity when you pass a toilet. In the wilderness, make sure you are not a nuisance to others.
Respect the local wildlife. Keep a good distance from wildlife, livestock and birds. Keep your dog leashed.
Respect private property. Keep a respectful distance from houses and cabins.
Show good boating sense. Keep a good distance from shore and drive at a low speed, especially when you are close to anyone or anything on the water, including birds or animals. Avoid loud and disturbing engine noise. Be aware that some islands and nature reserves are important nesting sites, and that going ashore is prohibited during the nesting season.
Follow the Norwegian Mountain Code (Fjellvettreglene). Plan your excursion according to the weather forecast, your skills and experience.
Join a guided excursion or consider hiring an experienced guide, especially when you don't have sufficient experience or knowledge to guarantee a safe trip.