A hiking adventure: Tjuvtrappa (The Thief Stairs)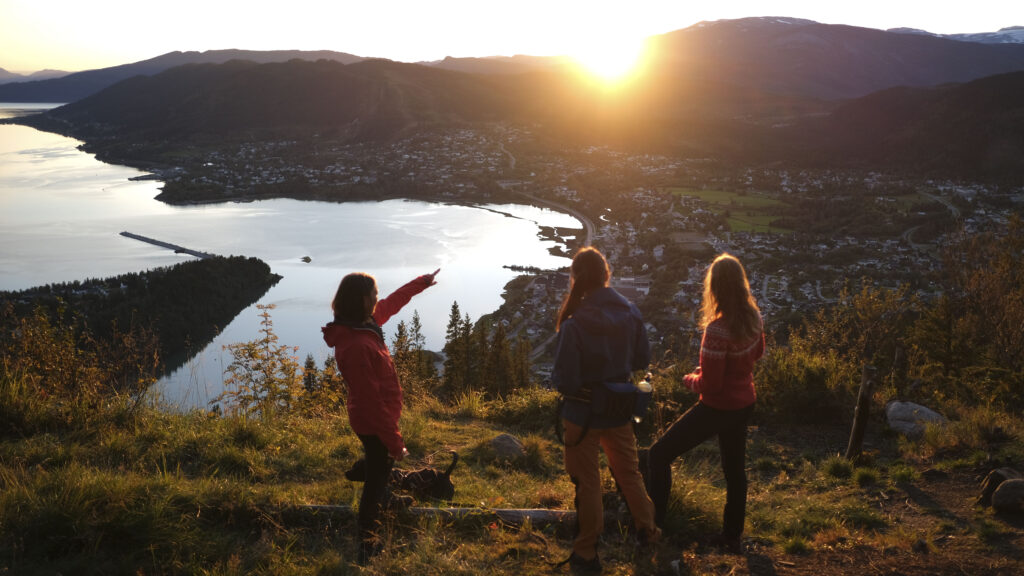 Emilie Solbakken / Visit Helgeland
"Tjuvtrappa" is one of Mo i Rana's most popular urban hiking destinations. It's a short hike on forest roads and trails, offering a splendid view of the city and the fjord.
Key info
Degree of difficulty: Easy
Season: Year round
Distance one way: 3,3 kilometers
Ascent one way: Around 250-meter elevation
Duration one way: 30 – 60 minutes
Trailhead: The hike begins at the parking lot where the forest track starts, about a 10-minute drive from the center of Mo i Rana.
Find the trailhead in Google Maps

Special precautions: In winter, there are generally well-trodden tracks in the snow. On days with heavy snowfall, snowshoes or skis can make it easier to get around. In early spring, the snow may become hard and icy, and in such cases, using good ice grips is necessary.
On this hike, you can also use a bike, but remember that it's a popular hike, so be careful and alert when you're going downhill.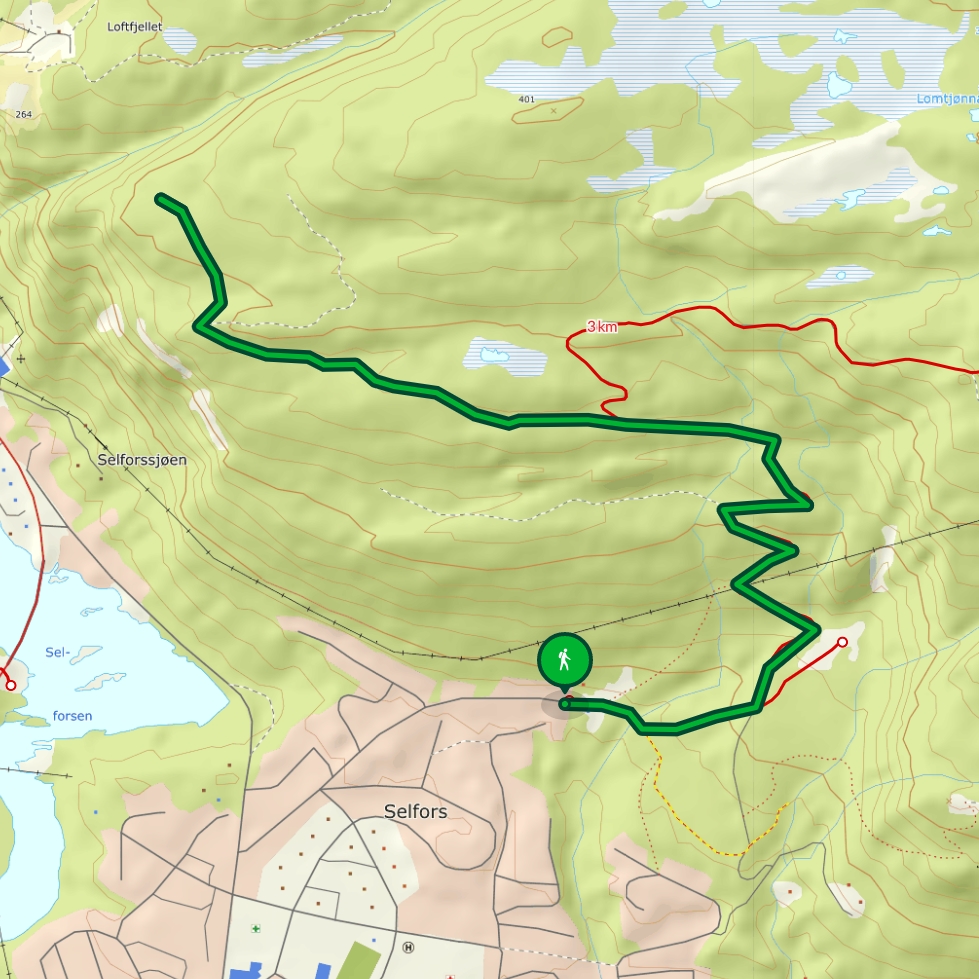 The hike starts on a good forest road that you follow almost all the way to the destination. After approximately 1.9 kilometers, the road splits, and you should continue straight ahead. After this point, most of the elevation gain is done, and the hike continues in flatter terrain. The final part follows a well-defined path through the forest. There are several paths toward the end, but they all lead to the same destination.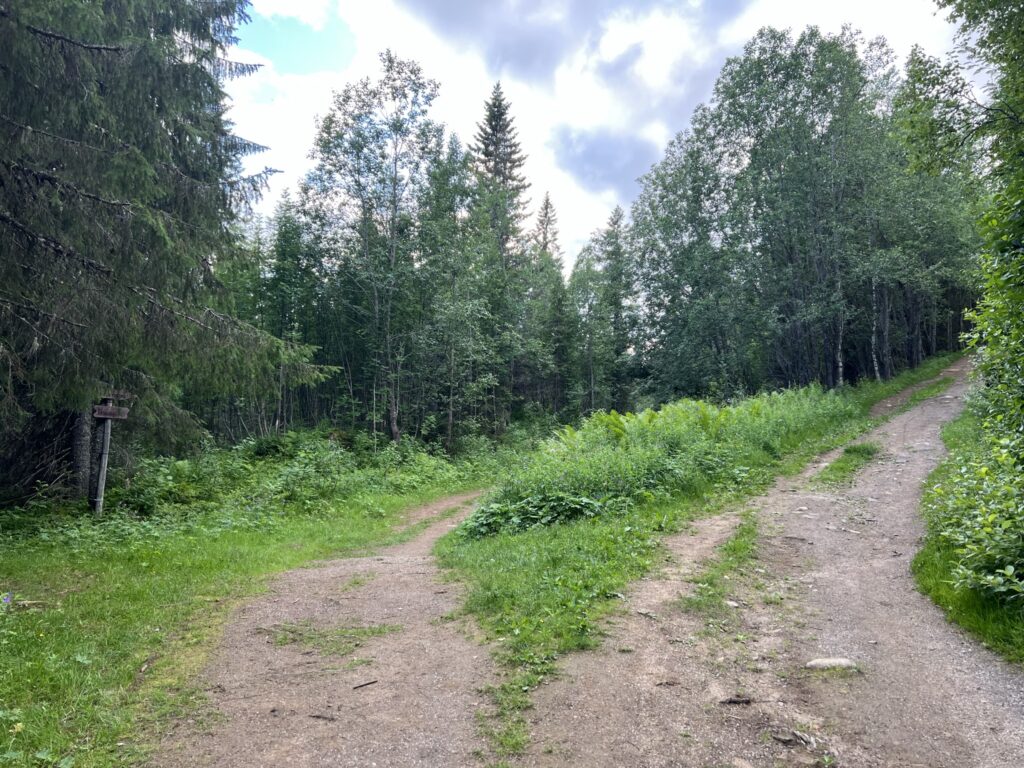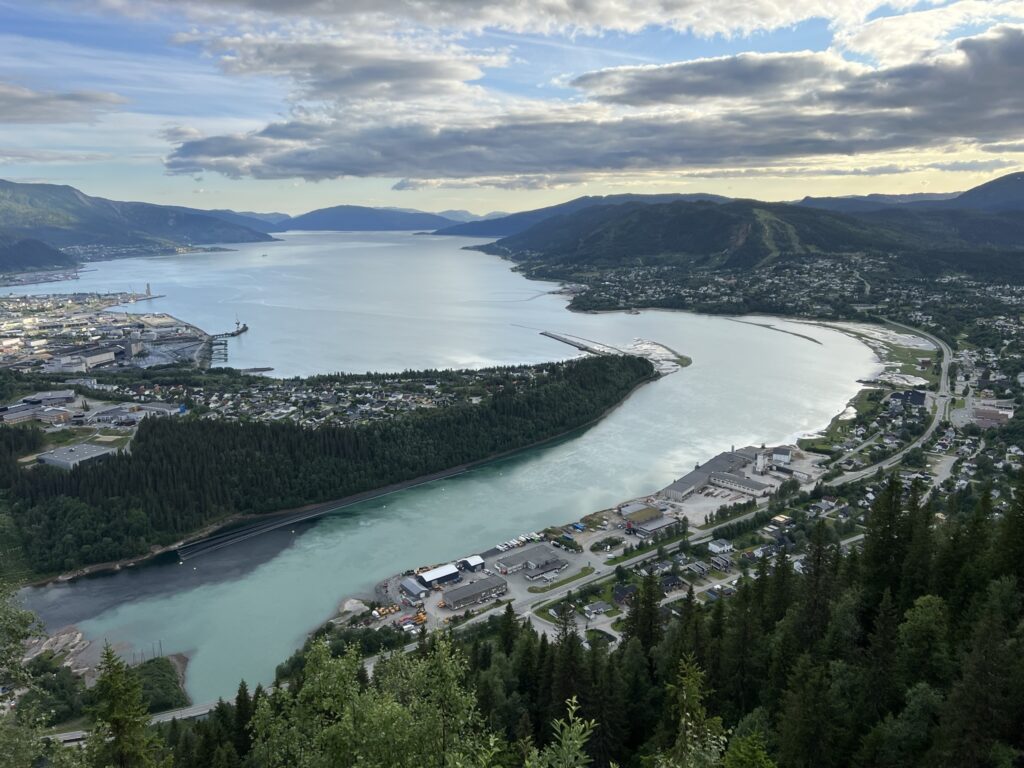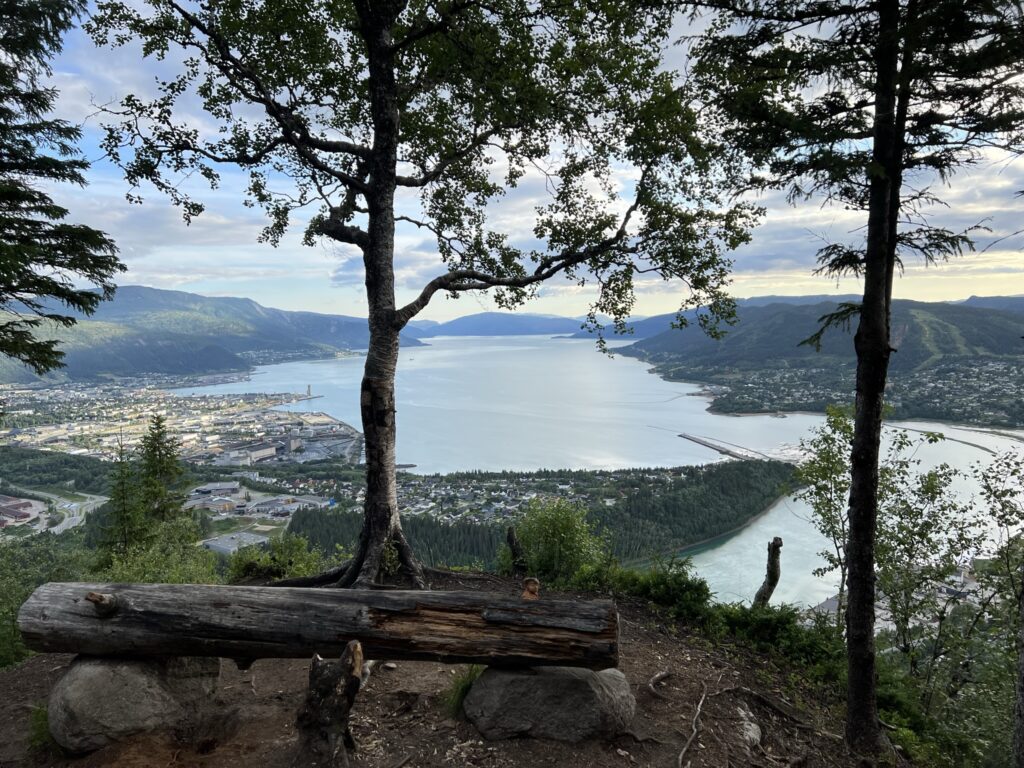 When you reach Tjuvtrappa, you'll have a stunning view of Mo i Rana and Ranfjorden. If you turn your gaze northwards, you can also catch glimpses of parts of Svartisen. The hike is family-friendly, but be aware that there is a steep slope at the viewpoint, so make sure to keep a close eye on the children in that area.
Tjuvtrappa got its name from a woman who stole a cow from Loftfjellgården, the farm you can see below from the viewpoint. She hauled it up the mountainside to the top before continuing down to Selfors.
You can easily take a bus from the center of Mo i Rana to start the hike. Just take the bus to Selfors Sykehjem. From there, it's a short distance to the forest road where the hike begins. There is also a parking lot at the starting point.
See trailhead in Google Maps
See timetables for the bus on ReisNordland.no
Contribute to sustainable tourism
Thank you for respecting the local communities, and for helping us preserve the natural beauty of Helgeland!
Please:
Strive to leave no trace of your visit. Bring back all your rubbish, including used toilet paper, and discard it in the nearest rubbish bin.

Plan your toilet visits and use the opportunity when you pass a toilet. In the wilderness, make sure you are not a nuisance to others.

Respect the local wildlife. Keep a good distance from wildlife, livestock and birds. Keep your dog leashed.

Respect private property. Keep a respectful distance from houses and cabins.

Show good boating sense. Keep a good distance from shore and drive at a low speed, especially when you are close to anyone or anything on the water, including birds or animals. Avoid loud and disturbing engine noise.

Be aware that some islands and nature reserves are important nesting sites, and that going ashore is prohibited during the nesting season.

Follow the Norwegian Mountain Code (Fjellvettreglene). Plan your excursion according to the weather forecast, your skills and experience.

Join a guided excursion or consider hiring an experienced guide, especially when you don't have sufficient experience or knowledge to guarantee a safe trip.
Find accommodations, dining options, and activities nearby.