A hiking adventure: Summit hike to Hatten (the hat)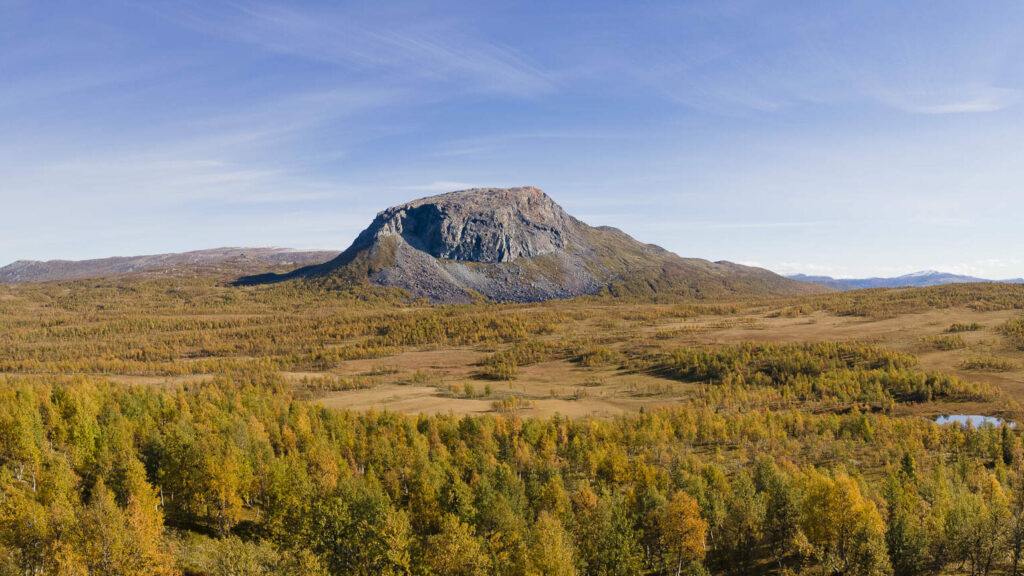 Even from a distance, Hatten (1128) is a sight to behold. The Sámi people call this solitary mountain Aarpije, "the one who stands alone". It is situated east of the village of Hattfjelldal.
Key info
Degree of difficulty: Moderately demanding. Steep sections towards the top.
Distance one way: 5 km
Ascent one way: 620 metres
Duration one way: 2–3 hours
Wheelchair and pram friendly: No.
Trailhead: From where you park at the start of the tractor road in Hattli. Find the trailhead with Google Maps.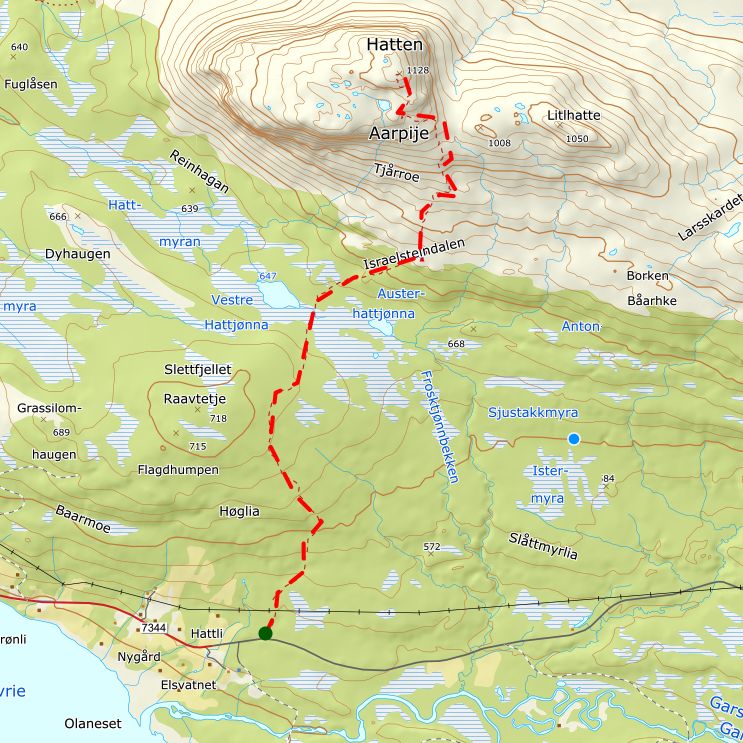 Description of your hike
The hike through easy terrain to the summit takes 1.5–2 hours. The first part of the trail is a well-marked section through the forest, and the next stretch proceeds on bare rock. While some climbing is necessary, hikers are never exposed or in danger. Even though the red trail markings are pretty good, you can lose the trail, especially on the way down.
The summit enjoys a fantastic view of Røssvatnet lake and the Okstindan mountains. The locals claim you can see seven parishes from the mountain top. The summit hike up Hatten is well suited for a family excursion, although it might be overly challenging for the youngest children.
Aarpije – the lone summit
Hatten is a distinct and rather majestic peak situated near the southern end of Røssvatnet, Norway's second-largest lake. In Norwegian, Hatten means "the hat". The indigenous Sámi people named this mountain Aarpije, meaning "the widow" or "the one who stands alone" – a suitable name given the solitary mountain's prominence in the surrounding landscape.
Hattjønna and Litj-Hatten
On the way up, you might take a dip in the tarn called Hattjønna. Also tempting is a detour or additional hike to a lower peak called Litj-Hatten ("the Little Hat"). There are no other marked trails in the area, but the terrain is open and easy to hike.
Discover more hiking adventures