Velfjord Panorama Caravan Camp
Consider a stay at Velfjord Panorama Caravan Camp, situated right on the sea in beautiful surroundings!Here you can really feel the energy of the natural elements, and enjoy the summer sun all evening. You can go fishing, take a boat trip, hike the mountains, go bicycling or kayaking, and relax with sweet dreams in your cosy rooms.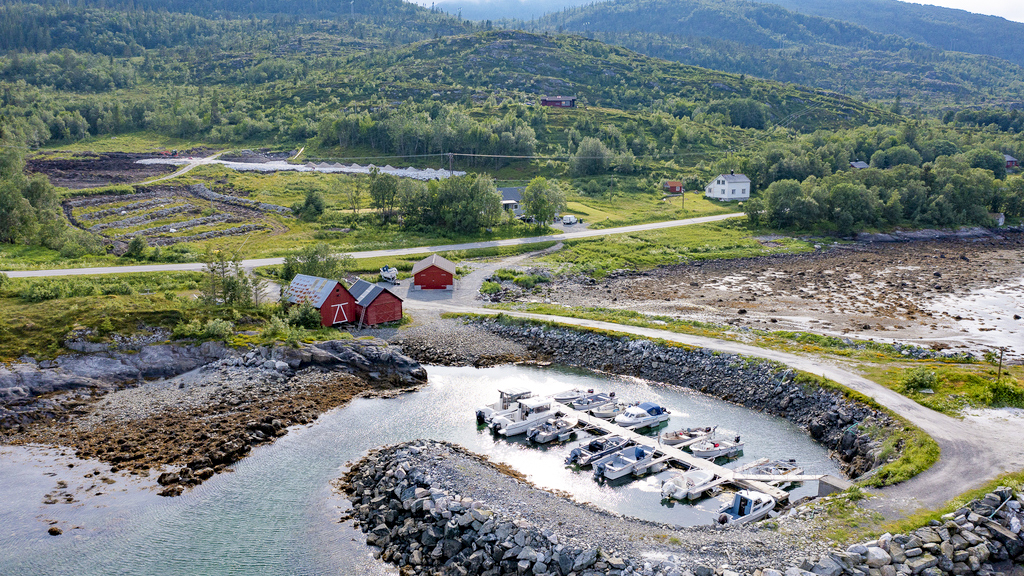 Beverlys Hill
Activities in the area
This is an ideal place to stay if you want to fish the fjord, and the perfect base for exploring the nearby Lomsdal-Visten National Park. In fact, Beverly's Hill is great starting point for your many holiday adventures: fishing, hiking, kayaking, exploring the scenery on two wheels, or just enjoying your tranquil surroundings. The cabin is situated in Velfjord near trunk road Fv76, a 20-minute drive from Brønnøysund town centre.
The cabin is located by the main road FV76 in Velfjord. 20 minutes by car from Brønnøysund city center.
Accomodation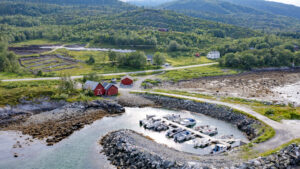 The caravan camp, opening in May 2023, features 34 campsites equipped with electricity and an emptying station, as well as a modern service building offering access to a shower, toilet, and lounge.
It is also possible to book a guest house with a bedroom, bathroom, sauna, a well-equipped kitchen, a large living room and a terrace with a view of the fjord.
Boat hire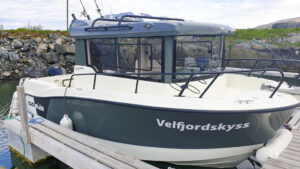 The harbour is only a two-minute walk away. Here you can join one of the guided excursions available or rent a boat. Consider a trip to Lomsdalen-Visten National Park, swimming in the Storfjord, hiking in Klausmarka, or fishing in Svanvatnet lake.
Velfjordskyss runs regularly into Storfjorden and Storbørja. In season, they travel every Tuesday and Friday at 16:00 from the harbor at Stugu and arrives Storbørja 17:00. Return via Storfjorden with arrival back in port at 18:00 if the weather allows.
One way 450, – NOK (minimum 2 people must book).
The boat can also be booked for other trips besides this and then we agree on a fixed price.
Weather and clothes on Helgeland
Summer:
The summer weather on the Helgeland coast can vary a lot, with temperatures typically ranging from 15 to 30˚C – and summer showers are not unknown. We recommend that you bring swimwear as well as an all-weather jacket, and both hiking boots and sandals. In other words, be ready for every kind of weather.
Winter:
In winter, temperatures vary from –15 to 5˚C. If you intend to enjoy outdoor adventures, we recommend packing woollen underwear and windproof outerwear. By layering the garments you wear, you can quickly adjust to any change in the weather. We also recommend thick gloves or mittens, a good scarf and a warm hat, especially if you expect to be spending a lot of time outside, for instance if you are trying to catch the Northern Lights.
Contribute to sustainable tourism
Thank you for respecting the local communities, and for helping us preserve the natural beauty of Helgeland!
Please:
Strive to leave no trace of your visit. Bring back all your rubbish, including used toilet paper, and discard it in the nearest rubbish bin.
Plan your toilet visits and use the opportunity when you pass a toilet. In the wilderness, make sure you are not a nuisance to others.
Respect the local wildlife. Keep a good distance from wildlife, livestock and birds. Keep your dog leashed.
Respect private property. Keep a respectful distance from houses and cabins.
Show good boating sense. Keep a good distance from shore and drive at a low speed, especially when you are close to anyone or anything on the water, including birds or animals. Avoid loud and disturbing engine noise. Be aware that some islands and nature reserves are important nesting sites, and that going ashore is prohibited during the nesting season.
Follow the Norwegian Mountain Code (Fjellvettreglene). Plan your excursion according to the weather forecast, your skills and experience.
Join a guided excursion or consider hiring an experienced guide, especially when you don't have sufficient experience or knowledge to guarantee a safe trip.