Rafting in Auster-Vefsna on Helgeland
The Austervefsna is the perfect river for rafting. The rapids are big and forgiving, and are sure to put a smile on your face! It runs through a pristine river canyon flanked by large trees, immersing us in unspoilt nature and tranquility.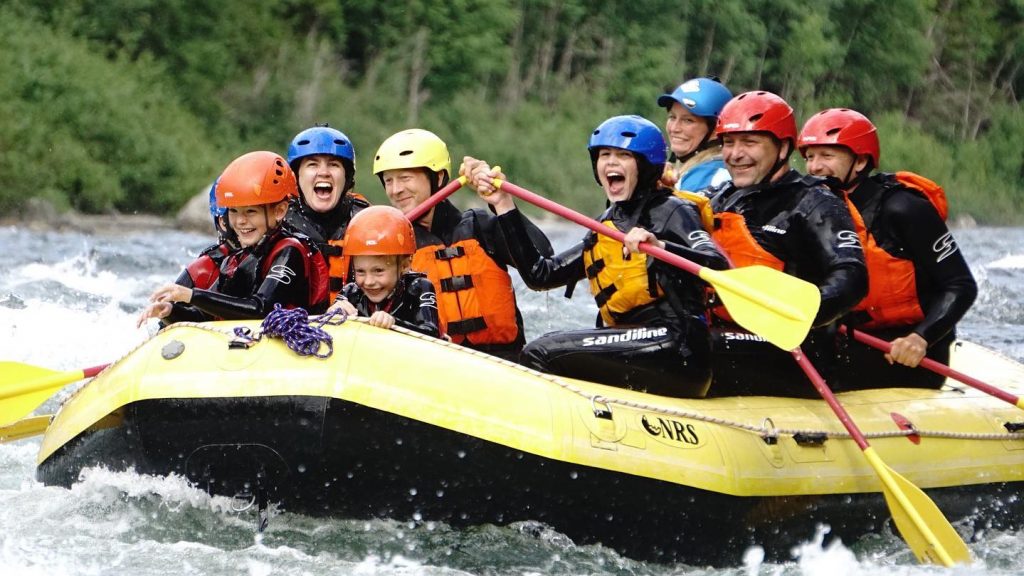 RiverNorth
Rivernorth Rafting
This is the northernmost rafting offered commercially in Norway and here you can frolic for miles with river – simply great fun for both adults and children!
The normal Classic Rafting (3 hours) allows time for playing around in the river, surfing and enjoying the scenery as we go downstream. This is a trip suitable for beginners and advanced alike. Age limit: 14 years. RiverNorth also offer full day rafting and wilderness rafting. Read more on their websites.
Family rafting
This rafting are designed for children from 6 to 14 years, as well as their family members. There is plenty of action when you paddle through fun waves or go swimming in the moving water, but also time to enjoy the wilderness and disconnect from everyday life.
The goal is to give you and your family an unforgettable day on the river!
Difficulty & Safety
You will get a safety briefing and a paddle technique briefing before starting the trip. Your guides are absolute professionals with adequate river experience, and very high safety standards. The river is considered medium difficult (class III-IV).
Other information
You will get a wetsuit, neoprene shoes, a life jacket, helmet and a paddle for the trip. NOTE: If you have exeptionally large feet please bring your own running shoes that can get wet.
Let the staff know as soon as possible if you have health problems such as, but not limited to, heart conditions, diabetes, back injuries or shoulder injuries. Participation is at ones own risk, and you have to sign a liability form before the trip starts.
You have to bring
Bikini/bathing apparel
Thermal underlayers if cold
Towel for changing – note that there are no showers available at the base.
If you are more than 4 people you can book via our bookingsystem. Click on "book now". If your group is less than 4 people get in touch to find a suitable time for you.
First of June to first of October
Takk for at du hjelper oss med å ta vare på naturen og lokalsamfunnene på Helgeland. Takk for at du:
Praktiserer sporløs ferdsel, og tar med avfall og toalettpapir tilbake til nærmeste søppeldunk.
Planlegger toalettbesøk, slik at du får gjort det du må der det ikke er til sjenanse for andre.
Respekterer det lokale dyrelivet, holder hunden i bånd og holder god avstand til både ville og tamme dyr og fugler.
Respekterer privat eiendom, og holder avstand til private hus og hytter.
Viser godt båt-vett, holder god avstand til land, lav fart nært andre på vannet, inkludert dyr og fugler, og unngår unødig kjøring som skaper forstyrrende motorstøy.
Respekterer ferdsels- og ilandstigningsforbudet i sjøfuglereservatene i hekketiden.
Følger fjellvettreglene, og planlegger turer etter evne og erfaring.
Leier en erfaren guide på turene der du selv ikke har kunnskapen eller erfaringen som trengs for en trygg tur.