With its steep and rugged peaks as well as its more gentle and welcoming summits, Helgeland offers ski touring opportunities for adventurers of all abilities. No matter your level of skill or fitness, you're sure to find a summit that suits you here.
Recommended summits
Tips for a safe and rewarding ski trip
Plan your trip well
Route choices should be made with safety in mind, considering the current conditions and your group's skills.
Always check both the weather and avalanche forecasts on the day of your trip.
Utilize maps that detail avalanche zones and release areas, such as those available on UT.no or Fatmap.
If the weather turns or conditions worsen unexpectedly, have an alternative hike or activity ready as plan B.
Remember, enlisting a local professional guide will streamline this process, allowing your group to focus more on the experience and less on the logistics.
Carry the necessary gear
Equipping yourself with appropriate clothing and gear is essential. Be prepared for weather changes and bring extra clothes in case the weather worsens or in case of injuries. In the wild terrains of Helgeland, it might take time for help to arrive, making the risk of hypothermia a real concern.
Even if you're not venturing into avalanche-prone terrains, carrying an avalanche transceiver, probe, and shovel is always a wise precaution.
A mountain guide enriches the ski trip
Engaging a local, professional guide can greatly enrich your experience. Well-acquainted with the local terrains and conditions, guides expertly plan routes that cater to your group's composition and adapt to the day's weather and conditions. Their adept skills in assessing conditions on the go ensure you traverse safe and enjoyable paths, both ascending and descending.
This way you have less planning and less to concider, and more time to just enjoy your journey.
Useful Links:
Always check the weather forecast and the loacal avalanche warning before you go ski touring.
Book your experience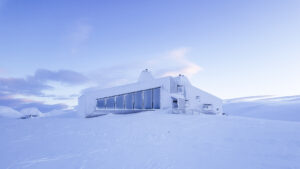 A guided skiing trip up to Rabothytta cabin
You are invited to join us on an excursion to Rabothytta, one of Norway's most impressive cabins. Given its dramatic location, perched at the edge of Okstindbreen glacier at 1200 metres altitude, and its elegant architecture, it is no wonder that this is one of Helgeland's favourite hiking destinations. On clear days your panorama includes several legendary mountains on the Helgeland coast.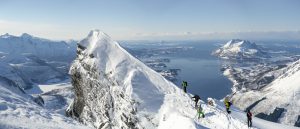 A weekend of high adventure on the lofty peaks!
The picturesque Meløy Alps offers some of the wildest off-piste skiing in Northern Norway!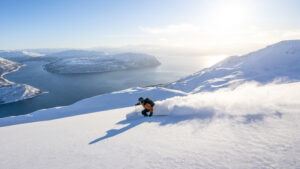 Ski & Sail along the enchanting Helgeland Coast
Join the thrill of a 6-day ski touring and sailing adventure along the enchanting Helgeland coast with Nordværs exclusive spring excursion charters. From March through May, you'll embark on a five-night journey from Nordværs idyllic base in Seløy, setting sail aboard their state-of-the-art catamaran.