Mosjøen Zip-line
At the heart of Nordland County, in the geographic middle of Norway, is the friendly town of Mosjøen. On Storfjellet, right near Øyfjellet just outside town center, is Northern Norway's most spectacular zip-line.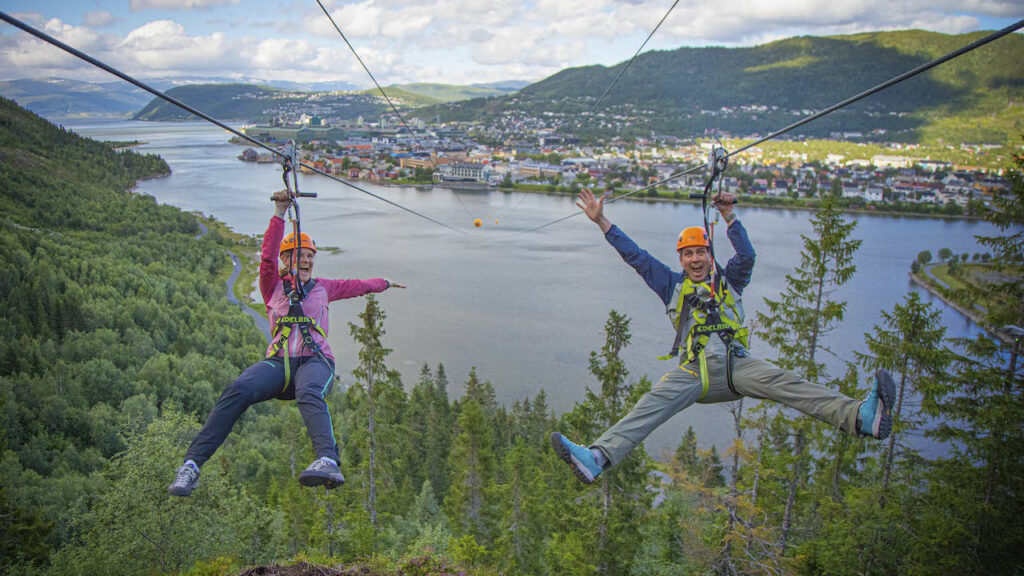 Renee Bjerregaard / Hi North
Fly from a perch 70 metres up Storfjellet, savouring a bird's eye view of the historic Sjøgata Street and the town's environs, and soar over the Vefsna river before landing safely in the beautiful gardens of Fru Haugans Hotel, the oldest hotel in Northern Norway.
Before takeoff, Hi North secures your body harness to the strong wire. An automatic braking system ensures a safe airborne adventure! And one of the guides is always on hand – for both your take-off and landing. Minimum age: 10 years, min. weight: 30 kg (66 lbs) and max. weight 110 kg (242 lbs).
What do I need to keep in mind?
It's important that you place all loose items in zippered pockets or in your backpack. If you want to use a camera, it must be tied or otherwise securely attached to your body, harness or helmet. If you have long hair, it should be tied back with a hair band or elastic.
Booking, and when and where to meet up
Your zipline ticket must be booked in advance. Your ticket is valid for one hour; e.g., if your booking is for 1pm, you have to take your zipline ride by 2pm. Please note: If you intend first to hike the mountain, this must be agreed to in advance.
Meet up at Hi North's office at Ytterøra 23, just outside the center of Mosjøen.
NB! For an expanded adventure, consider combining your zipline ride with the Mosjøen Via Ferrata. The Via Ferrata climb takes 4–5 hours.
Contact
Go to booking
Miljøsertifisert
From about 19 June to 15 August, Mosjøen zipline is open every day from 10.00 – 18.00. Before and after these times, it is open on weekends and by pre-ordering at least 10 participants as long as the weather is justifiable.
In Mosjøen zipline there is a 10-year age limit and you must weigh at least 30 kg. There is a maximum limit of 110 kg. It is also pointed out that alcohol can not be enjoyed before or during the activity.
Takk for at du hjelper oss med å ta vare på naturen og lokalsamfunnene på Helgeland. Takk for at du:
Praktiserer sporløs ferdsel, og tar med avfall og toalettpapir tilbake til nærmeste søppeldunk.
Planlegger toalettbesøk, slik at du får gjort det du må der det ikke er til sjenanse for andre.
Respekterer det lokale dyrelivet, holder hunden i bånd og holder god avstand til både ville og tamme dyr og fugler.
Respekterer privat eiendom, og holder avstand til private hus og hytter.
Viser godt båt-vett, holder god avstand til land, lav fart nært andre på vannet, inkludert dyr og fugler, og unngår unødig kjøring som skaper forstyrrende motorstøy.
Respekterer ferdsels- og ilandstigningsforbudet i sjøfuglereservatene i hekketiden.
Følger fjellvettreglene, og planlegger turer etter evne og erfaring.
Leier en erfaren guide på turene der du selv ikke har kunnskapen eller erfaringen som trengs for en trygg tur.